Travelling during Ramadan
A guide to travelling overseas during Ramadan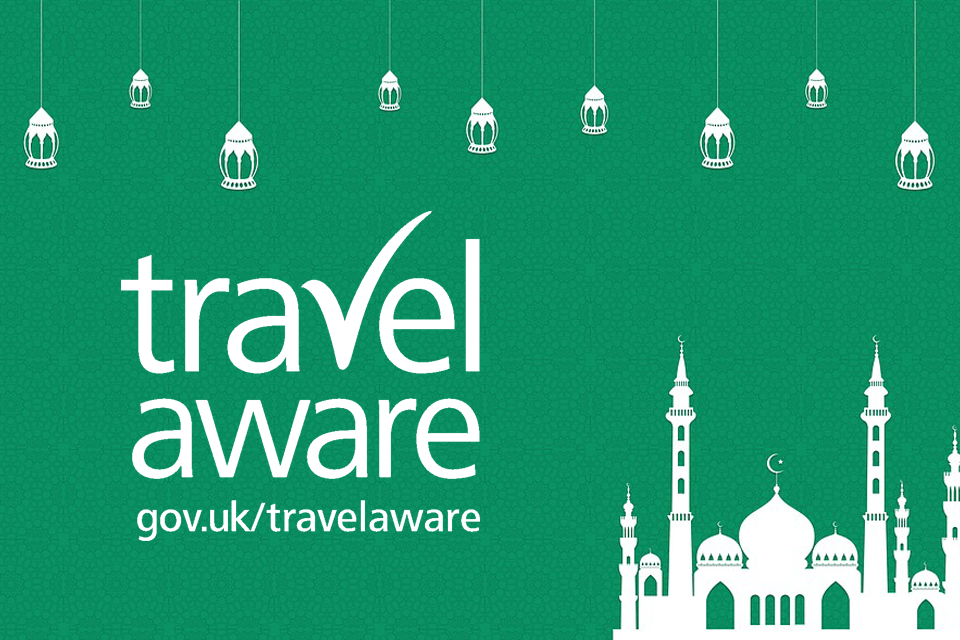 Ramadan is a holy month for Muslims.
During this time, observant Muslims not only abstain from food, drinking and smoking from dawn to dusk, but in general practice restrain from all activities or behavior that are not compatible with Islamic values.
You should be aware that levels of observance of Ramadan will vary in different countries and cultures but most Muslims will conform to some extent with the requirements of the fast - that they fast between dawn and sunset.
This means they can't eat, drink, smoke or even chew gum during daylight hours. Muslims use this time of abstention for prayer, contemplation and charitable work. Check our travel advice for more information on specific countries. You will also find information on website of the relevant British embassy.
Please note that the precise dates of observation will vary from country to country.
Travelling to Muslim countries
Non-Muslims should show respect to those who are fasting and pay attention so as not to offend Islamic values. If you demonstrate culturally insensitive behaviour that offends, you could be arrested. Non-Muslims should observe the rules of Ramadan in public and should note the following:
Avoid eating, drinking, chewing gum or smoking in public during the daytime (including in your car) - many people will understand that you aren't under the same obligation to fast but will appreciate your awareness. Pregnant, nursing women and young children are exempt from the provisions, but discretion should be exercised
In some Muslim countries it's actually illegal to eat and drink in daylight during Ramadan
Some restaurants will close or operate amended opening hours during Ramadan
Restaurants that cater to tourists may open as usual but hotels will sometimes use screens to keep western diners sectioned off from Islamic guests
Take extra care about your clothing during the holy month. Ensure you dress modestly as standards may be policed even more carefully than usual
Driving may be more erratic than usual, particularly during the later afternoon and early evening, be patient and show tolerance especially during this time
Business hours may become shorter in the day
Loud music and dancing is considered disrespectful during Ramadan. Please do not play music or dance in public areas.
It's not impossible to travel or do business in Islamic countries during Ramadan, but different rules do apply. Seek local advice on arrival either from your tour guide, hotel or business contacts.
Iftar – breaking the fast
Iftar is the time each day when the fast is broken and a meal is taken with family and friends. During Iftar there is additional pressure on taxis and other public transport so it's a good idea to time your movements around avoiding having to travel at this time.
Eid – the end of the fast
As the end of Ramadan approaches there is normally a lot of activity as people traditionally visit families to celebrate Eid-ul-Fitr, the three-day festival marking the end of the fast. You should plan accordingly if you're planning to travel at this time.
This advice has been drawn up with the assistance of Lonely Planet
Published 2 July 2013
Last updated 7 May 2019
+ show all updates
Updated image: travelaware - travelling during ramadan

First published.