Western Sahara
Important

COVID-19 Travel
Under current UK COVID-19 restrictions, you must stay at home. You must not travel, including abroad, unless you have a legally permitted reason to do so. It is illegal to travel abroad for holidays and other leisure purposes.
Check the rules that apply to you in England, Scotland, Wales and Northern Ireland.
If you intend to travel to the UK from abroad, including UK nationals returning home, you must provide evidence of a negative COVID-19 test result taken up to 3 days before departure. If you do not comply (and you do not have a valid exemption) your airline or carrier may refuse you boarding and/or you may be fined on arrival.
Before you return to the UK you must provide your journey and contact details. You must self-isolate when you enter the UK from any foreign country except Ireland, unless you have a valid exemption.
When you enter England from abroad (except Ireland), you must follow the new requirements for quarantining and taking additional COVID-19 tests. For those travelling from a country on the banned travel list you will be required to quarantine in a hotel. Different rules apply for arrivals into England, Scotland, Wales and Northern Ireland.
If you are legally permitted to travel abroad, check our advice on your country of destination. Some other countries have closed borders, and may further restrict movement or bring in new rules including testing requirements with little warning.
Summary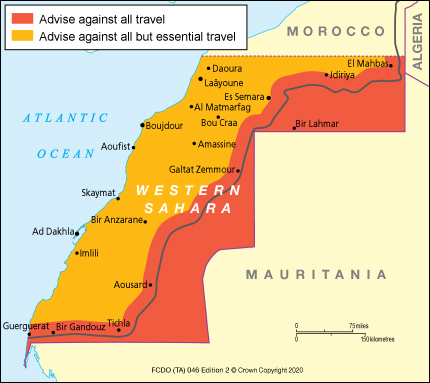 The Foreign, Commonwealth & Development Office (FCDO) advises against all but essential travel to:
the whole of Western Sahara based on the current assessment of COVID-19 risks
In addition and for security reasons FCDO advises against all travel to:
areas of Western Sahara within 30km north/west of the Berm
areas of Western Sahara south/east of the Berm
There is no British diplomatic presence in Western Sahara and consular support is severely limited. If you need consular assistance you should contact the British Embassy in Rabat, Morocco. If you're abroad and you need emergency help from the UK government, contact the nearest British embassy, consulate or high commission.
Western Sahara is a disputed territory and the UK regards its status as undetermined. See Political situation
Terrorists are likely to try to carry out attacks in Western Sahara. You should be vigilant at all times. See Terrorism
The level of road safety is poor. There is a high risk of unexploded mines in remote areas. See Road travel
Take out comprehensive travel and medical insurance before you travel.