Gap years, volunteering overseas and adventure travelling
Information on how to stay safe and healthy during your travel overseas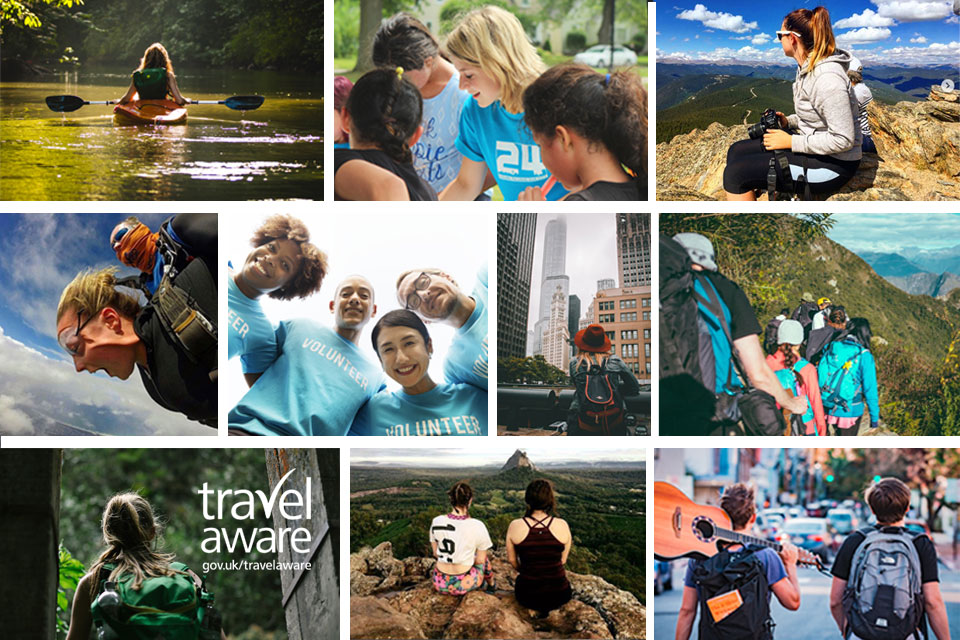 Planning your activities
Gap years, volunteering, adventure travel and other experiences abroad are becoming ever more popular. It's essential to plan well before any big trip abroad - especially if you're spending months away from home in lots of different places. Arriving in a foreign country is always exciting but it can be daunting. So when it is all so unfamiliar, it is important to do a little preparation before you go.
Whatever your plans, this page includes useful advice and information to help you get ready to have a safe and trouble-free trip.
Don't forget to check our travel advice for the country you're going to. You'll find the latest information and advice on topics such as Safety and security, Entry requirements, Local laws and customs and Health.
Stay up-to-date
You can also keep up to date before and while you're away by subscribing to the FCDO's free email alert service, which will notify you of any travel advice updates for the countries you are visiting.
You can also keep up to date on travel advice by folllowing us on:
Volunteering
Many travellers choose to spend some or all of their time overseas volunteering. Voluntary work can be very rewarding and is often a great way to meet new people, gain new or use existing skills, get experience and make a difference to local communities. However, a successful volunteering project requires careful structuring, planning and support, and volunteers will get more benefit the longer the project and the closer it matches their skills.
Before you agree to a volunteering opportunity, it's important to do your research to make sure you'll be volunteering with a genuine organisation and your work will have a positive impact. For example:
check the organisation's history and its track record in leading groups to volunteer abroad
check that the organisation is correctly registered with the local authorities (where required)
if your trip is organised through a sponsor organisation, find out more about the local organisation(s) they are partnered with, including how projects are monitored and quality assured
make sure you understand the key parts of the itinerary, including travel arrangements, accommodation, any insurance cover provided for you, and what support would be available if you needed to return home early
speak to past volunteers to find out about their experiences and any complaints or concerns raised.
Organisations like Voluntary Services Overseas (VSO), charities and university student services may be able to provide further advice and guidance on volunteering abroad and finding the right project for you.
The UK government has a flagship offer for young people age 18 – 35 to volunteer through the International Citizen Service (ICS) programme. This scheme supports young people to complete 12-week sustainable and locally-owned volunteering placements that directly work towards the Sustainable Development Goals.
Volunteering with children
Many volunteer projects directly or indirectly contribute to improving the lives of children and young people overseas and are often particularly popular among travellers.
In some countries it's possible to volunteer in or visit orphanages, but to do so can have serious unintended consequences for vulnerable children and communities. A regular turnover of volunteers without relevant training and experience can be harmful to children's development and emotional wellbeing.
Additionally, some organisations that invite volunteers are profit-oriented rather than charitable, and there is evidence of some unscrupulous organisations deliberately housing children in poor conditions to attract ongoing financial support from visitors. Poor safeguarding practices also increase the risk of abuse. By volunteering in or visiting such organisations, you may unknowingly contribute towards child exploitation and may put yourself at risk of accusations of improper behaviour.
If you're considering any volunteering opportunities with children or young people, you should consider these additional risks and safeguarding considerations carefully within your research and planning.
The International Forum for Volunteering in Development is developing a Global Standard for Volunteering in Development that aims to help volunteer organisations deliver responsible and impactful volunteering and ensure that community needs are prioritised. Organisations adopting the Global Standard will commit to promoting child-safe volunteering in all environments, which includes not facilitating visits to orphanages or other residential care facilities for children.
In line with the UN Guidelines for the Alternative Care for Children, the UK government recognises that institutionalisation (the housing of children in an orphanage or other residential institution) harms children's physical, emotional and psychological development and is working towards the long term process of de-institutionalisation.
Adventure Travel
Adventurous travel is becoming increasingly popular. Whether you or an organisation make the arrangements direct or through a company, safety must be an integral part of planning and managing any successful trip.
Balancing adventure and challenge with safety
No one can guarantee safety, especially in unfamiliar and unpredictable environments, but choosing travel organisations that take good preparation and planning seriously is a good start. The FCDO and British Standards Institution (BSI) have created a useful checklist to help guide you in this task.
Checking out safety standards
if you choose an organisation that prepares properly you are more likely to stay safe on your trip
don't just assume that safety is well managed: check with whoever makes the arrangements and find out what safety standard(s) the organisers adhere to - e.g. do they use BS 8848?
ask for evidence of how they comply with the standard(s), including the provider's responsibility for making checks on sub-contractors providing accommodation, transport and activities
read the contract being offered and be clear about who is responsible for all parts of the venture, including any outsourced elements, how these are checked; and ask about roles (who precisely is responsible for what)
What is BS 8848?
BS 8848 provides a rigorous framework for adventure providers to properly manage risks on adventure trips abroad. As with all British Standards, BS 8848 is voluntary. However, for a company to claim they comply with it, and for it to be effective in minimising risks, adventure providers must fully implement all the measures in the Standard.
The information provided by BS 8848 is not only for adventure providers. It is also for organisers of educational activities abroad including university and academic fieldwork, gap year experience, charity challenges and research expeditions. Individuals can also refer to it to help satisfy themselves that their potential provider has planned well, and has good procedures in place to manage safety overseas. See BSI's guide to Safer Adventures to help you with this.
Before committing to a particular adventure trip, you should find out:
what exactly is involved in the venture and are there any risky activities planned?
where/what is the sleeping accommodation?
who is responsible for individual parts or aspects of the trip?
who is the person or organisation (the venture provider) with overall responsibility for all parts of the venture, including those run by third parties?
has the venture leader - and the team members - got sufficient training and experience of similar ventures, activities and environments?
are there contact details to let you ask previous participants about their experiences?
what level of physical fitness, experience and skill level is needed to take part?
is any pre-trip training required and what equipment is needed?
are particular vaccinations or anti malaria precautions recommended?
is there any guidance on coping with environment-related illnesses, for example heatstroke, or altitude sickness?
what evidence do they have of using the safety standard properly?
What happens in an emergency?
Despite careful planning, emergencies can and do arise, so make sure are fully aware of how emergencies will be dealt with. Make sure you have answers to the following questions:
will the provider pay for any costs directly, or will you be expected to pay and be refunded later?
what aspects of your trip are not covered by the provider's insurance, and what additional insurance as a participant do you need to obtain?
what are the evacuation procedures and arrangements for emergency travel back to the UK?
who should I contact in the event of illness, accident or emergency, both abroad and in the UK?
Remember, if there is no trip organiser, it is even more important to check off all these points to make arrangements for yourself to cover all these eventualities
Things to consider – before you go
Whatever type of trip you decide to take; there are some things you should consider in advance.
Insurance
Wherever you're going, make sure you get comprehensive travel and medical insurance before setting off. Shop around and make sure that your insurance is the right one for you. Think about any activities you may be doing, even spur of moment ones, and make sure you're covered for these. Check the small print for any exclusions.
Your policy also needs to cover any medical costs, including an air ambulance. If you do not take out proper insurance, you will have to pay the costs of any emergency yourself, including expensive medical bills.
Check our travel insurance guidance for more information and advice on choosing the right policy for you, and what to do if you need to make a claim.
Check the Foreign, Commonwealth & Development Office (FCDO) travel advice pages for country specific travel advice. If you decide to go to an area where the FCDO advises against all or all but essential travel, double-check that your travel insurance will be valid. Some policies are invalidated if you travel to such areas.
Visas and passports
Make sure that you apply for a passport in good time. You can get advice from the HM Passport Office website or call them on 0300 222 0000 (calls are charged at your network provider's standard national rate).
Some countries have a requirement for a passport to have a certain amount of validity remaining on it from the date you enter the country. You can check each country's requirements in the Entry requirements section of our country travel advice, under 'Passport validity'.
Passport tips
make a note of your passport number, date, expiry date and place of issue, consider taking a photocopy (keep separately in a safe place) and/or store online using a secure data storage site
write the full details of your next of kin in your passport
take a second means of photo-identification with you
keep your passport in the hotel safe and carry a photocopy with you, unless local laws stipulate that you should carry the original
if your passport is lost or stolen overseas you can apply for a replacement British passport passport online while you're overseas. You should also report your lost or stolen passport by cancelling it online as soon as possible to avoid fraud
if your travel is urgent you can apply for an Emergency Travel Document to continue your travel or return to the UK. This can be done online but you may be asked to attend an appointment at your nearest British Embassy, High Commission or Consulate after you apply.
if your passport is damaged while you're travelling, you can apply for a replacement British passport passport online while you are overseas.
Visas
You may need a visa to enter the country you are going to. You can check visa requirements in the 'Entry requirements' section of our travel advice.
If you're planning to work or volunteer while you're away, visa requirements may be different. If you're a British Dependent Territories Citizen, British Overseas Citizen, British Subject, British National Overseas, or a British Protected Person, you may need a visa that is not required by British Citizens. For further information or any enquiries about visas contact the Embassy, High commission or Consulate of the country you plan to visit.
Travel money
Before you go abroad you'll need to think about how much money you'll need, what format you're going to take it in and where you're going to keep it.
The following tips should help you when thinking about cash on your travels:
work out your budget before you go and try to stick to it. Think about how much you'll need on a daily basis - such as food, accommodation and any additional activities - and then work that out for the number of days you'll be away. It's often better to over budget to allow for any unexpected events or emergencies.
check the validity, expiry dates and cash available on your credit or debit cards ahead of your trip - it's best to know your spending limits before they run out
with a worldwide ATM network you can withdraw cash from cash machines in most places abroad
before you go, let your bank know which countries you are travelling to. They will be able to advise you whether you can use your debit/credit card in the countries you are visiting and any card usage charges that may apply. If you plan to get the bulk of your funds in this way, be sure to keep your cards safe
make sure you have at least two forms of payments with you (cash, credit/debit cards, prepaid cards or travellers' cheques) and keep them separate. Take at least two cards, making one your emergency reserve and make sure you know the PIN numbers for both debit and credit cards - keep the emergency card somewhere safe.
make a note of your credit / debit card details and the 24-hour emergency numbers and keep them separately
have a return ticket, or enough money to buy one. If you don't have a return ticket, many countries will refuse you entry unless you can prove you have enough money to buy one
remember that British consular staff can't pay your bills or send you home if you run out of money
always have some change in the local currency for when you arrive in case you need to make a telephone call. It is also advisable to have some local currency in small bank notes to catch a taxi or get something to eat or drink on arrival
when carrying money around with you, use a wallet for loose change and your day-to-day spending. Wear a secure money belt under clothing for your valuable documents and money
if you're planning to be away for a long time, make sure you've made arrangements for any credit card bills to be paid - or your card may be stopped
if you want to, you can give someone the power of attorney to look after your financial affairs in the UK, while you're away.
Staying healthy
Make a visit to your GP as soon as possible before you depart and find out what jabs you may need. You can also find information on recommended vaccinations on the National Travel Health Network and Centre (NaTHNaC) country list. Take any prescribed medicine with you and keep it to hand.
make sure you have adequate supplies of any medicines that you normally take and pack it in your hand luggage It might be difficult to get further supplies of some medicines in some countries and in remote areas
check with the nearest embassy of the country you are going to (which may be based in London or another European city) that your medication will be legal in that country. Inhalers and other common prescriptions and over-the-counter medicines are banned in some countries
if you need to take prescription medication, carry a copy of your prescription and a note from your doctor. Always carry medicine in its original packaging
First aid kit
This is vital. You can get first aid kits to cover all eventualities and budgets. The type of kit you choose will depend on where and how you're travelling
Consider buying a flexible ticket
A flexible air ticket will ensure that you can come home or leave a country whenever you want without being restricted.
Book your first night's accommodation
At the very least, make sure you have booked your first night's accommodation in advance. You are at your most vulnerable when you first arrive in a foreign country. You are likely to be tired and unsure of your surroundings, so it's worth planning ahead.
Research the countries you are visiting
Carry out a bit of research into your destination before you go, including its laws, customs and language. This will help you avoid offending people or breaking local laws however unwittingly. A bit of local knowledge can go a long way to enhance your travel experience and earn you respect in the country you're visiting:
a good place to start is the local laws and customs section of our country travel advice
it's a good idea to learn some key phrases and words of the local language. This can make a huge difference to your trip and the reception you get and might help in an emergency
get a good guide book and read up on your destination. Your guide book may also have the layout of the town or city you are visiting which can prove very useful!
Things to consider – while you are away
Staying safe
As part of your planning, check the Safety and security section of our travel advice for the latest information and advice on risks to be aware of, as well as tips on staying safe.
During your trip, you're likely to meet lots of new people from all around the world. Remember to think about your own personal safety just as you would at home. Be wary of accepting drinks from strangers. If you're travelling alone with someone new, tell friends and family your plans before you go and keep in regular contact.
Never leave your luggage unattended or with someone you don't completely trust. Be aware of pickpockets who tend to operate in crowded areas and lock up your luggage with padlocks.
Be aware of drugs - these have been used in incidents of rape, so keep your wits about you. For advice on how to stay safe if you are a lone woman traveller or a group of female travellers, check out our guidance advice for women travellers.
Stay in touch
tell friends and family your plans before you go and keep in regular contact, especially if you change your plans
make a copy of your itinerary and other important documents, such as your passport, your insurance policy, tickets etc. Leave these with a trusted friend or family member back home before you leave
make sure you pass useful phone numbers, such as your insurance company 24-hour international emergency telephone number, hotel etc. to your family and friends
check whether you'll be able to use your UK mobile phone in the country you're going to, or think about getting a local SIM card or phone when you arrive. This will help you keep in contact with people at home and make it easier for them to reach you
set up an webmail account such as Hotmail or Yahoo! to help you keep in contact. There are public internet cafes or WiFi facilities in most major cities around the world
don't promise too much. Telling your parents you'll call home every day is unrealistic and will only cause them to worry when you don't. If you are to be out of reach for a few days, let family and friends know where you're heading to and with whom. Also let them know when you plan to be back in touch
make sure that at least one person (in addition to yourself!) knows where you are and has all your essential details
Published 8 June 2015
Last updated 18 October 2019
+ show all updates
Full review and update of guidance, including additional information on volunteering overseas. Information on gap year, volunteering overseas and adventure travelling has also moved to one central place.

First published.