Guidance
Foreign travel checklist
Advice from the Foreign and Commonwealth Office (FCO) to help you prepare for foreign travel and stay safe abroad.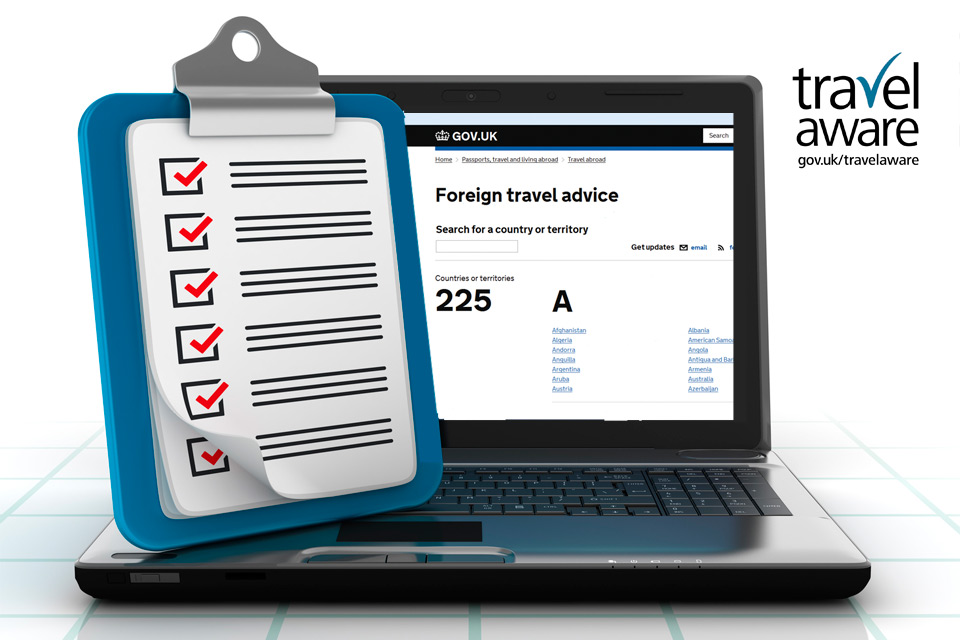 Before you go
check our travel advice for the country you are visiting. Sign up for email alerts to get the latest updates
follow @FCOtravel on Twitter and like our Facebook page
find out where your nearest British embassy or consulate will be, in case you need to contact them in an emergency
tell family and friends where you're going and leave them your contact details, insurance policy details and itinerary. Store them securely online
ensure you have access to funds to cover emergencies and unexpected delays. Take more than one means of payment with you (cash, debit card, credit card)
find out if travellers cheques are appropriate for your destination and keep a separate record of their numbers
invest in a good travel guide to help you plan your trip and consider using online travel forums for more detail about your destination
check with your service provider to make sure your phone works abroad. Consider leaving your phone's IMEI number with a friend or family member, to help block or locate the phone if there's a problem
if you're going to be driving abroad, make sure your licence is current and valid and be aware of the driving laws in the country you are visiting
if you're travelling with children who are unaccompanied by one or both parents, check our guidance on permissions that you might need to get and check the policy of your airline or transport provider
Entry requirements, visas and passports
make sure you've got correct visas for the country you're visiting and that your passport is valid
for some countries your passport must be valid for 6 months after the date you travel. Check the requirements for passport validity in our travel advice
if you're applying for a passport for the first time, you need to attend an interview at HM Passport Office to verify your identity. It takes up to six weeks to get a first passport. More information
make a note of your passport number and take a photocopy with you, or store it securely online
fill in the emergency contact details in your passport. This will help government officials to contact next of kin if you have an accident
Insurance
get travel insurance and make sure it covers you for any activities you are likely to do, including extreme or water sports
if you're travelling within the European Economic Area and Switzerland you can get a free European Health Insurance Card for free or reduced emergency care. You still need travel insurance to cover loss or damage to personal items
phone 112 to contact the emergency services in any EU country
Health
When you're abroad
think about what you are doing at all times and trust your instincts. Don't take risks that you wouldn't in the UK
don't openly display valuables such as mobile phones or digital cameras and consider using a padlock on suitcases or backpacks
find out how to minimise your risk from terrorism and what to do if there's a terrorist attack
find out about local customs and dress, behave accordingly and obey local laws. There may be serious penalties for breaking a law that might seem trivial at home
be careful when taking photographs, videos or using binoculars. These activities may be misunderstood by local authorities, especially near military installations.

store useful numbers on your phone such as the local police and the nearest British embassy or consulate

whether you're living abroad or visiting, be aware of the risks of carbon monoxide poisoning, just as you would in the UK; the 'Be Alarmed' campaign gives practical advice on how to stay safe and lists the symptoms to look out for
if you intend to take part in any adventure sports or water sports during your trip, only use properly licensed and insured operators. Before taking part, make sure you fully understand the operating instructions and satisfy yourself that adequate safety precautions are in place
check import regulations for food and plants before you attempt to bring them back to the UK
Published 22 March 2013
Last updated 23 May 2017
+ show all updates
Added advice on phone IMEI number
Revised checklist
First published.