Festival travel checklist
Travel tips and advice if you're heading to a music festival abroad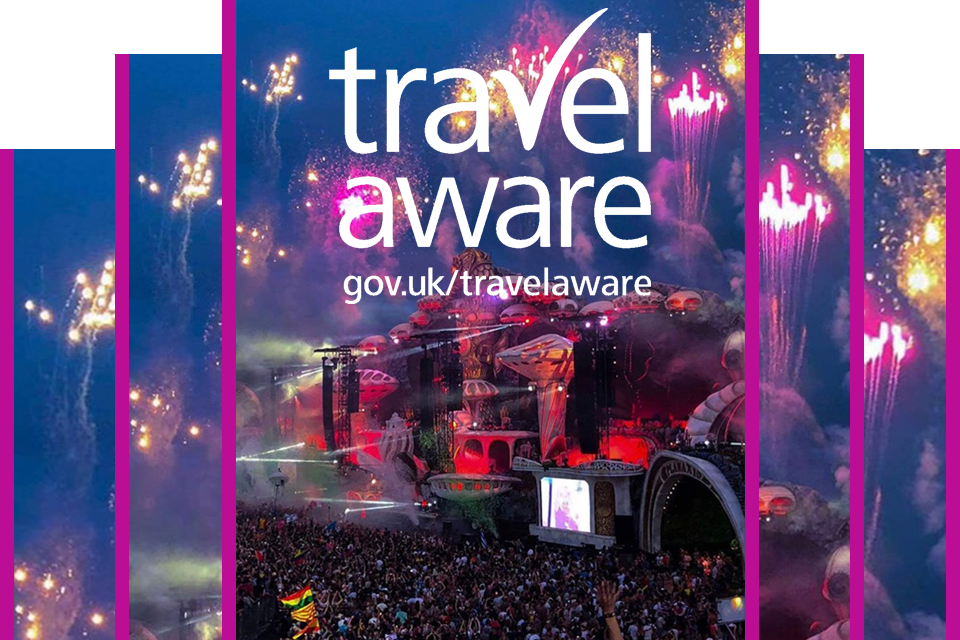 This guidance is about going to European music festivals, but much of it is relevant if you're going to festivals elsewhere.
Before you go
read our travel advice for lots of useful advice about the country you are going to. For instance, check the Entry Requirements section for what you need to enter the country (including COVID-19 rules), and the Local Laws and Customs section, so you know what's different to the UK
sign up to receive travel advice email alerts for the country you are visiting. You'll get alerts if the situation changes before you travel or while you are abroad
buy appropriate travel insurance. Check what your policy covers and what it does not cover. Keep a note of the contact and policy numbers with you, and leave a copy of your policy with a friend or family member in the UK
if you're going to a festival in an EU country or Switzerland, get a free UK Global Health Insurance Card (GHIC) before leaving the UK, for essential medical treatment if you have an accident or get ill. If you already have a UK European Health Insurance Card (UK EHIC), it will still be valid as long as it remains in date
find out if there are any special COVID rules for the festival or other places you'll be visiting
fill in the last page of your passport with your emergency contacts
make photocopies or take a photo of your passport. Leave a copy with a friend or family member and take one with you
tell family or friends where you'll be staying
make a note of the local emergency number in that country, the nearest British embassy or consulate and a family member or a close friend in case you lose your phone
At the festival
always keep your valuables including your passport in a safe place - some festivals provide lockers
if you have to carry your passport or other valuables with you, keep them in a zipped inside pocket
keep some spare cash separate from the rest of your money and credit cards
stay with your friends, look out for each other and avoid walking back to your accommodation on your own
follow the COVID-19 rules of local authorities, including if you or someone you are in contact with tests positive
laws and customs can be different in other countries. Penalties for drug possession in Europe can be severe, with heavy fines or imprisonment. Elsewhere, it could even lead to the death penalty
If you need help
most festivals have information points you can go to for help, advice and lost property
in an emergency, in Europe call the local emergency services on 112. In other countries check what the emergency number is (eg 911 in the US)
if your passport is lost or stolen, you will need to apply for an emergency travel document to get back to the UK
Further sources of information
See our Travel Aware page for more tips on how to travel safely
Sign up for our travel advice email updates for the country you are visiting
Follow us
Published 25 June 2017
Last updated 25 May 2022
+ show all updates
Updated to reflect the latest guidance

Checklist updated with latest advice

Updated checklist

First published.