Lesbian, Gay, Bisexual and Transgender foreign travel advice
Advice for LGB&T tourists travelling abroad.
Overview
Attitudes towards lesbian, gay, bisexual and transgender (LGBT) travellers around the world can be very different from those in the UK. However, you're unlikely to have problems if you prepare well and research your destination before you go.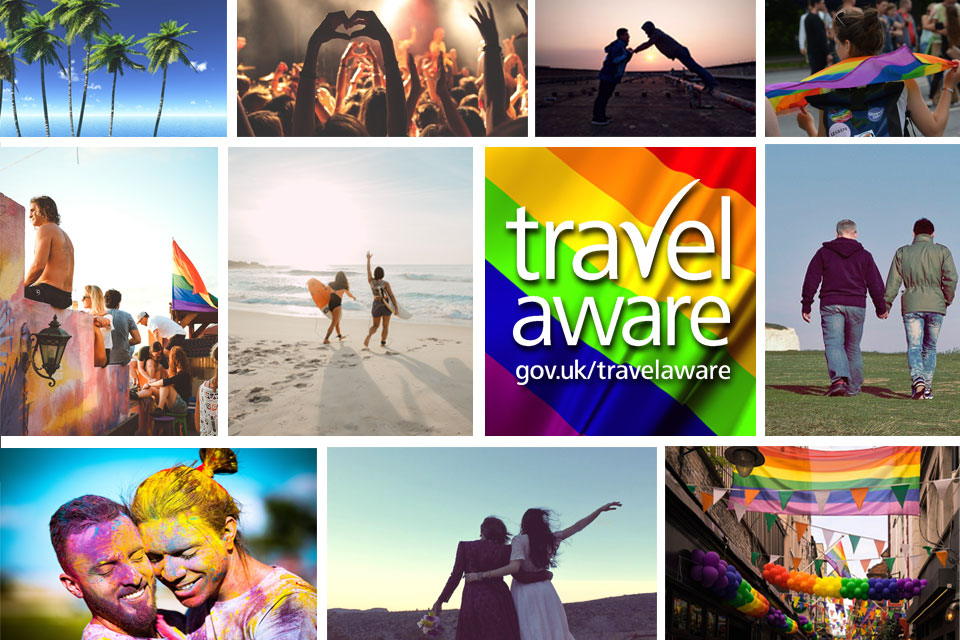 Where you can find information
Advice for LGBT travellers while overseas
Advice for transgender travellers going overseas for medical treatment
Increasingly, transgender people are going overseas to access transgender medical treatment. The selection of treatment and country is very much down to personal need and choice.
If you are thinking about going overseas for treatment or surgery, you should:
Further information is available from the National Travel Health Network and Centre.
Funding your treatment
You will need to explore how you will fund your treatment, whether you will use your own finances or seek funding elsewhere.
EEA Funding
There are funding options available for gender reassignment surgery in another European Economic Area (EEA) country or Switzerland. You will have to meet strict policy criteria to obtain the funding and it can take up to 20 working days to receive a decision.
You can compare funding routes and obtain more information about eligibility and entitlement to EEA funding on the NHS website. Make sure that you check the website for the latest information, before applying.
Useful general information and advice about obtaining healthcare abroad is available on the NHS website. There is also a checklist of things to consider that you should read though.
Insurance
You will need to look into whether your treatment will be covered by insurance. Most standard insurance policies will not cover travel for treatment that you have planned to have overseas and you may need to obtain a specialist 'medical travel policy'. Shop around and make sure that your insurance is the right one for you. Check the small print for any exclusions.
For more information on the wide range of travel insurance, including specialist travel insurance available, visit the Association of British Insurers (ABI) and the Association of Travel Insurance Intermediaries (ATII) websites. You should also check our travel insurance guidance page for more information and advice on choosing the right policy for you, and what to do if you need to make a claim.
Passport identity of transgender travellers
Transgender travellers sometimes face difficulties or delays at border controls overseas if they present as a different gender to what is stated in their passport. This may occur even when your gender presentation is consistent with the gender marker in your passport and you have the correct documentation. If undertaking facial surgery, obtain a letter from your overseas medical team explaining the reason for any changes in appearance.
Check out our country-specific information about this in our travel advice pages before making travel plans.
HM Passport Office offers information and advice for transgender and transsexual customers applying for a passport in an acquired gender. You do not need to have a Gender Recognition Certificate to change the gender marker in your passport.
What you should do if you have a problem overseas
If you have a problem overseas, you can ask the local British Embassy or consulate for help. We won't make generalisations, assumptions or pass judgement. However, consular staff do not routinely visit British nationals in hospitals for pre-planned treatment. The support consular staff can provide to all British nationals is set out in our publication 'Support for British nationals abroad: a guide'
Our staff overseas monitor and record incidents brought to their attention by British nationals about the treatment they have received from host authorities and issues of concern are regularly raised with the relevant body.
Why can't the Foreign, Commonwealth & Development Office (FCDO) provide a list of countries where same-sex relationships are illegal?
We don't have a list of countries where same-sex relationships are illegal for a number of reasons:
The International Lesbian, Gay, Bisexual, Trans and Intersex Association (ILGA) publishes a set of maps showing places where criminalisation, protection and recognition laws are enacted.
Useful links
Published 22 March 2013
Last updated 5 March 2020
+ show all updates
Addition of new section on advice to transgender travellers going overseas for medical treatment or surgery.

Document updated

Updated information on dating apps [Advice for LGB&T travellers while overseas section]

First published.