Foreign travel advice
Russia
Summary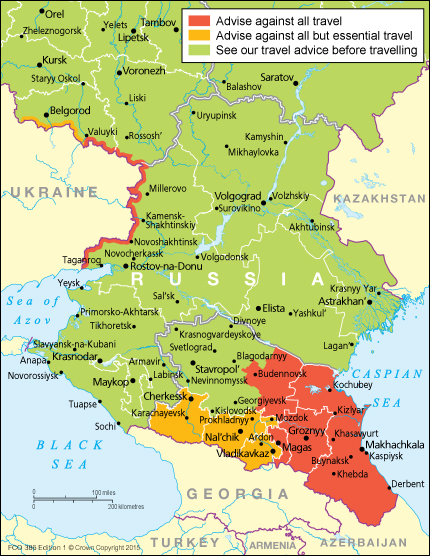 The Foreign and Commonwealth Office (FCO) advise against all travel to within 10km of the border with the Ukrainian Donetsk and Lugansk Oblasts.
The FCO advise against all but essential travel to within 10km of the border with the Ukrainian Kharkiv Oblast.
The FCO advise against all travel to Chechnya, Ingushetia and Dagestan and the districts of Budyonnovsky, Levokumsky, Neftekumsky, Stepnovsky and Kursky in Stavropol Krai.
The FCO advise against all but essential travel to North Ossetia, Karachai-Cherkessia and Kabardino-Balkaria (including the Elbrus area). See Local travel and Terrorism
The FCO has put together some top travel and safety tips to help fans travelling to Russia for the 2018 FIFA World Cup. See 'Be on the ball'.
Terrorists are very likely to try to carry out attacks in Russia. See Terrorism
A suicide attack on the St Petersburg metro on 3 April 2017 resulted in 15 deaths and many injuries.
Attacks have occurred most frequently in the North Caucasus, but also in Moscow. In 2015, a Russian airliner returning from Sharm el-Sheikh crashed in North Sinai (Egypt). The Russian authorities have stated it was brought down by an explosive device placed on board the aircraft.
In 2015, Daesh (formerly referred to as ISIL) announced the establishment of an affiliate in the North Caucasus. Many rebel leaders announced they had switched their allegiance to Daesh.
The FIFA Confederations Cup will take place in Russia between 17 June and 2 July 2017. See this information and advice page for travelling fans.
The UK doesn't recognise Crimea as being part of Russia. See the Ukraine travel advice page for details.
There are on-going armed clashes, kidnappings, seizure of buildings and other violent incidents in the Donetsk, Lugansk and Kharkiv oblasts of Ukraine bordering Russia. The picture remains volatile and uncertain. However, it's clear that a number of border crossing points are insecure, and fighting is taking place across the border. You should remain vigilant throughout regions of Russia bordering Ukraine, and avoid all demonstrations and public gatherings.
Political rallies can occur in Moscow, St. Petersburg and other places across Russia. Check media for the latest information, be vigilant, and avoid any demonstrations. See Political situation
On 12 June 2017 opposition demonstrations are planned in towns and cities across Russia. In Moscow these will take place on Prospect Akademika Sakharova.
You should be aware of the risk of street crime. See Crime
According to the Russian Ministry of Foreign Affairs, British nationals made around 150,000 visits to Russia in 2015. Most visits are trouble-free.
If you're abroad and you need emergency help from the UK government, contact the nearest British embassy, consulate or high commission.
The Overseas Business Risk service offers information and advice for British companies operating overseas on how to manage political, economic, and business security-related risks.
Take out comprehensive travel and medical insurance before you travel.