Foreign travel advice
Kenya
Summary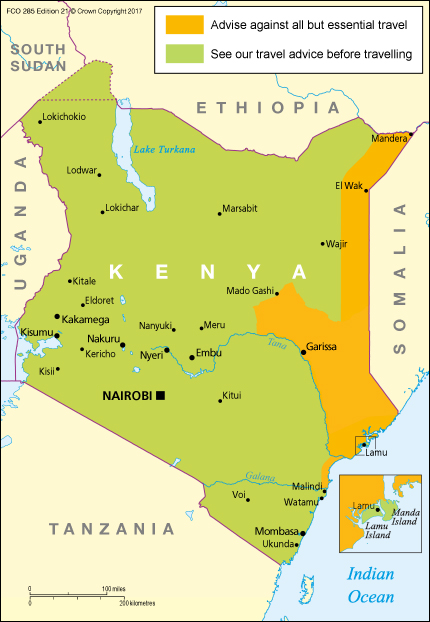 The Foreign and Commonwealth Office (FCO) advise against all but essential travel to
areas within 60km of the Kenya-Somali border

Garissa County

Lamu County (excluding Lamu Island and Manda Island)

areas of Tana River County north of the Tana river itself

within 15km of the coast from the Tana river down to the Galana (Athi-Galana-Sabaki) river
The area to which the FCO advise against all but essential travel doesn't include Kenya's safari destinations in the national parks, reserves and wildlife conservancies; including the Aberdare National Park, Amboseli, Laikipia, Lake Nakuru, Masai Mara, Meru, Mount Kenya, Samburu, Shimba Hills, Tsavo, nor does it include the beach resorts of Mombasa, Malindi, Kilifi, Watamu, Diani, Lamu Island and Manda Island. Mombasa airport (Moi International Airport), Malindi airport and Manda airport aren't included in the area to which the FCO advise against all but essential travel. If you travel to Lamu Island or Manda Island, you should do so by air to Manda airport and not by road.
The National Police Service of Kenya reported that on 20 November an armed gang attacked a trading centre in Chakama in Kilifi County, and abducted an Italian NGO worker.
Terrorists are very likely to try to carry out attacks in Kenya. The main threat comes from extremists linked to Al Shabaab, a militant group that has carried out attacks in Kenya in response to Kenya's military intervention in Somalia. There have been a number of attacks in Kenya in recent years, particularly in Garissa, Mandera and Lamu counties and other mainland areas close to the Somali border.
On 14 March 2018, the Inspector General of the Kenyan Police reported that a major terrorist attack, targeting Nairobi, had been prevented by Kenyan police in February 2018. Attacks could be indiscriminate in places frequented by foreigners including hotels, bars, restaurants, sports bars and nightclubs, sporting events, supermarkets, shopping centres, coastal areas including beaches, airports, buses, trains and other transport hubs. Places of worship including churches and mosques have also been targeted. Be particularly vigilant in these areas.
In light of security concerns, the Kenyan government has imposed a curfew in Mandera county and large parts of Lamu county, Tana River county and Garissa county for the hours 6:30pm to 6:30am. This curfew doesn't apply to Lamu Island, Manda Island or Pate Island. Check local media before you travel.
There's a heightened threat of terrorist attacks in Nairobi and the coast and resort areas of Mombasa and Malindi, and northern border counties. The Inspector General of the Kenyan police has called on the public to adopt a higher level of vigilance and report any suspicious people or activity straight away. See Terrorism
In 2017, the central county of Laikipia saw incursions by pastoralist cattle herders onto privately held ranches and conservancies, in some cases leading to violence and arson. Kenyan security forces have taken steps to enforce private property rights and the situation has calmed. However isolated issues could still occur and you should check the latest situation at your destination before travelling to the region. See Safety and Security
President Kenyatta was inaugurated for a second five year term on 28 November 2017 following a tense election period which saw an increase in protests across the country, some of which turned violent. The situation has calmed but further demonstrations and clashes are possible. You should exercise caution and, where possible, avoid travelling around areas where demonstrations may take place. This may include large gatherings, universities, political party headquarters, and offices of the electoral commission.
You should consider making personal contingency plans in case of unrest. Keep up to date with this travel advice by subscribing to email alerts. The British High Commission run an SMS alert system for British nationals. See Registration with the British High Commission
You need a visa to enter Kenya. You can either get a visa on arrival at the airport, or before you travel. To minimise time spent queuing at the airport, get a visa before you travel. You can apply for single entry and transit visas on the evisas website. For other types of visa, apply at the nearest Kenyan High Commission or Embassy. For more information on different types of visas see the website of the Kenya High Commission.
There are frequent incidents of violent crime including mugging, armed robbery and carjacking, particularly in the large cities. See Crime
There is a threat of piracy in the Gulf of Aden and Indian Ocean. See Sea travel
Around 100,000 UK residents visit Kenya every year. Most visits are trouble-free.
If you're abroad and you need emergency help from the UK government, contact the nearest British embassy, consulate or high commission.
The Overseas Business Risk service offers information and advice for British companies operating overseas on how to manage political, economic, and business security-related risks. Take out comprehensive travel and medical insurance before you travel.