Summary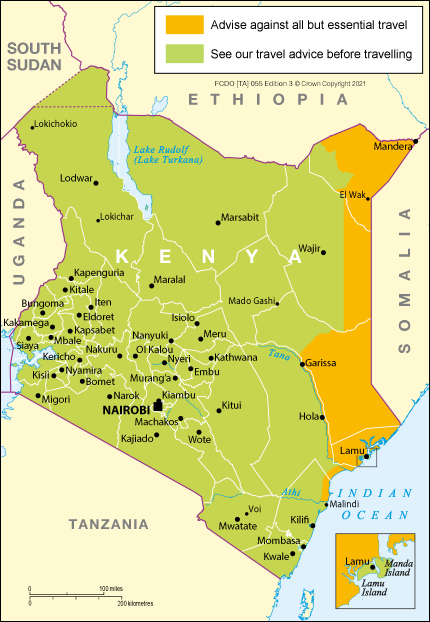 The Foreign, Commonwealth & Development Office (FCDO) advises against all but essential travel to:
areas within 60km of the Kenya-Somali border
Eastern Garissa County (up to 20km north-west of the A3)

Mandera County (excluding Mandera West sub-county)

Lamu County (excluding Lamu Island and Manda Island)
areas of Tana River County north of the Tana river itself (up to 20km north-west of the A3)
within 15km of the coast from the Tana river down to the Galana (Athi-Galana-Sabaki) river
COVID-19 entry restrictions for Kenya
Before you travel, check the 'Entry requirements' section for Kenya's current entry restrictions and requirements. These may change with little warning. Monitor this advice for the latest updates and stay in contact with your travel provider.
Travelling from and returning to the UK
Check what you must do to travel abroad and return to England, Scotland, Wales or Northern Ireland.
If you plan to pass through another country to return to the UK, check the travel advice for the country you're transiting.
If you're planning travel to Kenya, find out what you need to know about coronavirus there in the Coronavirus section.
During the COVID-19 pandemic, it is more important than ever to get travel insurance and check it provides sufficient cover. See the FCO's guidance on foreign travel insurance.
For information about COVID-19 vaccines, see the Coronavirus page.
The official result of Kenya's Presidential election was declared on 15 August 2022. There is a likelihood of public gatherings. We are aware of demonstrations in parts of Nairobi and other parts of the country. You are advised to avoid crowded places and should continue to exercise caution, monitor local media and follow any advice given by the local security services. See Safety and security.
On 15 August, the Kenya Aviation Workers Union announced a planned strike of Kenya Airports Authority employees starting on 16 August. Strike action may be delayed or cancelled, but you should contact your airline ahead of travel to confirm the status of your flight.
You must carry a form of ID with you at all times. A copy of your passport is normally acceptable, but recently some police officers have been insisting on the original document.
Terrorists are very likely to try to carry out attacks in Kenya.
There is a heightened threat of terrorism, including terrorist kidnappings, across Kenya. Attacks, including terrorist kidnappings, could target Westerners, including British nationals. Attacks could occur at any time, including around religious or other public holidays or celebrations.
Attacks could be indiscriminate in places frequented by foreigners including hotels, bars, restaurants, sports bars and nightclubs, sporting events, supermarkets, shopping centres, commercial buildings, coastal areas including beaches, government buildings including Embassies, airports, buses, trains and other transport hubs. Places of worship including churches and mosques have also been targeted. British nationals are advised to be extremely vigilant in these areas. You should avoid regular patterns of movement and aim to travel during daylight hours. See Terrorism
There are frequent incidents of violent crime including mugging, armed robbery and carjacking, particularly in the large cities. See Crime
There is a threat of piracy in the Gulf of Aden and Indian Ocean. See Sea travel
If you're abroad and you need emergency help from the UK Government, contact the nearest British embassy, consulate or high commission. Consular support is limited in parts of Kenya where the FCDO advise against all but essential travel.
You should consider making personal contingency plans, check this travel advice when planning travel around the country and keep up to date by subscribing to email alerts. See Safety and security
The Overseas Business Risk service offers information and advice for British companies operating overseas on how to manage political, economic, and business security-related risks.