Foreign travel advice
The Gambia
Summary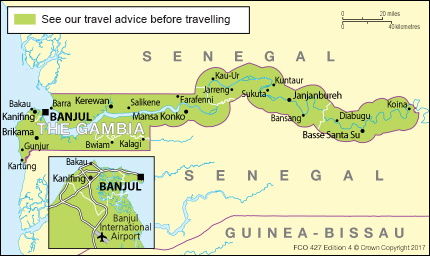 Most visits to The Gambia are trouble-free, although independent travellers are at increased risk due to the lack of local support in an emergency. If you're travelling independently, make sure next of kin in the UK have details of your itinerary and keep in regular touch. Take out comprehensive travel and medical insurance before you travel.
In January 2017, The Gambia experienced a peaceful handover of power to President Adama Barrow and his coalition government.
There are a number of checkpoints operating in and around the capital. Expect your vehicle to be searched if you're stopped by security forces.
There has been an increase in the number and frequency of protests in The Gambia, primarily in the Kombo districts. There are reports of planned political demonstrations which may take place during the period December 2019 to January 2020. You should avoid large gatherings in public areas, monitor local media for up-to-date information and follow the advice of local authorities.
Terrorist attacks in The Gambia can't be ruled out. Attacks could be indiscriminate. You should be vigilant, especially in places visited by foreigners. See Terrorism
It hasn't always been possible for the British High Commission to gain early access to detained British nationals in The Gambia. If you're living in The Gambia, you should contact the British High Commission who will be able to advise on how to contact consular staff in the event of an emergency.
In the years before the new government took office, some foreign nationals were detained by the police in relation to homosexuality. Although homosexuality remains illegal, the new government has taken a softer stance on many issues, including homosexuality. See Local laws and customs
The Gambia has provision in law for the implementation of the death penalty for a number of crimes including arson, murder and treason. In February 2018, President Barrow announced a moratorium on the death penalty. See Local laws and customs
Take care when swimming in the sea. Tides, waves and under currents can all be very strong.