Foreign travel advice
Cameroon
Summary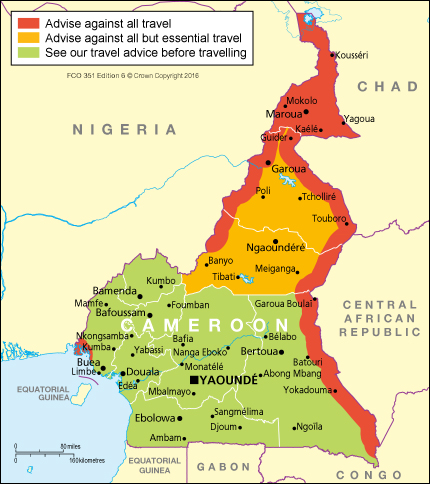 The Foreign and Commonwealth Office (FCO) advise against all travel to:
Far North province
within 40km of the border with Nigeria's Adamawa state in Cameroon's North and Adamaoua provinces
within 40km of the border with Chad
within 40km of the border with the Central African Republic (CAR)
the Bakassi Peninsula (as shown on the map)
The FCO advise against all but essential travel to the rest of North and Adamaoua provinces.
There is a high threat from terrorism. The terrorist group Boko Haram is active in the Far North but attacks could occur anywhere including major towns and cities such as Yaoundé and Douala. Between 25 January and 10 February a wave of suicide attacks resulted in over 50 dead in the Far North province. Key targets have been large open markets, hotels, parks and sporting venues. There have also been attempts to take hostages and heavy gunfights reported in Babouang and Mbarang in Adamaoua region.
Boko Haram has publicly threatened Cameroon with attacks and further kidnappings due to Cameroon's involvement in the regional fight to counter Boko Haram. There's a heightened threat of kidnap to western nationals in the north of Cameroon, including in the major cities.You should remain vigilant and exercise caution. See Terrorism
During the period March July 2015 there have been a series of kidnappings and attempted kidnappings in the east of Cameroon close to the CAR border. There are also increasing reports of criminality including large armed gangs and highway bandits, stopping travellers and demanding payment.
Nigerian military operations in the states of Borno, Yobe and Adamawa in Nigeria could have an impact across the border in Cameroon.
There are increased reports of piracy in the Gulf of Guinea. Take great care when travelling in coastal waters, including the coastline of Cameroon and the Doula port. Despite the high crime levels, most visits to Cameroon are trouble-free. Only a few British nationals needed consular assistance in the past year.
All land, air and maritime restrictions between Cameroon and Ebola affected countries have been lifted. Travellers' temperatures will be taken on arrival in Cameroon.
The World Health Organization has issued temporary recommendations about polio vaccination. The government of Cameroon now requires all departing travellers who have spent more than 4 weeks in the country to provide evidence of vaccination against polio. You can be vaccinated at the airport on departure.
Take out comprehensive travel and medical insurance before you travel.