Foreign travel advice
Ethiopia
Summary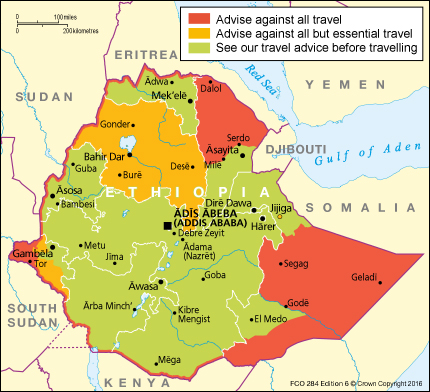 The Foreign and Commonwealth Office (FCO) advise against all travel to:
within 10 km of the border with Eritrea, with the exception of the main road through Axum and Adigrat, and tourist sites close to the road (e.g. Debre Damo and Yeha)

areas off the principal roads/towns within 10 km of the borders with Sudan and Kenya

within 10 km of the border with South Sudan

the Nogob (previously Fik), Jarar (previously Degehabur), Shabelle (previously Gode), Korahe and Dollo (previously Warder) zones of the Somali region.

within 100 km of the Ethiopian border with Somalia and Kenya in the Afder and Liben zones of Ethiopia's Somali region

the Danakil desert area: north of the Mille-Djibouti and Mille-Chifra roads, and east of the towns of Bere-Ale, Shehet, Didigsala and Chifra

the four woredas (districts) (Akobo, Wantawo, Jikawo and Lare) of the Nuer zone and the Jore woreda of the Agnuak zone of the Gambella region
The FCO advise against all but essential travel to:
Amhara region

Jijiga town

three woredas of the Agnuak zone of the Gambella region that border on South Sudan (Dima, Goge and Etang) and the Gambella wildlife reserve
There is a general threat from terrorism. Attacks could be indiscriminate, including in places visited by foreigners.
You should be vigilant at all times, especially in crowded areas and public places like transport hubs, hotels, restaurants, bars and places of worship and during major gatherings like religious or sporting events. There is a threat of kidnapping in Ethiopia's Somali region, particularly in the eastern areas to which the FCO advise against all travel. See Terrorism
Crime levels are low, but you should avoid large gatherings and public demonstrations and be alert to the risk of street crime. See Crime
The Meskel ("Finding of the True Cross") religious celebration will take place on 26-27 September 2016. Events will take place across the country with the largest in Meskel Square, Addis Ababa. Roads leading to the square will be closed from 1pm onwards on 26 September and celebrations will start from 4pm. Security presence will be high and there will be considerable traffic congestion and a very high volume of pedestrian traffic.
Demonstrations have been taking place in the Oromia and Amhara regions in 2016. In August 2016 there were violent clashes between protestors and security forces including in Gondar, Bahir Dar, and Debretabor in Amhara. There remains a heavy security presence in many areas. Further protests in Amhara and Oromia are likely.
On 2 October 2016 the Irreechaa Thanksgiving holiday will be celebrated in Bishoftu, Oromia although the Oromo people will celebrate across the whole region. Further protests may occur in relation to these celebrations.
Protests may occur with little warning and can turn violent. Telephone communications and internet may be disabled and roads blocked. Monitor local and international news for further information. You should avoid large crowds and remain vigilant at all times.
The Ethiopia-Eritrea border remains closed. Several security incidents have taken place along the border. The risk of cross-border tensions remains. There is a threat of kidnapping along the border. See Local travel
Owning ivory is strictly prohibited in Ethiopia. Anyone caught in possession of ivory can expect to be detained by police. See Local laws and customs
Around 20,000 British nationals visit Ethiopia every year. Most visits are trouble free.
The Overseas Business Risk service offers information and advice for British companies operating overseas on how to manage political, economic, and business security-related risks.
Take out comprehensive travel and medical insurance before you travel.