Foreign travel advice
Côte d'Ivoire
Summary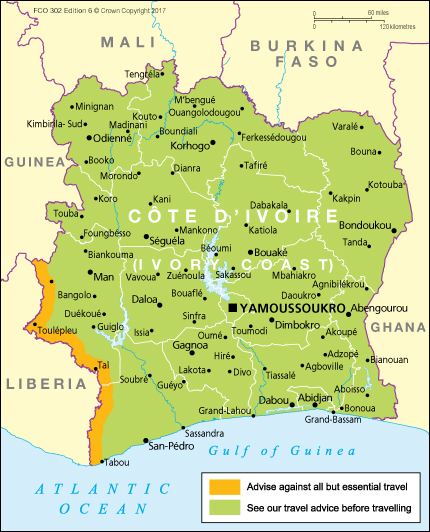 The FCO advise against all but essential travel to within 20km of the border with Liberia. See Local travel
Adverse weather conditions caused severe flooding in Abidjan on 19 June. There is a risk of further, localised flooding during the rainy season. Check the feasibility of your route following prolonged periods of heavy rain.
Local elections will take place on 13 October. Political campaigning and rallies began on 28 September and will continue until 11 October. Election results are due to be announced in the days that follow. There is a potential for isolated incidents and unrest during the campaign period and in certain electoral districts if the results are disputed. You should avoid large crowds and, in the event of unrest, monitor local media and follow instructions given by local police and security personnel.
Security forces in Bouake clashed on 8 to 9 January 2018, resulting in the destruction of military buildings.
Military protests also occurred in several cities in Côte d'Ivoire in January, February and May 2017. The government reached an agreement with the soldiers resulting in an end to their protests. You should be vigilant near military barracks, military installations, large crowds and demonstrations. In the event of unrest monitor local media and follow instructions given by local police and security personnel.
On 18 September 2017 students protested around the Université Houphouet-Boigny in Abidjan, police responded with tear gas.
Terrorists are likely to try to carry out attacks in Côte d'Ivoire. A terrorist attack took place at Grand Bassam, near Abidjan on 13 March 2016 in which 18 people were killed including a number of foreigners. Further attacks on beach resorts, hotels, cafés and restaurants visited by foreigners are possible and could occur without warning. Be especially vigilant in these places. See Terrorism
Violent crime can occur at any time. Be particularly vigilant and take care when travelling by road, especially at night. See Crime
You should avoid large public gatherings and political rallies. See Security
UK health authorities have classified Côte D'Ivoire as having a risk of Zika virus transmission. For information and advice about the risks associated with Zika virus, visit the National Travel Health Network and Centre website.
If you're abroad and you need emergency help from the UK government, contact the nearest British embassy, consulate or high commission.
The Overseas Business Risk service offers information and advice for British companies operating overseas on how to manage political, economic, and business security-related risks.
Take out comprehensive travel and medical insurance before you travel.