Foreign travel advice
North Korea
Summary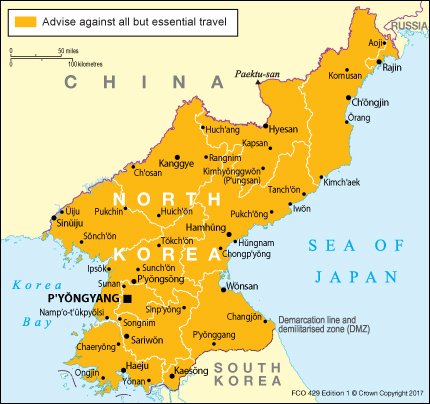 The Foreign and Commonwealth Office (FCO) advise against all but essential travel to North Korea (DPRK).
The level of tension on the Korean peninsula grew considerably in 2017 due to a series of North Korean nuclear and missile tests. On 21 April 2018, North Korea announced a halt to nuclear and intercontinental ballistic missile testing.
Since the start of 2018 there has been a renewal of direct contact between the North and South Korean governments, as well as between North Korea and the United States. On 12 June US President Donald Trump met North Korea's leader Kim Jong Un in Singapore. In a joint statement, North Korea reaffirmed its previous commitment to denuclearisation of the Korean peninsula. The Panmunjom Declaration signed at the inter-Korean summit on 27 April pledged to agree a peace treaty to formally end the Korean War by the end of 2018, alongside a number of other commitments to build inter-Korean ties and reduce military tensions.
In the past, similar periods of diplomatic engagement have failed to be sustained. This has led to further missile or nuclear tests and a return to instability in the region. Tensions usually rise around the time of South Korean-US military exercises, notably those regularly held in spring and autumn. See Political situation
While daily life in the capital city Pyongyang may appear calm, the security situation in North Korea can change with little notice and with no advance warning of possible actions by the North Korean authorities. This poses significant risks to British visitors and residents.
You should follow the political and security situation very closely and stay in touch with your host organisation or tour operator.
Flooding is common in the rainy season (July to August). See Natural Disasters
If you're living in North Korea or decide to travel there independently, you should inform the British Embassy in Pyongyang about your travel plans before, or on arrival.
Our foreign travel checklist and crisis overseas page suggest things you can do before and during foreign travel to plan effectively and stay safe. You can also sign up to our email alert service to be notified about future updates to this travel advice.
The British Embassy Pyongyang can currently provide some consular assistance to British visitors to Pyongyang, but only limited assistance to those visiting parts of the country outside the capital. This is due to restricted access. In the event of instability or a worsening of the security situation, the ability of the British Embassy to provide consular assistance could be significantly reduced.
Some foreign nationals have reportedly not been granted access to consular support when detained in North Korea.
Few British people visit North Korea and those that do are usually part of an organised tour. If you decide to visit North Korea, follow the advice of your tour group and the local authorities. Failure to do so could put your personal safety at risk.
Offences that would be considered trivial in other countries can incur very severe penalties in North Korea, particularly actions the authorities deem to be disrespectful towards the North Korean leadership or government. A Japanese national visiting North Korea as part of an organised tour group was detained on 5 August 2018 on unspecified grounds before being released and deported on 28 August 2018. See Local laws and customs
Although there's no recent history of terrorism in North Korea, attacks can't be ruled out. See Terrorism
The standards and availability of medical facilities in North Korea are poor. Take out comprehensive travel and medical insurance before you travel. See Health