Foreign travel advice
Kosovo
Summary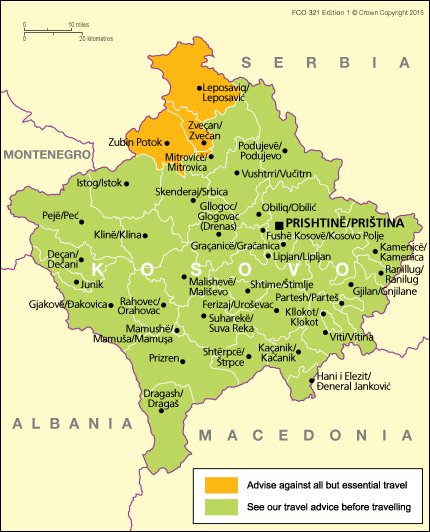 The Foreign and Commonwealth Office (FCO) advise against all but essential travel to the municipalities of Zvečan, Zubin Potok and Leposavic, and to the northern part of the city of Mitrovica. See Northern Kosovo
The frequency of protests in central Pristina has subsided of late but more are possible in the coming weeks. Protests have the potential to turn violent, you should take care if you see large crowds gathering during heightened political tensions in the city. Check local media, consult hotel receptions for advice and regularly review information on this site for updates.
There have been violent clashes in the north of Kosovo and incidents involving grenades and vehicle explosions in northern Mitrovica. Be cautious and avoid public gatherings, particularly around the Austerlitz Bridge area which separates Mitrovica north and south.
It isn't currently possible to travel from Kosovo directly into Serbia; you'll need to travel through a third country. It is possible to travel from Serbia directly into Kosovo. If tensions rise in the north it is better to avoid border crossing Gates 1 and 31 (Leposavic and Zubin Potok). See Northern Kosovo
Residual landmines and other unexploded ordnance remain in Kosovo, although all roads and tracks have been cleared. See Local travel
There is a general threat from terrorism. See Terrorism
Most visits to Kosovo are trouble-free. 
If you're abroad and you need emergency help from the UK government, contact the nearest British embassy, consulate or high commission.
Take out comprehensive travel and medical insurance before you travel.