Foreign travel advice
Yemen
Summary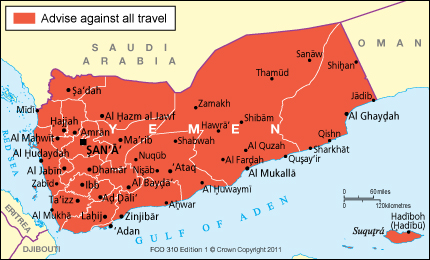 The Foreign and Commonwealth Office (FCO) advise against all travel to Yemen. This includes the mainland and all islands. If you're in Yemen, you should leave immediately.
The British government can't provide any form of assisted departure to British nationals in Yemen. There are no evacuation procedures in place, in line with the FCO's longstanding policy on assistance in Yemen. The FCO has been consistently advising against all travel to Yemen and for UK nationals to leave Yemen since March 2011.
Due to increased security risk, on 11 February 2015 the operations of the British Embassy in Sana'a were temporarily suspended and diplomatic staff withdrawn. If you need consular assistance, you can contact the FCO in London at any time by calling +44 (0) 20 7008 1500.
The FCO can't offer advice on the safety of travelling to any potential evacuation point. You should therefore consider carefully whether you want to pursue any options that become available. You should use your own judgement to move towards an evacuation point only if and when you judge it is safe to do so.
The UK government's ability to facilitate onward travel from countries in the region is limited and you'll be expected to cover the cost of visas, accommodation, insurance and onward travel yourself. Any travel options you pursue are taken at your own risk.
Yemen remains very tense and unstable and the security situation throughout the country is dangerous and in some areas it is unclear which faction has control. In addition to ongoing fighting, there's a threat of terrorist attacks, kidnap and unlawful detention against foreigners from terrorist groups, local militia, armed tribesmen and criminal groups that have the intent and capability to carry out such acts.
If you do choose to remain in Yemen you should minimise movement around the country and within cities and towns and follow other precautions in this travel advice.
Since 25 March 2015, Saudi Arabia has been leading coalition airstrikes against Houthi and pro-Saleh targets in Yemen in response to a request for support from President Hadi. Fighting continues across the country, which has exacerbated the humanitarian crisis and damaged key infrastructure. Access to food, clean water, fuel and medical supplies is difficult throughout Yemen. There is a high risk of being caught in indiscriminate gunfire or shelling.
There have been a number of clashes along the Yemen-Saudi border, which have resulted in casualties. The Foreign and Commonwealth Office advises against all travel to areas of Saudi Arabia within 10 km of the border with Yemen, and against all but essential travel between 10km and 80km of this border. If you choose to ignore this advice and travel by land to Saudi Arabia you should expect to wait around 24 hours, though possibly up to several days at the border in order to enter the Kingdom, and in areas where food and water are reported extremely scarce, and accommodation severely limited. Estimates of the number of people waiting to cross the border vary, with some travellers assessing figures as high as several thousand. There are reports that several bus companies are delaying trips to the border due to the overcrowding.
If you've previously submitted an application in Yemen for a British passport, you will be contacted by Her Majesty's Passport Office.
Terrorists are very likely to try to carry out attacks in Yemen. Specific methods of attack are evolving and increasing in sophistication. Terrorist attacks take place on a frequent basis, and terrorists continue to threaten further attacks. There is a very high threat of kidnap and unlawful detention from militia groups, armed tribes, criminals and terrorists. In 2014 and 2015, a number of foreign nationals were kidnapped and unlawfully detained, and groups actively continue to target westerners. See Terrorism
There's ongoing fighting between competing factions across the country. The situation is very changeable and it's unclear in some areas which faction has control. This fighting includes armed groups like Al Qaida in the Arabian Peninsula (AQAP) and Daesh's official Branch in Yemen, IS-Y. See Terrorism
Tropical cyclones sometimes affect parts of the country. You should monitor local and international weather updates. See our tropical cyclones page for advice about what to do if you're caught up in a storm.
Piracy remains a significant threat in the Gulf of Aden and Indian Ocean. See Sea travel
If you're abroad and you need emergency help from the UK government, contact the nearest British embassy, consulate or high commission.
Take out comprehensive travel and medical insurance before you travel.