Summary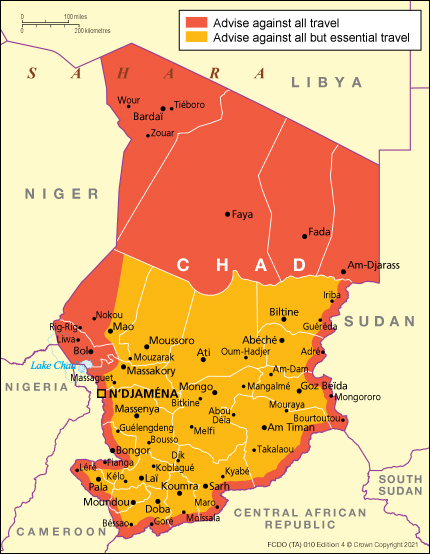 The Foreign, Commonwealth & Development Office (FCDO) advises against all travel to:
the northern provinces of Chad (Borkou, Ennedi, Tibesti)
eastern Kanem province, including the town of Nokou
the Lake Chad region
within 30 km of all Chad's other border areas
The FCDO advises against all but essential travel to the rest of Chad, including the capital, N'Djamena.
Following recent political instability in Chad, protests may occur in N'Djamena and other cities. In April and May 2021, there were clashes between protesters and security forces, with reports of live ammunition being used by security forces and a number of civilian fatalities and casualties. Inter-communal clashes in Abéché (eastern Chad) and Sandana (southern Chad) in January and February 2022 respectively led to several deaths. On 14 May 2022, there were protests in N'Djamena and other towns which included anti-French sentiments; Total petrol stations in N'Djamena were attacked and damaged. Further protests and attacks against perceived French targets could take place. You should exercise extra vigilance and caution, avoiding any demonstrations or large gatherings of people. See Safety and security
The UK Embassy Office in N'Djamena does not provide consular services. Consular services are provided remotely from the British High Commission in Cameroon. Keep your passport, and those of immediate family members, up to date, along with any visas that you may require; a replacement emergency travel document may take time to issue, which could make travelling more complicated.
British Nationals in Chad requiring consular assistance should phone + 237 222 22 07 96. If you cannot reach us on this number, call +44 1908 516666 (if abroad) or 020 7 008 5000 (if in the UK). Consular officers are available 24/7 to assist with your enquiries.
COVID-19 entry restrictions for Chad
Before you travel, check the 'Entry requirements' section for Chad's current entry restrictions and requirements. These may change with little warning. Monitor this advice for the latest updates and stay in contact with your travel provider.
Travelling from and returning to the UK
Check what you must do to travel abroad and return to England, Scotland, Wales or Northern Ireland.
If you plan to pass through another country to return to the UK, check the travel advice for the country you're transiting.
If you're planning travel to Chad, find out what you need to know about coronavirus there in the Coronavirus section.
During the COVID-19 pandemic, it is more important than ever to get travel insurance and check it provides sufficient cover. See the FCDO's guidance on foreign travel insurance.
For information about COVID-19 vaccines, see the Coronavirus page.
There continues to be potential for instability in Chad, particularly in its border regions.
A state of emergency remains in place for the Lake Chad region.
In April 2021, rebels from the Front pour l'alternance et la concorde au Tchad (FACT) entered north-western Chad from Libya before being repelled by Chadian forces. All British nationals were advised to leave the country on 17 April 2021. The UK Embassy Office closed temporarily but reopened in May 2021.
In May 2021, there were reports of armed forces entering south-western Chad from the Central African Republic before being repelled by Chadian forces. Chadian rebel groups in neighbouring countries and elsewhere continue to threaten Chad. See Safety and security
Before considering any travel, take professional security advice. You should follow your employer's security advice and make sure the correct Chadian authorities are aware of your journey, you have in place the right permits if need, and you hold comprehensive travel insurance.
The number of reports of car-jackings on roads outside N'Djamena has increased, including during daylight hours. You should use a police or military escort when driving outside the capital, and carry working communications equipment. See Crime
Terrorists are very likely to try to carry out attacks in Chad. Attacks could be indiscriminate, including in places visited by foreigners. There's a threat of retaliatory attacks following the French intervention in Mali and due to Chad's involvement in the regional fight to counter Boko Haram. There is a heightened threat of kidnap in Chad. See Terrorism