Foreign travel advice
Chad
Summary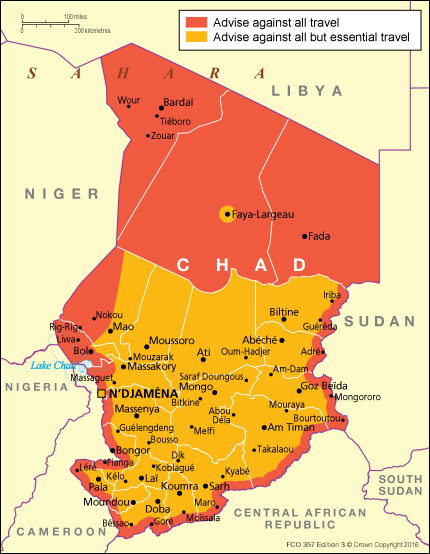 The Foreign and Commonwealth Office (FCO) advise against all travel to:
areas within 30km of all borders, except for the capital N'Djamena (where the FCO advise against all but essential travel)
within 30km of Lake Chad and the parts of Kanem and Lac regions to the west of the towns of Mao and Bol
the regions of Ennedi, and Tibesti
the region of Borkou, except within 30km of the town of Faya Largeau (where the FCO advise against all but essential travel)
The FCO advise against all but essential travel to all remaining parts of the country including the capital, N'Djamena and the town of Faya Largeau.
A state of emergency remains in place for the Lake Chad region.
Before considering any travel, take professional security advice. You should follow your employer's security advice and make sure the correct Chadian authorities are aware of your journey, you have in place the right permits if required, and you hold comprehensive travel insurance.
The number of reports of car-jackings on roads outside N'Djamena has increased, including during daylight hours. It is recommended that you use a police or military escort when driving outside the capital, and carry working communications equipment. See Crime
Terrorists are very likely to try to carry out attacks in Chad. Attacks could be indiscriminate, including in places visited by foreigners. There's a threat of retaliatory attacks following the French intervention in Mali and due to Chad's involvement in the regional fight to counter Boko Haram. There is a heightened threat of kidnap in Chad. See Terrorism
If you're abroad and you need emergency help from the UK government, contact the nearest British embassy, consulate or high commission. Consular support is not available from the British government in Chad. However, the British High Commission in Yaoundé, Cameroon can provide consular support to British nationals.
Take out comprehensive travel and medical insurance before you travel.