Summary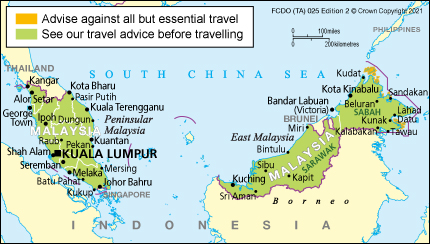 For security reasons, the FCDO advises against all but essential travel to all islands off the coast of eastern Sabah from Kudat to Tawau, including (but not limited to) Lankayan, Mabul, Pom Pom, Kapalai, Litigan, Sipadan and Mataking.
Before you travel, check the 'Entry requirements' section for Malaysia's current entry restrictions and requirements. These may change with little warning. Monitor this advice for the latest updates and stay in contact with your travel provider.
If you plan to pass through another country to return to the UK, check the travel advice for the country you're transiting.
It is more important than ever to get travel insurance and check it provides sufficient cover. See the FCDO guidance on foreign travel insurance.
Terrorists are likely to try to carry out attacks in Malaysia. Attacks could be indiscriminate, including in places visited by foreigners. Bars and restaurants, hotels, markets, shopping malls hosting major international brand outlets, tourist attractions, places of worship and airports are all potential targets. You should be especially vigilant and maintain a high level of security awareness in crowded places and at large gatherings.
In May 2017, the Philippines authorities reported that they had received unsubstantiated but credible information that the terrorist group Abu Sayyaf may be about to conduct kidnaps in the Sulu Sea, including around the islands of the Sulu archipelago (Philippines) and the seas/islands off the east coast of Sabah (Malaysia). Any vessels sailing in this area could be targeted. You should carefully consider travel plans and be especially vigilant at this time.
There is a threat to foreigners of kidnapping and criminality on the eastern coast of Sabah and in particular the islands close to the Sulu Archipelago in the southern Philippines. There has been an increase in kidnapping by groups operating in the southern Philippines, some of whom have the ability to conduct kidnaps on the coast of Sabah. Commercial shipping companies have been advised to adopt heightened vigilance when navigating the Sulu and Celebes Seas. Most maritime incidents occur in the Sulu Sea in the area between Sabah (Malaysia) and Mindanao, the Sulu Islands and Palawan (Philippines). The Regional Co-operation Agreement on Combatting Piracy and Armed Robbery against Ships in Asia (ReCAAP) advise all ships to re-route from the area where possible.
You should take great care in the town of Sandakan and along the coastal area south to Tawau, and in and around Lahad Datu and Semporna. In May 2015, 2 Malaysian nationals were abducted in Sandakan, one of whom was subsequently murdered. Monitor local media and follow the advice of the local authorities. See Terrorism and Local travel - Sabah
Malaysia is a multicultural, majority Muslim country. See Local laws and customs
Around 360,000 British nationals visit Malaysia each year. Most visits are trouble free, but incidents of petty crime, especially bag snatching, can affect visitors. See Crime
You can contact the emergency services by calling 999 (police and ambulance) or 994 (fire).
If you're abroad and you need emergency help from the UK government, contact the nearest British embassy, consulate or high commission. Consular support is limited in parts of Malaysia where the FCDO has existing advice against all travel and all but essential travel (as set out above).