Foreign travel advice
Myanmar (Burma)
Summary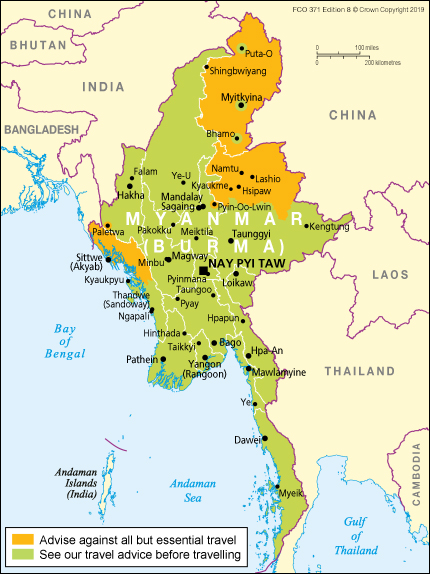 The Foreign and Commonwealth Office (FCO) advise against all but essential travel to:
Rakhine State, except the southern townships (administrative areas similar to a borough or county) of Kyaukpyu, Ramree, Munaung, Toungup, Thandwe (including the tourist resort of Ngapali) and Gwa.
Paletwa township, in southern Chin State, due to active armed conflict. If you're visiting Mount Victoria in Mindat township, you should seek advice from tour operators or guides before travel.
Shan State (North).
Within 10km of the town of Pyin Oo Lwin (in Mandalay Region, and travel on the road to Kyaukme north of Pyin Oo Lwin).
Kachin State (except the towns of Myitkyina, Bhamo and Putao) due to continued risk of armed conflict. On 15 May 2018 there were 2 explosions with no casualties on the train track between Mandalay and Myitkyina. See Local travel
On 15 August there were a series of coordinated attacks at a number of locations in Pyin Oo Lwin in Mandalay Region, around 65km by road from Mandalay City, and Naung Cho (also spelled Nawnghkio) in northern Shan State. Local reports indicate a number of casualties, including civilians. A major bridge in Naung Cho was struck during the attacks, and the military have now closed roads and railways in the area. There is potential for further incidents in these areas with little or no warning.
On 22 June 2019, a Myanmar navy vessel docked in Sittwe Township, Rakhine State, was attacked resulting in casualties.
You're advised to be vigilant in Taunggyi (Shan State) following the discovery on 16 November 2018 of an explosive device.
Political tension and unrest could happen at short notice. You should avoid all demonstrations and large gatherings. Don't take photographs or videos of the police, demonstrations, military installations or military personnel. See Political situation
Take particular care in the border areas with China, Thailand, Bangladesh, India and Laos. The situation in ethnic states where armed groups operate is volatile. There is ongoing conflict in the north of Shan State, and in Kachin State, Karen/Kayin State and Rakhine State. There remains the possibility of violent clashes in other ethnic states. You're advised to be vigilant in Taunggyi (Shan State) following the discovery on 16 November 2018 of an explosive device. Conflict between the Arakan Army (AA) and Myanmar military continues in Northern Rakhine in four townships: Buthidaung, Kyauktaw, Rathaedaung and Ponnagyun and has spread to some townships in Mrauk U. See Local travel
Terrorists are likely to try to carry out attacks in Myanmar. You should remain vigilant and follow the advice of local authorities. See Terrorism
You should always take out comprehensive travel and medical insurance before you travel to any country, particularly to cover medical evacuation to another country if necessary.
Individuals with disabilities or access requirements should be prepared to face difficulties throughout Myanmar. Roads and pavements are often difficult to cross. Ramps and accessible facilities are rare.
UK health authorities have classified Myanmar as having a risk of Zika virus transmission. For information and advice about the risks associated with Zika virus, visit the National Travel Health Network and Centre website.
Urban areas, particularly Yangon and Mandalay, can experience poor air quality. This may aggravate bronchial, sinus or asthma conditions. Children, the elderly and those with pre-existing medical conditions may be especially affected.
Credit and debit cards are increasingly accepted in major tourist areas but some cards don't work. Check in advance that your card will work. See Money
Most visits are trouble-free. If you need to contact local emergency services, call In case of emergency, dial:
police: 199
medical assistance: 192
firefighters: 191
You should be aware that phone operators may not speak English.
The most common types of consular assistance are related to lost passports, petty theft and road accidents.
If you're abroad and you need emergency help from the UK government, contact the nearest British embassy, consulate or high commission. If you're arrested or detained, ask police or prison officials to notify the British Embassy immediately. Consular support is limited in parts of Myanmar where embassy officials require travel permission from the Myanmar government. Permission is not guaranteed. The British Embassy's ability to deliver consular assistance, including in an emergency, may be restricted or delayed in these areas.
If you're resident in Myanmar or planning to stay for a longer period, you can find advice on our Living in Myanmar page.
The Overseas Business Risk service offers information and advice for British companies operating overseas on how to manage political, economic, and business security-related risks.