Foreign travel advice
Iraq
Summary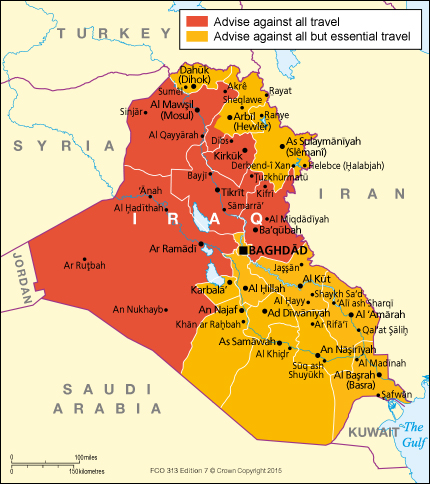 The Foreign and Commonwealth Office (FCO) advise against all travel to:
Anbar province
Ninewah province
Salah-Al-Din province
Diyala province
Tam'mim (Kirkuk) province
in Erbil province, south of Road 80, and within 10km of the border with Ninewah province between Road 80 and Road 2
The FCO advise against all but essential travel to the rest of Iraq, including the remainder of the Kurdistan region.
There may be protests and demonstrations in some Middle Eastern and North African countries following a major US announcement on the status of Jerusalem. You should avoid any demonstrations and follow the instructions of the local police authorities.
The Kurdistan Regional Government (KRG) held a referendum on independence from Iraq on Monday 25 September 2017. This is leading to tension with Iraq and in the region. You should remain alert, monitor media reports and this travel advice.
There have been reports of significant movements of military vehicles and personnel in Kirkuk and Ninewa provinces since 12 October, which have included localised exchanges of fire. The situation remains fluid. You should remain alert and monitor this travel advice.
The Federal Government of Iraq has suspended international flights to and from Erbil and Sulaymaniyah airports as of 29 September 2017. You'll need to transit through other airports to leave Iraq. According to Iraqi law you must have a visa before you travel, even if you're intending to travel to the Kurdistan Region of Iraq. See Visas
On 6 February 2017, the US Embassy issued a travel advice warning of a threat to Western hotels in Baghdad. You should remain vigilant and follow the advice of the local authorities.
You should avoid political gatherings and large crowds, and minimise your movement around banks, restaurants and shopping malls. Observe instructions given by the local security authorities.
On 30 April 2016 protestors gained access to the international zone in Baghdad and demonstrations occurred at the parliament and cabinet office. The protestors left the zone on 1 May but regular demonstrations take place on Fridays in and around Tahrir Square. These can move across the city at short notice. You should monitor local media.
Daesh (formerly referred to as ISIL) and other armed groups control parts of Iraq, particularly in Anbar, Ninewah, Salah-Al-Din and Diyala provinces. The front line between Daesh and Iraqi and Kurdish Security Forces is changeable. There's an increased risk within 10km of the front line.
Coalition forces, including the UK, continue to carry out targeted airstrikes against Daesh in northern and western Iraq. Areas recently liberated from Daesh are likely to contain remnants of war and improvised explosive devices.
The security situation throughout Iraq remains uncertain, and could deteriorate quickly. You should monitor media reporting and make sure you have robust contingency plans in place.
In October 2016 the US Embassy issued a security message about reported attempts to kidnap staff working for non-governmental organisations on vehicle convoys to provide aid to Mosul.
Terrorists are very likely to try to carry out attacks in Iraq. There's also a high kidnap threat. While attacks can take place at any time, there's a heightened threat during religious or public holidays. See Terrorism
If you travel to Iraq to fight, and your activities amount to offences against UK terrorism legislation, you could be prosecuted on return to the UK.
Iraqi Airways' permission to operate to and from points in the EU has been suspended. See Air travel
The government of Iraq has begun to take measures to improve the structural integrity of the Mosul Dam as there is a risk the dam could fail. It is currently impossible to accurately predict if or when this might occur. As there's likely to be little warning of a failure, it will be logistically impossible for the British Government to evacuate you. Make sure you have contingency plans in place and monitor media reporting and this travel advice. See Local travel
British Embassy in Baghdad and the British Consulate-General in Erbil are able to offer limited consular assistance only.
If you're abroad and you need emergency help from the UK government, contact the nearest British embassy, consulate or high commission.
Take out comprehensive travel and medical insurance before you travel.
According to Iraqi law you must get a visa before you travel. You can apply for a visa at Iraqi missions overseas. See Entry requirements.