Foreign travel advice
Iraq
Summary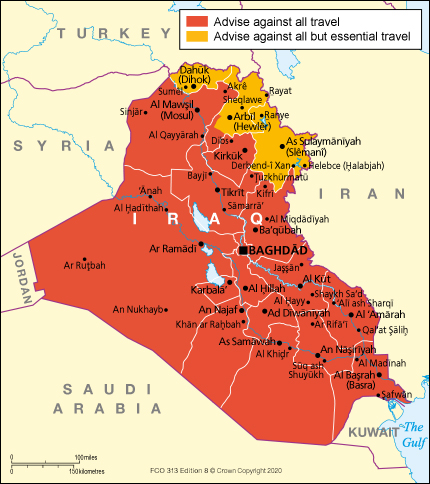 The Foreign and Commonwealth Office (FCO) advise against all but essential travel to the Kurdistan Region of Iraq and against all travel to the rest of Iraq. If you're in areas of Iraq where the FCO advise against all travel, you should consider leaving these areas.
The security situation throughout Iraq remains uncertain, and could deteriorate quickly. On 8 January 2020, Iran fired missiles against two military bases in Iraq containing US personnel, one close to Erbil International Airport. No foreign casualties have been reported and Erbil Airport has resumed normal operations.
Early on 3 January, the US conducted a strike against a vehicle convoy in Baghdad. The Pentagon confirmed the death of Qasem Soleimani, Commander of Islamic Revolutionary Guards Corps-Quds Force and Abu Mehdi Muhandis, a senior commander in the Iraqi Popular Mobilisation Forces. A number of others were killed in the attack.
Large protests have been taking place in central Baghdad and across Iraq since October 2019. On 31 December and 1 January, violent demonstrations took place outside the US Embassy in Baghdad. There is a possibility of further protests in Baghdad.
There may be increased attention on Western nationals and interests in Iraq. If you're in Iraq or decide to travel, make sure you have robust security arrangements and contingency plans in place and keep these under review. You should keep up to date with the latest developments across the country, including via the media and this travel advice, avoid any rallies, marches or processions, and follow the instructions of local authorities. See Political and security situation
Flight schedules are currently subject to cancellation at short notice. Available departure options could reduce further and this could affect your ability to depart by air. If you are planning to depart Iraq by air, contact your airline or travel company for the latest information before travelling.
In the event of a sudden deterioration in the security station, there may be limits to the assistance the FCO can provide, depending on the security and transport situation. You should not assume that the FCO will be able to provide assistance to leave the country.
According to Iraqi law you must have a visa before you travel, even if you're intending to travel to the Kurdistan Region of Iraq. See Visas
The Iraqi Prime Minister announced the defeat of Daesh in Iraq on 9 December 2017. However, terrorists are still very likely to try to carry out attacks in Iraq. There's also a high threat of kidnapping throughout the country. You should remain vigilant and monitor media reports. See Terrorism
Turkey conducts periodic airstrikes in the far north of the Kurdistan Region of Iraq (KRI) and on occasion, further south. Take extra care in mountainous areas, particularly near the border with Turkey. Crossing points along the Iraq-Turkey border may also be affected. See Kurdistan Region
The government of Iraq is taking measures to improve the structural integrity of the Mosul Dam as there is a risk the dam could fail. It's currently impossible to accurately predict if or when this might occur. See Local travel
If you're abroad and you need emergency help from the UK government, contact the nearest British embassy, consulate or high commission. Consular support is severely limited in Iraq. The British Embassy in Baghdad and the British Consulate-General in Erbil operate a limited consular service by appointment only. The Embassy and Consulate-General's ability to visit locations across Iraq is limited and travel to unsecure areas to deliver consular services may not be possible.
Take out comprehensive travel and medical insurance before you travel.