Foreign travel advice
Iraq
Summary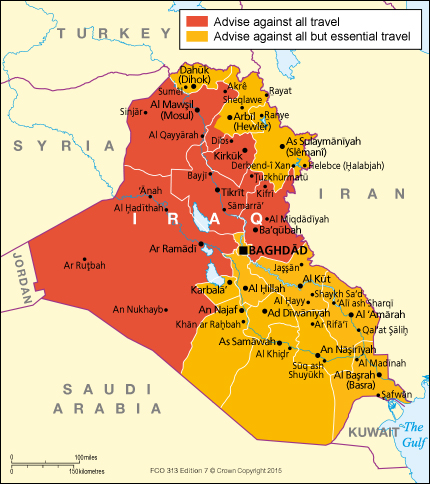 The Foreign and Commonwealth Office (FCO) advise against all travel to:
Anbar province
Ninewah province
Salah-Al-Din province
Diyala province
Tam'mim (Kirkuk) province
in Erbil province, south of Road 80, and within 10km of the border with Ninewah province between Road 80 and Road 2
The FCO advise against all but essential travel to the rest of Iraq, including the remainder of the Kurdistan region.
According to Iraqi law you must have a visa before you travel, even if you're intending to travel to the Kurdistan Region of Iraq. See Visas
The Iraqi Prime Minister announced the defeat of Daesh in Iraq on 9 December 2017. However there is still a risk of terrorist attacks and kidnap across the country. You should remain vigilant and monitor media reports. See Terrorism
Coalition forces, including the UK, continue to carry out targeted airstrikes against Daesh in northern and western Iraq. Areas liberated from Daesh are likely to contain remnants of war and improvised explosive devices.
The security situation throughout Iraq remains uncertain, and could deteriorate quickly. You should monitor media reporting and make sure you have robust contingency plans in place.
Terrorists are very likely to try to carry out attacks in Iraq. There's also a high kidnap threat. While attacks can take place at any time, there's a heightened threat during religious or public holidays. See Terrorism
The government of Iraq is taking measures to improve the structural integrity of the Mosul Dam as there is a risk the dam could fail. It's currently impossible to accurately predict if or when this might occur. See Local travel
The British Embassy in Baghdad and the British Consulate-General in Erbil are able to offer limited consular assistance only.
If you're abroad and you need emergency help from the UK government, contact the nearest British embassy, consulate or high commission.
Take out comprehensive travel and medical insurance before you travel.