Foreign travel advice
Sierra Leone
Summary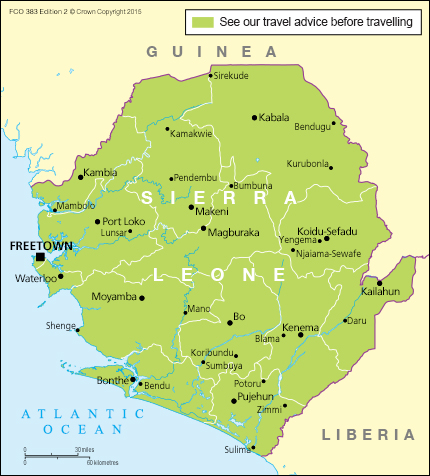 There is an underlying threat from terrorism. See Terrorism. Attacks could be indiscriminate, including in places visited by foreigners. There may be heightened security at hotels in Sierra Leone, following the terrorist attacks on hotels in Bamako, Mali on 20 November 2015, Ougadougou, Burkina Faso on 15 January 2016 and in Grand, Bassam, Côte d'Ivoire on 13 March 2016. You should be especially vigilant, especially in places visited by foreigners.
If you travel to Sierra Leone, especially whilst on business, you should stay in contact with your employer or host organisation about the support that they can provide to you while you're in the country, and if you should wish to leave. Screening measures are in place for both inbound and outbound travellers at Lungi International Airport.
If you travel outside the Freetown peninsula, try to complete your travel during the hours of daylight, inform your employers of your whereabouts and make sure they have copies of your itinerary. Temperature screening check points are in operation on the main roads outside of the capital and can be busy.
If you're abroad and you need emergency help from the UK government, contact the nearest British embassy, consulate or high commission.
Take out comprehensive travel and medical insurance before you travel and make sure your insurance specifically includes medical repatriation.