Foreign travel advice
Guinea
Summary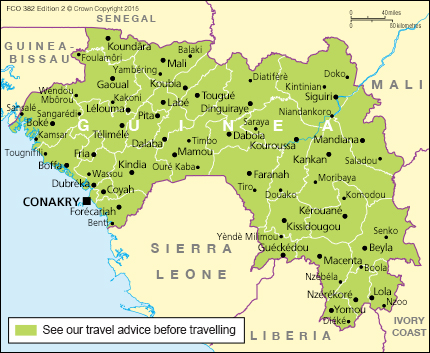 Local elections took place on 4 February 2018. Following the elections, outbreaks of violence, including some fatalities, occurred across the country. You should monitor local and international media reports and avoid large demonstrations or rallies (both political and non-political), particularly those close to military barracks. "Villes mortes" (general strikes) do happen intermittently and you should be particularly vigilant when these occur.
The World Health Organisation declared Guinea Ebola transmission free on 1 June 2016. You should check this travel advice before travelling to Guinea and follow the health advice on the NHS Choices website.
If you're concerned that you might have been exposed to Ebola, or are showing symptoms, you should seek immediate medical advice. If you're in the UK call NHS on 111. Cholera and malaria are also present in Guinea and have similar early symptoms to Ebola. See Health
The local police number for downtown Conakry is +(224) 622 039 258.
Terrorists are likely to try to carry out attacks in Guinea. Attacks could be indiscriminate. You should be vigilant, especially in places visited by foreigners. See Terrorism
The Guinean authorities maintain police and local militia checkpoints across the whole country. Carry identification with you at all times. See Road travel and Local laws and customs
Road travel can be hazardous due to poor driving standards and the state of the roads. Essential supplies, such as fuel, may run low from time to time. You should avoid travelling at night outside Conakry. See Road Travel
Motorists have encountered theft at gun point, particularly at night. See Crime
Exchanging foreign currency on the street or using unofficial money changers is illegal and can result in military detention. See Money
If you need consular help, call the British Embassy. See Consular assistance
If you're abroad and you need emergency help from the UK government, contact the nearest British embassy, consulate or high commission.
Take out comprehensive travel and medical insurance before you travel.