Foreign travel advice
Bangladesh
Summary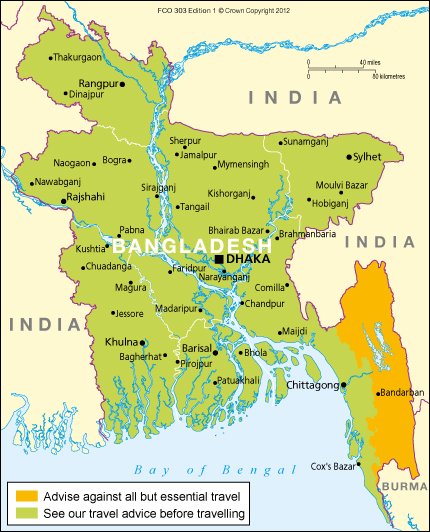 The Foreign and Commonwealth Office (FCO) advise against all but essential travel to the Chittagong Hill Tracts. This does not include the city of Chittagong or other parts of Chittagong Division. See Chittagong Hill Tracts
Following a terrorist attack in Dhaka on 1 July that resulted in the death of 20 hostages and 2 police officers, you should remain vigilant, monitor local and social media and follow any specific advice of the local security authorities to avoid certain areas. You should avoid visiting areas where foreign nationals are known to congregate, like public areas of international hotels, conference centres, large supermarkets, restaurants and clubs. You should minimise your presence on the street, travelling by vehicle where possible, and take appropriate security precautions.
There remains a high threat from terrorism in Bangladesh, including against foreign nationals. You should take appropriate security precautions.
Since September 2015 Daesh (formerly referred to as ISIL) has claimed responsibility for a number of terrorist attacks, including the murders of two foreign nationals and the attempted murder of an Italian priest. In addition, Daesh has claimed responsibility for sporadic attacks against minority religious communities and law enforcers that have killed several people and injured many more. Groups affiliated to Al Qaeda in the Indian Sub-continent (AQIS) are also active and have claimed responsibility for the murder of a number of secular bloggers and the killing of prominent members of the LGBTI community.
On 1 July, a terrorist attack at the Holey Artisan Bakery in the Gulshan 2 district of Dhaka resulted in the death of 20 hostages, mainly foreign nationals and 2 police officers. Daesh has claimed responsibility for this attack.
On 7 July attackers threw explosives towards police at the Kishorgonj Solakia Eid Prayer ground, around 100km north of Dhaka. Police and attackers exchanged gunfire. Four people were killed, including 2 police officers and one of the attackers. Several police officers also sustained injuries.
Further attacks targeting foreign nationals may occur and could be indiscriminate. You should be particularly vigilant, consider your movements carefully and take appropriate security precautions. See Terrorism
The UK Department for Transport (DfT) recently carried out assessments of security at Dhaka International Airport. Following this, the DfT has assessed that security at Dhaka airport does not meet some international security requirements. The UK government is working to support the Bangladeshi authorities to ensure that all international aviation security requirements are met. Read more about the DfT assessment.
Tropical cyclones and flooding can affect parts of the country. You should monitor the progress of approaching weather systems on the website of the Bangladesh Meteorological Department, and follow the advice of local authorities. See Natural disasters
Bangladesh lies in a zone of seismic activity. In the event of an earthquake you should remain vigilant, stay in a place of safety and follow any advice provided by the local authorities.
The Overseas Business Risk service offers information and advice for British companies operating overseas on how to manage political, economic, and business security-related risks.
Take out comprehensive travel and medical insurance before you travel.  
Up to 75,000 British nationals visit Bangladesh every year. Most visits are trouble free.