Foreign travel advice
Haiti
Summary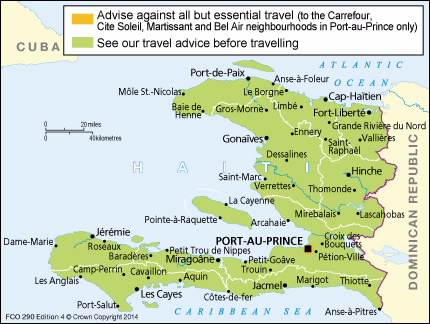 The Foreign and Commonwealth Office (FCO) advise against all but essential travel to the Carrefour, Cite Soleil, Martissant and Bel Air neighbourhoods in Port-au-Prince due to the risk of criminal activity.
Hurricane Matthew made landfall in Haiti on 4 October 2016. It left significant damage to infrastructure in the departments of Grand Anse and Sud. Access to many remote areas remains extremely difficult, and many areas are without clean water and power. Major food sources were destroyed in the hurricane, so there remain significant food shortages in affected areas.
A significant humanitarian relief operation continues and there remain challenges around access to more remote areas. All major roads into the Departments are accessible. Trucks carrying aid have been targeted for their cargo by populations desperate for assistance and there have been instances of road blocks by local populations frustrated that assistance is not coming quickly enough. You should avoid areas where large crowds have gathered to receive distribution of humanitarian assistance.
The hurricane season in Haiti normally runs from June to November. You should monitor weather updates and follow the advice of the local authorities. Hurricane Matthew made landfall in Haiti on 4 October 2016, damaging infrastructure and leaving parts of the country inaccessible. See Natural disasters
Demonstrations and protest marches are common in Port-au-Prince and other cities. Demonstrations may occur with little warning and can turn violent. They may often be accompanied by improvised road blocks. Curfews and new security regulations have been announced at short notice. You should avoid all demonstrations, monitor local news and follow the advice of the local authorities.
You should take great care due to the risk of criminal activity throughout the country. See Crime
Take extra care if you're travelling between Haiti and the Dominican Republic by road. There have been incidents of armed robberies of foreign nationals in 2016 on the Dominican side of the border by criminals dressed as police officers. See Road travel
UK health authorities have classified Haiti as having a risk of Zika virus transmission. For more information and advice, visit the National Travel Health Network and Centre website.
There is a low threat from terrorism. See Terrorism
The small British Embassy in Haiti does not provide consular or visa services. If you need consular assistance you should contact the British Embassy in Santo Domingo (Dominican Republic).
Take out comprehensive travel and medical insurance before you travel.