Foreign travel advice
Haiti
Summary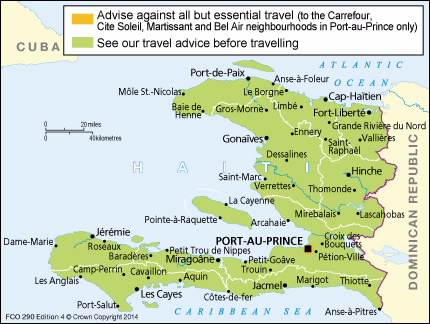 The Foreign and Commonwealth Office (FCO) advise against all but essential travel to the Carrefour, Cite Soleil, Martissant and Bel Air neighbourhoods in Port-au-Prince due to the risk of criminal activity.
Hurricane Matthew which made landfall in Haiti in October 2016 left much of the south and west devastated. That part of the country is still recovering. While most areas are accessible again, some rural areas are still difficult to reach by road. Access to clean water and food supplies in those areas are still a challenge.
The hurricane season in Haiti normally runs from June to November. You should monitor weather updates and follow the advice of the local authorities. See Natural disasters
Demonstrations may occur with little warning and can turn violent. While most common in Port au Prince, other main cities, and border crossings, they can occur anywhere - most recently on Route Nationale 1 at Archaie.
They may often be accompanied by improvised road blocks. Curfews and new security regulations can been announced at short notice. You should avoid all demonstrations, monitor local news and follow the advice of the local authorities.
You should take great care due to the risk of criminal activity throughout the country. See Crime
Take extra care if you're travelling between Haiti and the Dominican Republic by road. There have been incidents of armed robberies of foreign nationals in 2016 on the Dominican side of the border by criminals dressed as police officers.
Route Nationale 1, which heads north from Port au Prince, has recently been subject to daily, and sometimes violent, demonstrations. You should use an alternative route. See Road travel
UK health authorities have classified Haiti as having a risk of Zika virus transmission. For more information and advice, visit the National Travel Health Network and Centre website.
Although there's no recent history of terrorism in Haiti, attacks can't be ruled out. See Terrorism
The small British Embassy in Haiti does not provide consular or visa services. If you need consular assistance you should contact the British Embassy in Santo Domingo (Dominican Republic).
Take out comprehensive travel and medical insurance before you travel.