Foreign travel advice
Democratic Republic of the Congo
Summary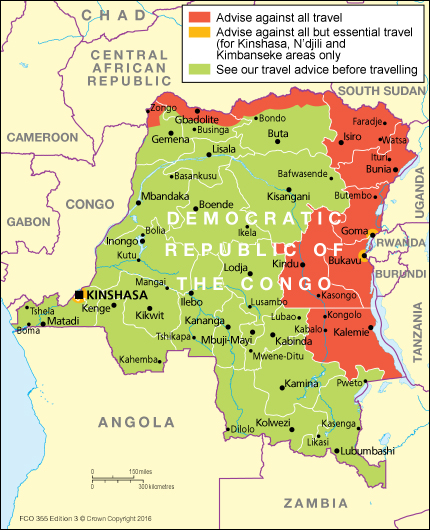 The Foreign and Commonwealth Office (FCO) advise against all travel to the provinces of Haut-Uele, Haut Lomami, Ituri, North Kivu, South Kivu, Maniema and Tanganyika, and to within 50km of the border with the Central African Republic and South Sudan.
The FCO advise against all but essential travel to the cities of Goma and Bukavu and to the districts of N'djili and Kimbanseke in Kinshasa.
Political protests are still ongoing in several cities including Lubumbashi, Goma and Bukavu. There is an uncertain security picture in Kinshasa following political protests. Some flights in and out of Kinshasa may be cancelled or postponed; you should check with your airline. You should remain vigilant and avoid moving around Kinshasa, especially outside Gombe, unless you have to. In case of an emergency call the British Embassy in Kinshasa on +243 815566200.
In January 2015, protests turned violent, troops were deployed and many schools, shops and businesses were closed and movement around the city was restricted. In the event of serious unrest, commercial flights may be suspended and borders closed. You may wish to consider contingency plans in the event of demonstrations, including keeping a stock of essential supplies and up-to-date travel documents and visas. See how to prepare for a crisis overseas.
The political situation in DRC in late 2016 remains uncertain. There are calls for a political dialogue ahead of elections due in 2016 under the constitution. A previous electoral calendar scheduled the Presidential election for 27 November 2016, although some national and international organisations have said this will not be possible given delays in electoral preparations. Opposition parties have publicly called for elections to be scheduled by 19 September 2016 for President Kabila to step down before 20 December 2016. See Political situation
The security situation in eastern DRC remains unstable. The continued presence of armed groups, military operations against them, intercommunal violence and an influx of refugees from neighbouring countries all contribute to a deterioration in the political, security and humanitarian situation. There are continued reports of kidnappings, including of staff from international NGOs. While British government staff do visit Goma, they aren't always in the area, and as with anywhere outside of Kinshasa the British Embassy's ability to offer consular assistance is severely limited.
The lack of infrastructure throughout the country and continued insecurity in eastern DRC often prevent the British Embassy in Kinshasa from being able to extend normal levels of consular assistance to British nationals anywhere in the DRC other than Kinshasa.
Before considering travel to Democratic Republic of the Congo you should read this travel advice carefully, keep up to date with the latest security situation and subscribe to e-mail alerts for updates to this travel advice. Any updates to travel advice will also be posted on the UK in DRC's Facebook page and twitter channel.
Street crime and robbery, including by individuals posing as plain clothes police, is common. Beware of gangs promising you cut price gold and diamonds. International non-governmental organisations in Kinshasa and Goma have been targeted. Take extra care at night. See Crime
There is a low threat from terrorism. See Terrorism
Take out comprehensive travel and medical insurance before you travel.