Foreign travel advice
Democratic Republic of the Congo
Summary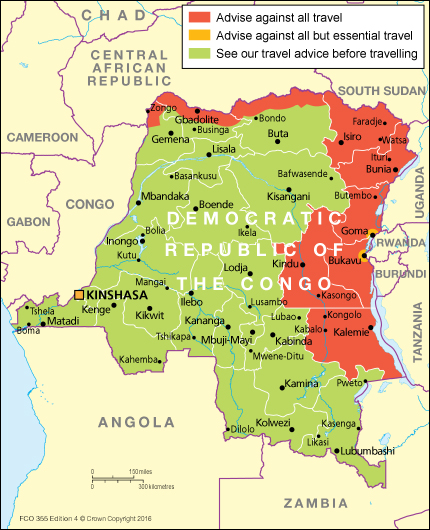 The Foreign and Commonwealth Office (FCO) advise against all travel to the provinces of Haut-Uele, Haut Lomami, Ituri, North Kivu, South Kivu, Maniema and Tanganyika, and to within 50km of the border with the Central African Republic and South Sudan.
The FCO advise against all but essential travel to the cities of Kinshasa, Goma and Bukavu.
Public gatherings and demonstrations can quickly turn violent in the DRC. On 19 and 20 September 2016 violence relating to political protests in Kinshasa led to dozens of fatalities, closure of local and international schools, cancellation of some flights and restricted access around the city, including to the airport.
Some have been calling for further protests on 19 December 2016. You should be extra vigilant in large cities on and around these days and monitor local media, including radio and social media, and this advice for updates. The situation is difficult to predict, but in the event of serious unrest schools may be shut, commercial flights suspended and borders closed.
You should avoid travelling around Kinshasa and other large cities on and around days of planned protests, including to and from N'djili airport. In particular, you should avoid areas where demonstrations may take place, including official buildings such as the parliament and the offices of the electoral commission. If a demonstration or disturbance takes place, leave quickly and don't attempt to watch or photograph it.
Consider making contingency plans in the event of demonstrations, including keeping a stock of essential supplies and up-to-date travel documents and visas. See how to prepare for a crisis overseas and information on how to contact the British Embassy. The support the British Embassy is able to provide is limited and dependent on the security situation.
The security situation in eastern DRC remains unstable. The continued presence of armed groups, military operations against them, intercommunal violence and an influx of refugees from neighbouring countries all contribute to a deterioration in the political, security and humanitarian situation. There are continued reports of kidnappings, including of staff from international NGOs. While British government staff do visit Goma, they aren't always in the area, and as with anywhere outside of Kinshasa the British Embassy's ability to offer consular assistance is severely limited.
The lack of infrastructure throughout the country and continued insecurity in eastern DRC often prevent the British Embassy in Kinshasa from being able to extend normal levels of consular assistance to British nationals anywhere in the DRC other than Kinshasa.
Before considering travel to Democratic Republic of the Congo you should read this travel advice carefully, keep up to date with the latest security situation and subscribe to e-mail alerts for updates to this travel advice. Any updates to travel advice will also be posted on the UK in DRC's Facebook page and twitter channel.
Street crime and robbery, including by individuals posing as plain clothes police, is common. Beware of gangs promising you cut price gold and diamonds. International non-governmental organisations in Kinshasa and Goma have been targeted. Take extra care at night. See Crime
There is a low threat from terrorism. See Terrorism
Take out comprehensive travel and medical insurance before you travel.