Foreign travel advice
Democratic Republic of the Congo
Summary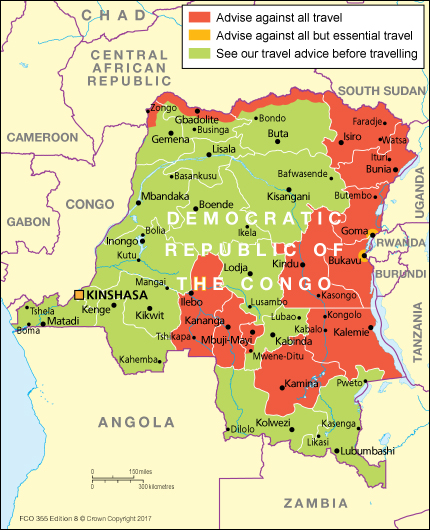 The Foreign and Commonwealth Office (FCO) advise against all travel to:
the provinces of Kasaï, Kasaï Central, Kasaï Oriental, Haut-Uele, Haut Lomami, Ituri, North Kivu (except the city of Goma - see below), South Kivu (except the city of Bukavu - see below), Maniema and Tanganyika in eastern DRC
areas to the west and east of Kananga, including Tshikapa and Mwene-Ditu (as shown on the map)
within 50km of the border with the Central African Republic and South Sudan.
The FCO advise against all but essential travel to:
the city of Goma in North Kivu province
the city of Bukavu in South Kivu province
the districts of N'djili and Kimbanseke in Kinshasa
On 24 November, the US Embassy in Kinshasa released a public warning stating that the Embassy would be temporarily closed due to credible and specific information of a possible terrorist threat against US government facilities in the DRC. If you're in Kinshasa or elsewhere in DRC, you should remain vigilant.
Since 2017, there has been an increase in military and police stop-and-search checkpoints in parts of Kinshasa, especially after dark.
The lack of infrastructure throughout the country and continued insecurity in eastern DRC often prevent the British Embassy in Kinshasa from being able to extend normal levels of consular assistance to British nationals anywhere in the DRC other than Kinshasa.
Before travelling, you should read this travel advice carefully, keep up to date with the latest security situation and subscribe to e-mail alerts for updates to this travel advice. Any updates to travel advice will also be posted on the UK in DRC's Facebook page and twitter channel.
The campaigning period for the 23 December elections runs from 22 November to 22 December. The political and security situation for previous electoral cycles has seen sporadic bouts of unrest and violence. In line with previous elections, the British Embassy Kinshasa will temporarily withdraw non-essential staff and dependents from 17 December. See Political situation
The body of the former opposition leader Etienne Tshisekedi is expected to return to the DRC from Belgium at some point in the future. You should expect large crowds in Kinshasa on that day.
Public gatherings and demonstrations can be called with little or no notice and can quickly turn violent in DRC. In all instances, you should remain vigilant and be aware of disruptions to journeys around Kinshasa, as well as to and from N'Djili airport. If a demonstration or disturbance takes place, leave quickly and don't attempt to watch or photograph it.
In the event of serious unrest, commercial flights may be suspended, roads blocked and borders closed, making it difficult to leave the country. Internet connections and mobile phone networks may have reduced services or be cut off. Schools may be closed. Previous periods of unrest have seen an increased military and police presence in Kinshasa and other major cities, with stop-and-search checkpoints appearing in some areas, especially after dark.
Consider making contingency plans in the event of demonstrations, including keeping a stock of essential supplies and up-to-date travel documents and visas. See how to prepare for a crisis overseas and information on how to contact the British Embassy.
There are limits to the assistance the FCO can provide in a crisis, depending on the security and transport situation. You shouldn't assume that the FCO will be able to provide assistance to leave the country in the event of serious unrest.
The security situation in eastern DRC remains unstable. The continued presence of armed groups, military operations against them, intercommunal violence and an influx of refugees from neighbouring countries all contribute to a deterioration in the political, security and humanitarian situation. There are continued reports of kidnappings, including of staff from international NGOs.
On 1 August 2018, the DRC Government confirmed an outbreak of the Ebola virus in North Kivu province, originating in Béni territory. On 24 September a case was also confirmed in Tchomia, approximately 200 kilometres north of the current outbreak hotspot of Beni. The latest updates can be found on the World Health Organisation (WHO) website. See Health
Street crime and robbery, including by individuals posing as plain clothes police, is common. You should avoid using any taxis in DRC. If you must take a taxi, use a privately booked one. Don't hail taxis in the street. Beware of gangs promising you cut price gold and diamonds. International non-governmental organisations in Kinshasa and Goma have been targeted. Take extra care at night. See Crime
Terrorist attacks in the Democratic Republic of the Congo can't be ruled out. Attacks could be indiscriminate. You should be vigilant, especially in places visited by foreigners. See Terrorism
If you're abroad and you need emergency help from the UK government, contact the nearest British embassy, consulate or high commission.
Take out comprehensive travel and medical insurance before you travel.