Foreign travel advice
Nepal
Summary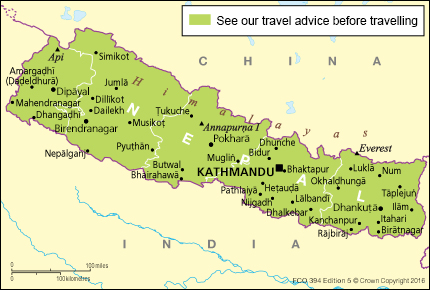 Local elections for provinces 1, 5 and 7, which includes regions that border India, are planned to take place on 28 June 2017. During the first round of elections on 14 May there was a 24 hour vehicle ban and border closures in the provinces voting, similar measures should be expected for this round. The Nepal-India Border will be closed for 72 hours from 26 June for the local level elections.
Rallies and protests may take place in the lead up to, during and after elections. You should take care in public places where people gather, and exercise a heightened level of vigilance. Monitor local and international media and keep up to date with this travel advice by subscribing to email alerts.
The announcement of local elections has led to increased tensions, particularly in the Terai region where there are ongoing protests, general strikes and mass meetings. On 6 March 2017 at least 4 people were killed in a protest in Saptari district. You should monitor local media and avoid places where protests, strikes and mass meetings are being held.
Disagreements arising from Nepal's new constitution have led to occasional protests, rallies and strikes throughout Nepal. You should stay away from protest areas, monitor local media and follow the advice of the local authorities and your tour operator.
On 19 December 2016, a police station in Rupandehi district was torched in response to the killing of a member of Youth Association Nepal and on 20 December 2016 a general strike for an indefinite period started in the Lumbini zone, including the Bhairahawa-Sunauli border crossing point with India. Further acts of violence are possible. Monitor local media and plan your travel accordingly.
British government officials in Nepal may sometimes defer travel on official business, depending on the security situation at the time. Transport and public services may be disrupted at short notice.
Protests can occur at short notice and turn violent. Clashes between protesters and police may occur anywhere. Stay away from protest areas.
If you're involved in any political activities in Nepal you may be liable to penalties including deportation and/or a fine.
On 20 September 2016, a number of improvised explosive devices (IED) and suspect packages were found at several schools in Kathmandu and Lalitpur. Local security forces have responded to the incidents and no casualties have been reported.
In June 2016, a series of violent incidents took place targeting the property of some international NGOs and private companies in Sindhupalchowk, Gorkha and Nuwakot.
Major earthquakes on 25 April 2015 (epicentre Gorkha district) and 12 May 2015 (epicentre Sindhupalchok district) caused extensive damage to buildings and infrastructure particularly in northern parts of Gorkha, Rasuwa, Sindhupalchok and Dolakha districts. These include the Manaslu and Langtang national parks. Some trails and trekking infrastructure were damaged by the earthquakes; some of these have been rebuilt. Check with your tour company before trekking in these areas. Aftershocks, landslides and avalanches remain a risk, particularly in these areas. Main roads across Nepal are open, but road conditions are poor. See Natural disasters.
Nepal is in a major earthquake zone and remains at risk from further earthquakes, aftershocks, landslides and flooding across the country. You should familiarise yourself with safety procedures in the event of an earthquake.
The monsoon season normally runs from June to September. Flooding and landslides often occur during this time. Road travel anywhere can be hazardous, particularly in rural areas. On 22 September 2016 a landslide was reported in Gorkha district killing 4 people. No British nationals were involved. See Natural disasters.
Seek local advice from your tour operator, the tourist police or the Nepal Tourism Board on whether it's safe to travel, particularly on remote trekking routes away from the main roads. Make sure any vehicle you travel in is equipped to deal with the risk of landslides (eg winches, ropes).
Never trek alone. Use a reputable agency, remain on established routes and walk with at least one other person. Take note of weather conditions and forecasts, and come prepared. Altitude sickness is a risk in all trekking regions. See Trekking in Nepal.
All air carriers from Nepal have been refused permission to operate air services to the EU due to safety concerns. See Safety and security
Terrorists are likely to try to carry out attacks in Nepal. See Terrorism
Around 40,000 British nationals visited Nepal in 2013. Most visits are trouble-free.
If you're abroad and you need emergency help from the UK government, contact the nearest British embassy, consulate or high commission.
The Overseas Business Risk service offers information and advice for British companies operating overseas on how to manage political, economic, and business security-related risks.
Take out comprehensive travel and medical insurance before you travel. If you are intending to travel at altitude, check that your insurance policy provides cover.