Foreign travel advice
Nepal
Summary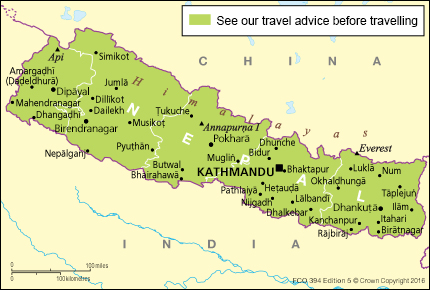 There are reports that a local group has made efforts to extort businesses, NGOs and local and international schools. You are advised to remain vigilant and report any incidents to the local police.
Nepal is in a major earthquake zone and remains at risk from further earthquakes and aftershocks. You should familiarise yourself with safety procedures in the event of an earthquake. See Natural disasters
The monsoon season normally runs from June to September. Flooding and landslides often occur during this time. Road travel anywhere can be hazardous, particularly in rural areas. See Natural disasters
Never trek alone. Use a reputable agency, remain on established routes and walk with at least one other person. Take note of weather conditions and forecasts, and come prepared. Altitude sickness is a risk in all trekking regions. See Trekking in Nepal.
All air carriers from Nepal have been refused permission to operate air services to the EU due to safety concerns. See Safety and security
Terrorists are likely to try to carry out attacks in Nepal. See Terrorism
Around 40,000 British nationals visit Nepal annually. Most visits are trouble-free.
If you're abroad and you need emergency help from the UK government, contact the nearest British embassy, consulate or high commission.
If you need to contact the emergency services, call 100 (police) and 101 (fire). There is no central public ambulance service, though some private providers operate in the main cities. In an emergency, you should call the local hospital.
The Overseas Business Risk service offers information and advice for British companies operating overseas on how to manage political, economic, and business security-related risks.
Take out comprehensive travel and medical insurance before you travel. If you are intending to travel at altitude, check that your insurance policy provides cover.