Foreign travel advice
Azerbaijan
Summary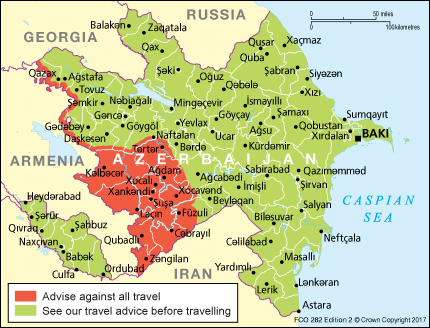 The Foreign and Commonwealth Office (FCO) advise against all travel to:
Nagorno-Karabakh and the military occupied area surrounding it
within 5km of the Line of Contact
within 5km of the border with Armenia.
Tensions between Azerbaijan and Armenia over Nagorno-Karabakh continue. Several ceasefire violations along the Line of Contact separating the opposing forces and elsewhere on the inter-state border between Azerbaijan and Armenia have taken place in 2017, resulting in a number of deaths and casualties. See Local travel
Anyone who has visited Nagorno-Karabakh without the permission of the Azerbaijani authorities will be refused entry to Azerbaijan.
All British nationals travelling to Azerbaijan must get a visa in advance. See Visas
If you're travelling to or from Azerbaijan via Istanbul, please note that a new Istanbul airport is due to open on 29 October 2018. A gradual transfer of flights from Ataturk Airport will take place through to the end of December 2018. In the meantime, many flights will continue to operate into/out of Ataturk Airport. This may affect UK-Baku flight transfers. If you have any questions regarding your flight, you should contact your airline for information.
Terrorists are likely to try to carry out attacks in Azerbaijan. See Terrorism
Around 7,000 British nationals visit Azerbaijan every year, mainly on business. Most visits are trouble free. 
If you're abroad and you need emergency help from the UK government, contact the nearest British embassy, consulate or high commission.
Take out comprehensive travel and medical insurance, including cover for medical evacuation, before you travel.