Summary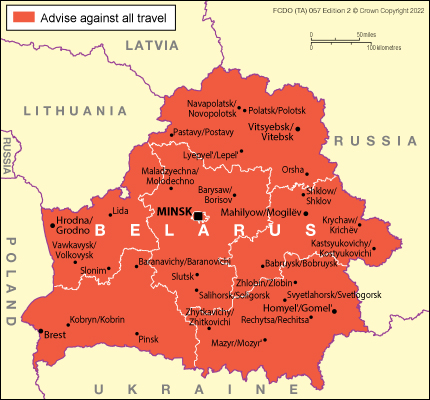 The FCDO advise against all travel to Belarus.
Russian military operations are taking place in Belarus. There is some risk that direct conflict linked to the war in Ukraine may spread to Belarus. In the event of conflict, our ability to offer consular assistance will be severely limited. Routes out of the country are limited, particularly by air. The FCDO advises against all travel to Ukraine. You should not attempt to cross into Ukraine from Belarus. See Safety and security
COVID-19 entry restrictions for Belarus
Before you travel, check the 'Entry requirements' section for Belarus' current entry restrictions and requirements. These may change with little warning. Monitor this advice for the latest updates and stay in contact with your travel provider.
Travelling from and returning to the UK
Check what you must do to travel abroad and return to England, Scotland, Wales or Northern Ireland.
If you plan to pass through another country to return to the UK, check the travel advice for the country you're transiting.
For information relating to coronavirus in Belarus, see the Coronavirus section.
During the COVID-19 pandemic, it is more important than ever to get travel insurance and check it provides sufficient cover. See the FCDO's guidance on foreign travel insurance.
For information about COVID-19 vaccines, see the Coronavirus page.
Demonstrations can be met by violent crackdowns by the Belarusian authorities. You should stay away from any demonstrations, and exercise caution around them. See Political situation.
The UK government has imposed sanctions against a range of Belarusian companies and individuals. These may impact on financial transactions.
In May 2021 a Ryanair flight from Athens to Vilnius was diverted while in Belarusian airspace and made an emergency landing at Minsk National Airport. In response, the UK government issued an advisory notice to strongly advise all UK airlines to cease overflights of Belarusian airspace. There are currently no direct flights available because the operating permit for Belavia, the main Belarusian airline, to fly between the UK and Belarus is suspended. See Safety and security
Although there is no recent history of terrorism in Belarus, attacks cannot be ruled out. Attacks could happen anywhere and could affect western interests and places visited by foreigners. See Terrorism
Most visits by British nationals to Belarus are trouble-free. However, due to the war in Ukraine we currently recommend against all travel to Belarus due to the increased risk of military action within the country.
If you're abroad and you need emergency help from the UK government, contact the nearest British embassy, consulate or high commission. The Minsk embassy can be contacted on +375 17 229-82-00.