Foreign travel advice
South Sudan
Summary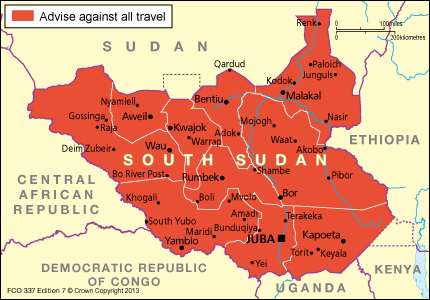 The Foreign and Commonwealth Office (FCO) advise against all travel to South Sudan. If you're in South Sudan, you should leave if it's safe to do so.
There are daily reports of fighting between armed groups across the country, and regular reports of serious criminality in Juba. There's no official government curfew in Juba, but the British Embassy and most international organisations observe a self-imposed curfew, the timing of which changes in response to the situation.
Juba Airport is open and commercial flights are operating, but you should check flight schedules with airlines before travelling to the airport. Timings are subject to change at short notice. You should make sure you have a valid visa before travelling. Requests for consular assistance should be directed to the British High Commission in Nairobi in the first instance.
The British Embassy is also open. However, the Embassy's ability to offer consular assistance is severely limited, particularly if the security situation deteriorates.
If you choose to remain you should monitor this travel advice, subscribe to email alerts for updates, and follow us on Facebook and Twitter.
You should be vigilant of the local security situation, monitor the local media, and stay in a safe location. Most international organisations in South Sudan employ a security manager to monitor the situation and keep employees safe.
You should make sure you have comprehensive contingency plans that don't rely on support from the Embassy, including a stock of essential supplies and up-to-date travel documents and visas. If you're concerned about your safety, you should contact the FCO on +44 207 008 1500.
Further deterioration in the security situation remains a real possibility, and could be prompted by a number of factors including developments in the ongoing region-led peace process, and the fragile economy. In the event of a serious deterioration, similar to those of July 2016 and December 2013, routes in and out of South Sudan may be blocked, Juba airport may be closed or inaccessible, and flights may be suspended at short notice. The main road connecting Juba to Uganda is extremely dangerous, with regular reports of car crashes and attacks on vehicles by armed groups.
Terrorist attacks in South Sudan can't be ruled out. See Terrorism
If you're abroad and you need emergency help from the UK government, contact the nearest British embassy, consulate or high commission.
Take out comprehensive travel and medical insurance before you travel.