Foreign travel advice
Philippines
Summary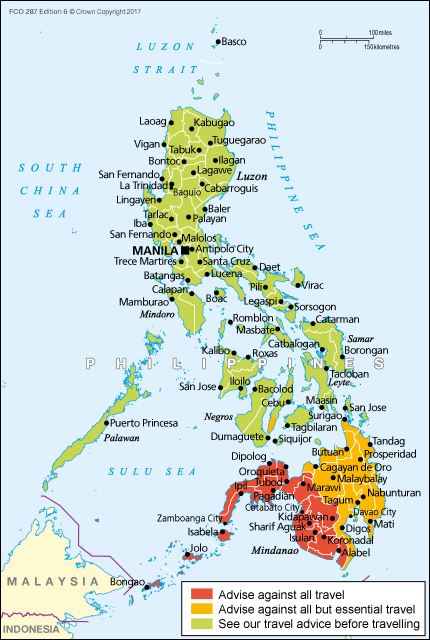 The Foreign and Commonwealth Office (FCO) advise against all travel to western Mindanao and the Sulu archipelago because of on-going terrorist activity and clashes between the military and insurgent groups. The FCO advise against all but essential travel to the remainder of Mindanao and to the south of Cebu province, up to and including the municipalities of Dalaguete and Badian, due to the threat of terrorism. See Terrorism and Local Travel
There has been an increase in kidnapping of foreign nationals, including attacks targeting foreigners and tourists since late 2015. Multiple attacks have occurred in November 2016. Terrorist groups continue to plan kidnap operations against western nationals in the Philippines. This threat extends throughout the Philippines, both on land and at sea, but is particularly acute in the southern Philippines (Mindanao, southern Palawan and central Visayas, including Siquijor and Dumaguete).
Commercial shipping companies have been advised to adopt a heightened vigilance when navigating the Sulu and Celebes Seas. Most maritime incidents occur in the Sulu Sea in the area between Mindanao, the Sulu Islands, Palawan and Sabah (Malaysia). The Regional Co-operation Agreement on Combatting Piracy and Armed Robbery against Ships in Asia (ReCAAP) advise all ships to re-route from the area where possible.
On 3 November 2016 the US Embassy issued a warning that terrorist groups are planning to conduct kidnappings in areas frequented by foreigners on Cebu Island. On 28 November 2016, an improvised explosive device was found close to the US embassy in Manila. You should remain vigilant at all times and report anything suspicious to the local authorities and report anything suspicious to the local authorities. See Terrorism.
Protests and demonstrations are underway across Metro Manila and in other cities across the Philippines. Demonstrations can turn violent. You should be vigilant, avoid all demonstrations and be alert to developments. If you encounter a large public gathering or demonstration, leave the area immediately.
During demonstrations, roads can become blocked, resulting in diversions. These may re-route you to areas you are unfamiliar with. You should familiarise yourself with alternative routes prior to departure.
The Philippine Bureau of Immigration has warned foreigners not to participate in political rallies. Any foreign nationals taking part in these events could be subject to arrest and/or deportation.
Around 20 typhoons hit the Philippines each year. Most typhoons occur from June to December. There may be flooding and landslides. You should monitor the progress of approaching storms and follow the advice of the local authorities, including any evacuation orders. See Natural disasters
The Philippines government has declared a "state of national emergency on account of lawless violence in Mindanao". Expect heightened security measures including in airports and other major transport hubs. You should co-operate with the Philippine authorities and allow extra time to pass through security.
Violating local laws may result in a jail sentence, served in a local prison. Sentences are severe. The judicial system can result in long-term detention until a court hearing takes place. Detention facilities are far below UK standards. Don't become involved with drugs of any kind. Penalties for importing and using illegal drugs are particularly severe.
There is a high incidence of street crime and robbery throughout the Philippines. You should take sensible precautions.
Around 154,000 British nationals visited the Philippines in 2015. Most visits are trouble-free.
UK health authorities have classified the Philippines as having a risk of Zika virus transmission. For information and advice about the risks associated with Zika virus, visit the National Travel Health Network and Centre website.
If you're abroad and you need emergency help from the UK government, contact the nearest British embassy, consulate or high commission.
The Overseas Business Risk service offers information and advice for British companies operating overseas on how to manage political, economic, and business security-related risks.
Take out comprehensive travel and medical insurance before you travel.