Foreign travel advice
Philippines
Summary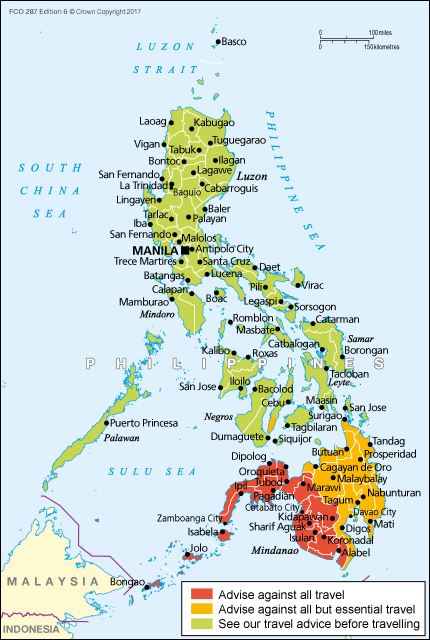 The Foreign and Commonwealth Office (FCO) advise against all travel to western and central Mindanao and the Sulu archipelago because of terrorist activity and clashes between the military and insurgent groups. The FCO advise against all but essential travel to the remainder of Mindanao (excluding Camiguin, Danagat and Siargao Islands) and to the south of Cebu province, up to and including the municipalities of Dalaguete and Badian, due to the threat of terrorism. See Terrorism
Terrorists are very likely to try to carry out attacks in the Philippines, including in Manila. Terrorist groups continue to plan attacks and have the capacity and the intent to carry out attacks at any time and anywhere in the country, including in places visited by foreigners, like airports, shopping malls, public transport and places of worship. You should remain vigilant at all times and report anything suspicious to the local authorities.
Clashes are underway between government forces and militants in Marawi City, Mindanao. If you're in Marawi City you should be especially vigilant, monitor media reporting and follow the advice of the Philippine authorities.
On 23 May 2017, President Duterte declared martial law for the whole of Mindanao for 60 days "in order to suppress lawless violence and rebellion and for public safety". Measures imposed may include curfews and checkpoints, and suspension of the writ of habeas corpus. You should monitor media reporting and follow the instructions of local authorities. Particular consideration should be given to any travel to Mindanao while martial law is in place, and its implications unclear.
Some airlines servicing Mindanao are offering pre-booked customers alternative options to taking their scheduled flight
A 'state of national emergency on account of lawless violence' remains in place across areas not covered by martial law. You should expect heightened security operations throughout the Philippines. These may include random checkpoints, security patrols and a more visible routine security presence. You should co-operate with the Philippine authorities and allow extra time to pass through security checks. Make sure you carry a form of identification with you.
There has been an increase in kidnapping of foreign nationals, including attacks targeting foreigners and tourists since late 2015. Terrorist groups continue to plan kidnap operations against western nationals in the Philippines. This threat extends throughout the Philippines, both on land and at sea, but is particularly acute in the southern Philippines (Mindanao, Palawan and central Visayas, including Siquijor and Dumaguete).
There's a high incidence of street crime and robbery throughout the Philippines. You should take sensible precautions.
The Philippine Bureau of Immigration has warned foreigners not to participate in political rallies. Any foreign nationals taking part in these events could be subject to arrest and/or deportation.
Violating local laws may result in a jail sentence, served in a local prison. Sentences are severe. The judicial system can result in long-term detention until a court hearing takes place. Detention facilities are far below UK standards. Don't become involved with drugs of any kind. Penalties for importing and using illegal drugs are particularly severe.
Around 20 typhoons hit the Philippines each year. Most typhoons occur from June to December. There may be flooding and landslides. You should monitor the progress of approaching storms and follow the advice of the local authorities, including any evacuation orders. See Natural disasters
UK health authorities have classified the Philippines as having a risk of Zika virus transmission. For information and advice about the risks associated with Zika virus, visit the National Travel Health Network and Centre website.
If you're abroad and you need emergency help from the UK government, contact the nearest British embassy, consulate or high commission.
The Overseas Business Risk service offers information and advice for British companies operating overseas on how to manage political, economic, and business security-related risks.
Around 154,000 British nationals visited the Philippines in 2015. Most visits are trouble-free.
Take out comprehensive travel and medical insurance before you travel.