Uganda
Warning

FCDO advises against all but essential travel to parts of Uganda.
Summary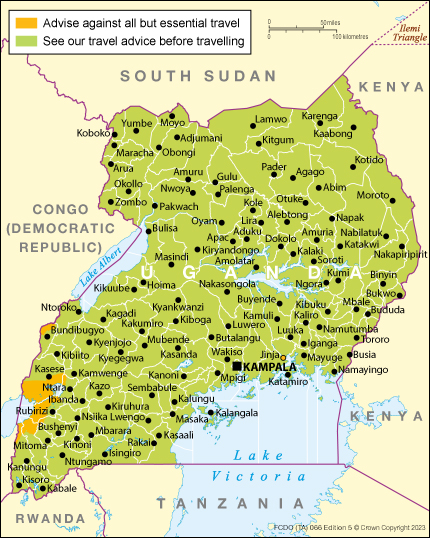 FCDO advises against all but essential travel to:
Jinja town, except travelling through Jinja town on the A109
Queen Elizabeth National Park
The area immediately southwest of Kasese town. This area starts at the border with DRC at Kyabikere and extends eastwards up to and including the A109 road and southwards to Queen Elizabeth National Park
Semuliki National Park
There remains a heightened security presence around Jinja town. Stay aware of your surroundings at all times, avoid large events and gatherings and follow the advice of security personnel. The FCDO advises against all but essential travel to Jinja.
There is a growing terror threat in Uganda, including targeting of foreigners. Avoid large gatherings, including large scale worship, and music and cultural festivals in Uganda.
On 17 October there was an attack in Queen Elizabeth National Park in Western Uganda resulting in three fatalities.
Terrorists are very likely to try to carry out attacks in Uganda, including against foreign nationals. Attacks could be indiscriminate or against foreign nationals or places frequented by foreign nationals. On 17 October 2023, tourists were killed in Queen Elizabeth National Park, On 17 June 2023, the Ugandan police attributed to militants (Allied Democratic Forces – ADF) an attack on a school in Mpondwe, Kasese District, western Uganda, close to the border with the DRC. 42 people were killed. On 16 November 2021, terrorists used two explosive devices in central Kampala killing 4 and injuring 33 people. The Uganda Police Force disrupted an attempted IED attack at Miracle Centre Cathedral in the Rubaga Division of Kampala on 3 September 2023. They have since reported the discovery and disposal of further Improvised Explosive Devices (IEDs) and detained multiple suspects in custody. You should remain vigilant at all times and follow the advice of local authorities. See Terrorism
Before you travel, check the 'Entry requirements' section for Uganda's current entry restrictions and requirements. These may change with little warning. Monitor this advice for the latest updates and stay in contact with your travel provider.
If you plan to pass through another country to return to the UK, check the travel advice for the country you're transiting.
It is more important than ever to get travel insurance and check it provides sufficient cover. See the Foreign, Commonwealth and Development Office (FCDO) guidance on foreign travel insurance.
You should remain vigilant, avoid large crowds and public demonstrations and follow local media for updates. Political rallies, protests and violent demonstrations can occur without notice throughout the country. See Political situation.
On 30 May 2023 an anti-homosexuality act was brought into law in Uganda. The act includes harsh prison sentences, and the death penalty in some cases, for same sex sexual activity and also the supporting or promotion of LGBT+ rights. See Local laws and customs.
On 20 September 2022 Uganda declared a new outbreak of Ebola. As of 18 December 2022, there are no confirmed cases in Uganda.
On 11 January 2023 the World Health Organisation declared the Uganda Ebola outbreak over.
Some countries have imposed heightened health screening for Ebola for travellers from Uganda, including British Nationals. You should check the entry requirements of the country which you are travelling to or transiting. See Health.
On the 2 December 2022 new COVID-19 measures were announced. See Coronavirus
UK health authorities have classified Uganda as having a risk of Zika virus transmission. For information and advice about the risks associated with Zika virus, visit the National Travel Health Network and Centre website
Petty and violent crime occurs. Take sensible precautions to protect yourself and your belongings. See Safety and Security
Avoid travel by road outside major towns at night, except between Kampala and the airport at Entebbe. See Crime
Around 15,000 British nationals visit Uganda every year. Most visits are trouble-free.
If you're abroad and you need emergency help from the UK government, contact the nearest British embassy, consulate or high commission.
The Overseas Business Risk service offers information and advice for British companies operating overseas on how to manage political, economic, and business security-related risks.