Foreign travel advice
Mali
Summary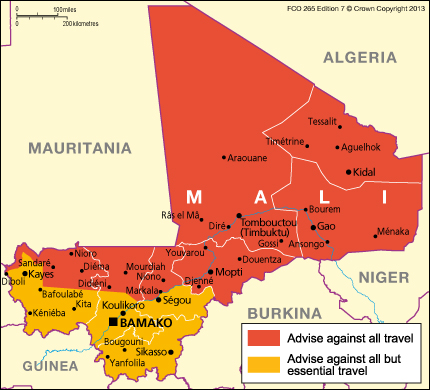 The Foreign and Commonwealth Office (FCO) advise against all travel to:
the provinces of Tombouctou, Kidal, Gao and Mopti
parts of the provinces of Kayes, Koulikoro and Segou, as shown on the map
The FCO advise against all but essential travel to the rest of Mali.
Opposition groups have indicated that they intend to organise a demonstration march in the centre of Bamako on Saturday 8 December. The District Governor of Bamako has issued a decree banning all demonstrations and public meetings in certain areas of Bamako. These include the President's Palace and its immediate surroundings, main Government institutions and ministries, the Governorate, the Town Hall, Liberty Square, Grand Market, Labour Exchange, the shopping area of Hamdallaye ACI 2000, Medina market, and bridge access areas. Opposition groups have indicated that they plan to ignore this ruling.
Recent public demonstrations in Bamako have encountered a strong police and security force presence. You should stay away from all political demonstrations and any blockades set up by the police and security forces.
Terrorists are very likely to try to carry out attacks in Mali, including kidnaps. Attacks could be indiscriminate, including in places visited by foreigners. You should be vigilant, especially in places such as hotels, restaurants and places of worship, keep a low profile and follow the advice of local authorities.
On 18 June 2017, there was a terrorist attack at Le Campement Resort, Kangaba, which resulted in multiple casualties.
On 9 June 2017, the US Embassy in Bamako issued a security message warning of an increased threat of attacks in Bamako.
In November 2015, there was a terrorist attack against the Radisson Hotel in Bamako in which a number of hostages were killed.
There's a threat of terrorist attacks against large gatherings, including music festivals. The Festival au Désert in Timbuktu was cancelled in January 2017 due to security concerns. Festivals in other parts of the country are vulnerable to attack. See Terrorism
On 24 October 2018 the Malian government extended the state of emergency that has been in existence since November 2015 by a year, until 31 October 2019. You should expect a robust security presence including police patrols and possible police security checks on restaurants and hotels. There are likely to be more vehicle and personal security checks during this time and nobody will be exempt.
You should maintain several days' stock of food and water in case disturbances take place. You can monitor daily developments in English through the BBC World Service (88.9 FM in Bamako).
If you're abroad and you need emergency help from the UK government, contact the nearest British embassy, consulate or high commission.
The ability of the small British Embassy to deliver consular services is limited, especially outside Bamako.
Take out comprehensive travel and medical insurance before you travel.