Foreign travel advice
Mali
Summary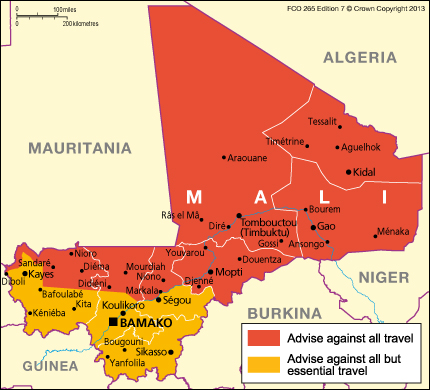 The Foreign and Commonwealth Office (FCO) advise against all travel to:
the provinces of Tombouctou, Kidal, Gao and Mopti
parts of the provinces of Kayes, Koulikoro and Segou, as shown on the map
The FCO advise against all but essential travel to the rest of Mali.
On 21 March there was an incident, where shots were fired, at the Nord Sud hotel in the ACI 2001 district of Bamako. Further attacks are likely, could occur without warning and include western targets. You should remain vigilant, exercise caution, follow the advice of the local authorities and monitor local media.
On 20 November, there was a terrorist attack against the Radisson Hotel in Bamako, leading to a siege in which a number of hostages were killed.
On 4 April 2016, the Malian government agreed to re-introduce a state of emergency. This has been extended until 15 July 2016. The previous state of emergency had ended in March. You should expect a robust security presence including police patrols and possible police security checks on restaurants and hotels. There are likely to be more vehicle and personal security checks during this time and nobody will be exempt.
There is a high threat from terrorism, including kidnap, especially in areas north of Mopti. Attacks are highly likely in northern Mali, though the threat exists throughout the country. Attacks could be indiscriminate, including in places visited by foreigners. See Terrorism
The situation in Mali is still unstable.
You should maintain several days' stock of food and water in case disturbances take place. You can monitor daily developments in English through the BBC World Service (88.9 FM in Bamako).
The ability of the British Embassy to deliver consular services is limited, especially outside of Bamako. The British Embassy telephone number is +223 44 97 69 13.
Take out comprehensive travel and medical insurance before you travel.