Summary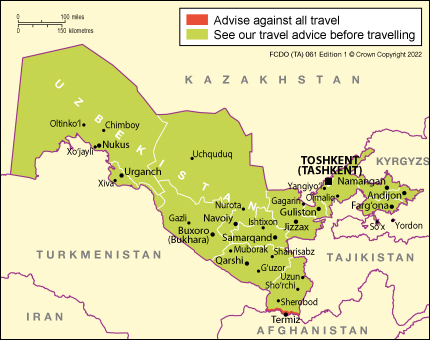 The Foreign, Commonwealth & Development Office (FCDO) advises against all travel to the Termez region and to within 5km from the Uzbekistan-Afghanistan border. The land border between Uzbekistan and Afghanistan is currently closed.
COVID-19 entry restrictions for Uzbekistan
Before you travel, check the 'Entry requirements' section for Uzbekistan's current entry restrictions and requirements. These may change with little warning. Monitor this advice for the latest updates and stay in contact with your travel provider.
Travelling from and returning to the UK
Check what you must do to travel abroad and return to England, Scotland, Wales or Northern Ireland.
If you plan to pass through another country to return to the UK, check the travel advice for the country you're transiting.
If you're planning travel to Uzbekistan, find out what you need to know about coronavirus there in the Coronavirus section.
During the COVID-19 pandemic, it is more important than ever to get travel insurance and check it provides sufficient cover. See the FCDO's guidance on foreign travel insurance.
For information about COVID-19 vaccines, see the Coronavirus page.
Most visits to Uzbekistan are trouble free.
Take care in areas bordering Tajikistan, Kyrgyzstan and Afghanistan. Uzbekistan's borders are potential flashpoints and uncontrolled border areas may be land-mined. Borders are subject to closure without notice. See Local travel
Terrorists are likely to try to carry out attacks in Uzbekistan. See Terrorism
Air quality in the Karakalpakstan and Khorezm regions is poor as a result of dust, salt and other pollutants from the Aral Sea. See Health
You can be detained on arrival for the possession of certain medicines, including codeine. You should always carry a doctor's prescription with you. See Travelling with medicines
Dual nationality is not recognised in Uzbekistan. See Dual nationality
If you need to contact the emergency services, call 101 (fire), 102 (police) or 103 (ambulance).
If you're abroad and you need emergency help from the UK government, contact the nearest British embassy, consulate or high commission.