Foreign travel advice
Mauritania
Summary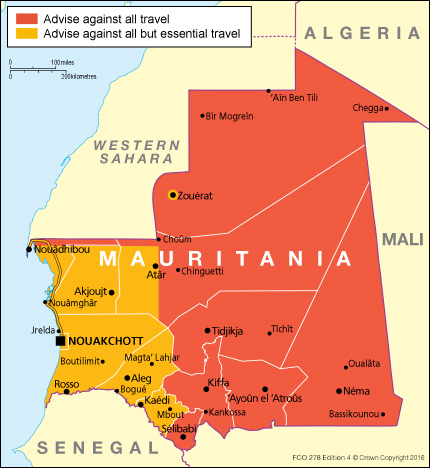 The Foreign and Commonwealth Office (FCO) advise against all travel to:
the province of Tiris Zemmour (except the town of Zouérat)
the province of Adrar (east of Atar)
the provinces of Tagant, Hodh el Chargui, Hodh El Gharbi, Assaba and Guidimaka
within 25km of the Western Sahara border (except the Noukchott - Nouadhibou corridor)
The FCO advise against all but essential travel to the rest of the country, including the Nouakchott - Nouadhibou corridor.
Terrorists are likely to try to carry out attacks in Mauritania, including kidnapping. You should be especially vigilant in public places and monitor local media. Attacks could be indiscriminate, including in places visited by foreigners. See Terrorism
Demonstrations have taken place in the capital Nouakchott. Some have involved clashes between police and demonstrators resulting in the use of tear gas. You should avoid all demonstrations. See Political situation
Consular support is not available from the British Embassy in Nouakchott. If you're in Mauritania and need consular support, you should contact the British Embassy in Rabat, Morocco.
Take out comprehensive travel and medical insurance before you travel.