Foreign travel advice
Afghanistan
Summary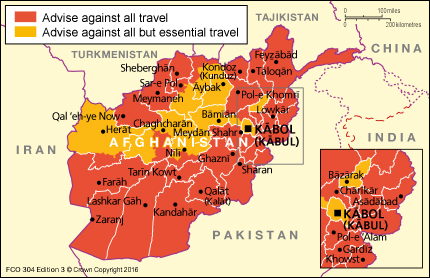 The Foreign and Commonwealth Office (FCO) advise against all travel to all districts in the following provinces of Afghanistan:
Kapisa; Kunar; Nangahar; Laghman; Nuristan; Ghazni; Khost; Paktika; Paktiya; Logar Wardak;Kandahar; Uruzgan; Zabul; Helmand; Nimroz; Badghis; Farah; Faryab; Jowzjan; Badakhshan; Baghlan; Kunduz and Takhar.
The FCO advise against all travel to the following specific districts of Afghanistan:
Kabul (Surobi district); Parwan (Charikar City, Bagram, Ghorband/Siaghird, Jabal Saraj, Kohi Saraj, Salang, Sayed Khel and Shinwari districts); Daikundi (Gizab and Kajran districts); Ghor (Dolina/ Du Layna and Pasaband districts); Herat (Shindand district); Balkh (Chaharbolak, Chamtal/Chimtal, Daulat Abad/Dawalatabad, Hairatan Port, Kaldar and Shortipa/Shur Tapa/Shor Tepah districts); Sar-e-Pul (Sar-e-Pul City and Sayad districts).
The Foreign and Commonwealth Office (FCO) advise against all but essential travel to all other provinces and districts of Afghanistan.
Consular support is not available in parts of Afghanistan where we advise against all travel and severely limited where we advise against all but essential travel. The level of consular assistance the British Embassy can provide to travellers in Afghanistan is extremely limited. There are limits to the assistance the FCO can provide in a crisis, depending on the security and transport situation. You should not assume that the FCO will be able to provide assistance to leave the country in the event of serious unrest.
The British Embassy is not able to accept registrations from British nationals travelling in Afghanistan or monitor their safety when they are in country. Staff from the British Embassy may be unable to travel to certain parts of the country due to the security situation; this may severely limit the consular assistance that can be offered. Travel by road throughout the country, but particularly outside the capital Kabul, is extremely dangerous. Seek professional security advice for all travel and consider using armoured vehicles.
Hotels and guesthouses used by foreign nationals and the government of Afghanistan are subject to regular threats. The British Embassy doesn't allow official visitors to stay in hotels overnight and has placed restaurants and other venues off limits to staff. Make sure your accommodation is secure and review your security measures regularly.
Terrorists are very likely to try to carry out attacks in Afghanistan. Specific methods of attack are evolving and increasing in sophistication. Significant incidents include:
on 28 November 2018, a complex attack on the G4S compound in Kabul killed at least ten people, including one British national, and injured at least 35 others
on 20 November 2018, a suicide attack on a wedding hall in Kabul killed approximately 55 people and injured over 85
on 27 January 2018, an explosion occurred at the Afghan National Defence and Security Forces (ANDSF) checkpoint near the old Ministry of Interior building in Kabul
on 20 January 2018, a complex attack on the Intercontinental Hotel in Kabul resulted in the deaths of around 20 people.
You should follow the instructions of local authorities. There is a high threat of kidnapping throughout the country. See Terrorism
On 2 August 2018, 3 foreign nationals were abducted and murdered in Kabul. The exact motives for this are unclear.
Take out comprehensive travel and medical insurance before you travel. Make sure your policy covers you for travel in Afghanistan, noting any requirements for security and armoured vehicles. It may be difficult to get insurance.
Afghanistan is in a major earthquake zone and remains at risk from powerful earthquakes, aftershocks, landslides and flooding. The British Embassy can provide limited consular assistance in Afghanistan, particularly outside the capital Kabul. See Natural disasters
You can contact the emergency services by calling 119 (police and ambulance) and 112 (fire).
If you're abroad and you need emergency help from the UK government, contact the nearest British embassy, consulate or high commission.