Togo
Important

COVID-19 Exceptional Travel Advisory Notice
As countries respond to the COVID-19 pandemic, including travel and border restrictions, the FCO advises British nationals against all but essential international travel. Any country or area may restrict travel without notice. If you live in the UK and are currently travelling abroad, you are strongly advised to return now, where and while there are still commercial routes available. Many airlines are suspending flights and many airports are closing, preventing flights from leaving.
Summary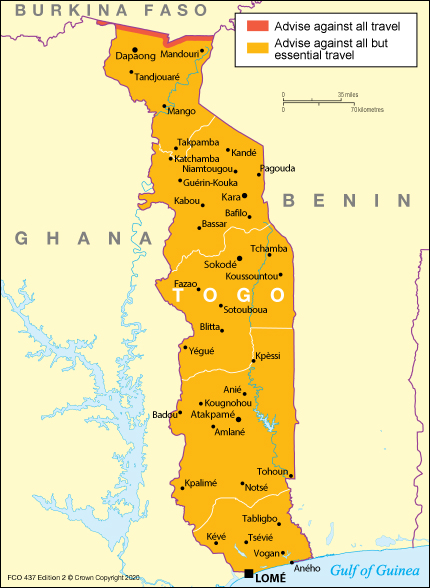 Coronavirus (COVID-19): stay up to date
The Foreign and Commonwealth Office (FCO) is advising British nationals against all non-essential international travel at this time. Existing advice for Togo remains in place:
The FCO advise against all travel to within 5km of the border with Burkina Faso.
There remain commercial options available to return to the UK from Togo. See Return to the UK
If you're visiting Togo and are unable to return to the UK, see Staying during coronavirus
Land borders have been closed since 20 March and there are now no options for entering the country on flights. See Entry requirements
Protests may take place following the presidential elections on 22 February 2020. You should exercise caution, avoid large crowds and gatherings, and monitor events via local media.
There have been sporadic marches and protests in Lomé and around the country since August 2017, over demands to restore the 1992 constitution. Tensions remain heightened and further marches and protests, by supporters of the government and opposition are possible, particularly ahead of presidential elections in February 2020. You should remain vigilant, avoid crowds and demonstrations, monitor local media and follow advice of local authorities. See Political situation
Terrorist attacks in Togo can't be ruled out. Attacks could be indiscriminate. You should be vigilant, especially in places visited by foreigners. See Terrorism.
Consular support is limited in Togo.  The Honorary Consul in Togo can offer limited consular assistance. British nationals should contact the British High Commission in Accra, Ghana who can provide consular support. See Consular Assistance.