Foreign travel advice
Armenia
Summary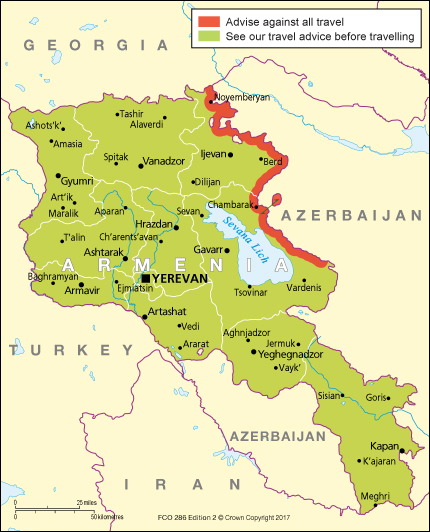 The Foreign and Commonwealth Office (FCO) advise against all travel to within 5km of the border between Armenia and Azerbaijan in the Tavush and Gegharkunik regions, and along the M16/H26 road between the towns of Ijevan and Noyemberyan.
Tensions between Armenia and Azerbaijan over Nagorno-Karabakh continue. The border between Armenia and Azerbaijan is closed. Several ceasefire violations along the Line of Contact separating the opposing forces and elsewhere on the inter-state border between Azerbaijan and Armenia took place in 2018, resulting in a number of deaths and casualties. See Azerbaijan.
Take extra care near military emplacements and in villages and connecting roads between the main M16/H26 artery and the border to its east. See Local travel
Consular support is not available in the Nagorno-Karabakh region. See Political situation
Although there is no recent history of terrorism in Armenia, attacks can't be ruled out. See Terrorism
The main alternative route to the M16/H26 between Armenia and Georgia (Yerevan-Vanadzor-Alaverdi-Bagratashen) is closed for maintenance work until further notice. If you're travelling by road between Yerevan and Tbilisi you should use the M3 route from Yerevan through Tashir on the Georgian border. See Local travel
Protests sometimes take place in central Yerevan and other major cities. These are usually organised by opposition political parties or activist groups highlighting topical social issues. Although protests tend to be peaceful and usually pass off without incident, you should take care, monitor the media and avoid large crowds and demonstrations.
If you're abroad and you need emergency help from the UK government, contact the nearest British embassy, consulate or high commission.
Take out comprehensive travel and medical insurance before you travel.