Foreign travel advice
Burkina Faso
Summary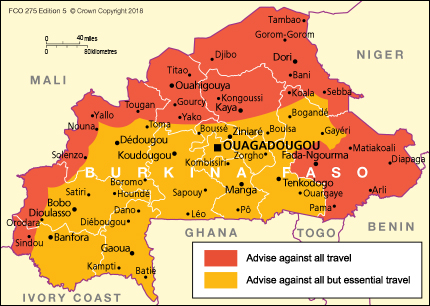 The Foreign and Commonwealth Office (FCO) advise against all travel to the following parts of Burkina Faso: all areas of the country north of the town of Boulsa; areas within 40km of the western border with Mali and 40km within of the eastern border with Niger; the south-eastern provinces of Gourma, Kompienga, and Tapoa (including the W National Park and the Arly National Park and their contiguous reserves and hunting areas).
The FCO advise against all but essential travel to the rest of Burkina Faso, including the capital Ouagadougou.
Terrorists are very likely to try to carry out attacks in Burkina Faso, including Ouagadougou.
In March 2018, a terrorist attack took place on the French Embassy and the Army Headquarters in Ouagadougou. 16 people were killed, including 8 attackers, and 80 people injured. In May 2018, a shootout occurred on the outskirts of the city between security forces and terrorists suspected of being linked to March attack.
In August 2017, gunmen attacked the Aziz Istanbul restaurant in Ouagadougou. In January 2016, there was a terrorist attack against a hotel and café in central Ouagadougou. Further attacks are possible. You should exercise particular caution around religious holidays.
There have also been regular attacks on Burkinabe security forces. On 28 August, 7 members of the security forces were killed after their vehicle was struck by a roadside bomb near Fada N'Gourma in the Eastern Region. There have also been recent attacks on police and military personnel close to the borders with Mali, Niger and Cote d'Ivoire. You should take extra care and follow the instructions of the security authorities.
There is also a risk that terrorist groups may cross the border from Mali and the northern border with Niger into Burkina Faso to carry out kidnap attacks. In January 2016, 2 western nationals were abducted in the northern town of Djibo near the border with Mali, 1 of whom has since been released. See Terrorism
UK health authorities have classified Burkina Faso as having a risk of Zika virus transmission. For information and advice about the risks associated with Zika virus, visit the National Travel Health Network and Centre website.
If you're abroad and you need emergency help from the UK government, contact the nearest British embassy, consulate or high commission. There is an Honorary Consul in Burkina Faso, who can offer limited consular assistance.
Take out comprehensive travel and medical insurance before travelling.