Summary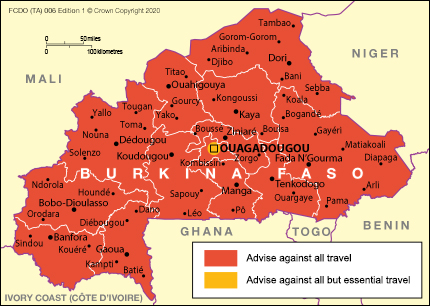 For security reasons, the FCDO advises against all but essential travel to:
the capital Ouagadougou, up to the toll booths on all roads out of the city
The FCDO advises against all travel to:
There is no British Embassy in Burkina Faso and our ability to provide consular assistance is severely limited. The security situation in Burkina Faso has deteriorated significantly in recent years and remains volatile. The political situation in Burkina Faso remains unstable following the military coup on 30 September 2022. Further coups are possible. If you choose to travel to Burkina Faso you should remain vigilant and monitor local media.
Land and air borders reopened on Monday 3 October. The curfew between 9pm – 5am has also been lifted.
Before you travel, check the 'Entry requirements' section for Burkina Faso's current entry restrictions and requirements. Due to COVID-19, these may change with little warning. Monitor this advice for the latest updates and stay in contact with your travel provider.
If you plan to pass through another country to return to the UK, check the travel advice for the country you're transiting.
It is more important than ever to get travel insurance and check it provides sufficient cover. See the FCDO's guidance on foreign travel insurance.
Terrorists are very likely to try to carry out attacks in Burkina Faso, including in Ouagadougou. Attacks could be indiscriminate and occur without warning. Places frequented by foreigners, including diplomatic premises, hotels, restaurants, bars, nightclubs, stadiums, concert halls, shopping areas, markets, national infrastructure, airports and other transport hubs, places of worship (especially churches), national parks, businesses with western interests and foreign, national and local government facilities may also be targets of attack.
You should be vigilant, be alert to announcements, monitor local media and follow the advice of the local authorities. Avoid all large gatherings, including music festivals, shows, concerts, sporting events and any public marches or demonstrations. You should exercise extra caution during election periods and during festivities, and religious and public holiday periods. On 11 June 2022, over 100 people were killed following a terrorist attack in Seytenga in the Province of Seno. Further attacks are possible. See Terrorism.
Westerners have been kidnapped and killed in Burkina Faso and the wider Sahel region. There remains a high threat of kidnap in Burkina Faso, including in Ouagadougou, and the wider Sahel region. Two westerners have been kidnapped in 2022 alone. There's also a risk that terrorist groups may cross the border from Mali and the northern border with Niger into Burkina Faso to carry out kidnap attacks, including in Ouagadougou. See Kidnap.
A state of emergency is currently in place in the following six regions until December 2022: Centre-Est, Est, Nord, Boucle du Mouhon, Sahel and Hauts-Bassins. The measure gives security forces extra powers to search homes and restrict freedom of movement.
Two military zones are currently in place in Soum in the north, and in the south-east on the border with Benin. Civilians found within these areas risk being mistaken for terrorists and caught up in military operations.
If you're in Burkina Faso and you need emergency help from the UK government, contact the British Embassy in Accra.