Summary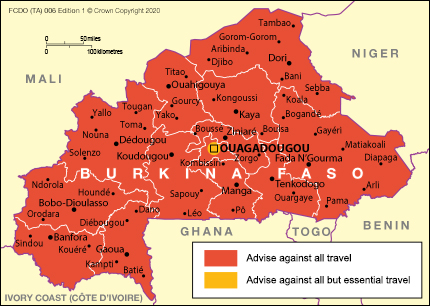 For security reasons, the FCDO advises against all but essential travel to:
the capital Ouagadougou, up to the toll booths on all roads out of the city
The FCDO advises against all travel to:
Following the coup d'état on 24 January, a transitional government has been appointed. The situation is evolving and you should remain vigilant and monitor local media. While the Foreign, Commonwealth and Development Office continues to monitor the situation, we have no British Embassy in country and are very limited in the assistance we can provide.
COVID-19 entry restrictions for Burkina Faso
Before you travel, check the 'Entry requirements' section for Burkina Faso's current entry restrictions and requirements. These may change with little warning. Monitor this advice for the latest updates and stay in contact with your travel provider.
Travelling from and returning to the UK
Check what you must do to travel abroad and return to England, Scotland, Wales or Northern Ireland.
If you plan to pass through another country to return to the UK, check the travel advice for the country you're transiting.
If you're planning travel to Burkina Faso, find out what you need to know about coronavirus there in the Coronavirus section.
During the COVID-19 pandemic, it is more important than ever to get travel insurance and check it provides sufficient cover. See the FCDO's guidance on foreign travel insurance.
For information about COVID-19 vaccines, see the Coronavirus page.
Terrorists are very likely to try to carry out attacks in Burkina Faso, including Ouagadougou. Attacks could be indiscriminate and occur without warning, affecting Burkina Faso security forces, schools and markets. You should be especially vigilant and where possible avoid places frequented by foreigners including, diplomatic premises, hotels, restaurants, bars, nightclubs, shopping areas, airports and other transport hubs, places of worship and religious sites (particularly churches), national parks and businesses with Western interests. Foreign, national or local government facilities and large crowds may also be a target. You should be vigilant, be alert to announcements, monitor local media and follow the advice of the local authorities. Avoid all large gatherings, including during national day celebrations and public holidays. On 26 April 2021, one Irish national and two Spanish nationals were killed in an ambush on the PK 60 road between Fada-N'Gourma and Pama. On 4 to 5 June 2021, over 160 people were killed in an attack on the village of Solhan in north-eastern Burkina Faso. Further attacks are possible. You should exercise particular caution around religious holidays. See Terrorism.
Westerners have been kidnapped in Burkina Faso and the wider Sahel region. There remains a high threat of kidnap in Burkina Faso, including Ouagadougou, and the wider Sahel region. There's also a risk that terrorist groups may cross the border from Mali and the northern border with Niger into Burkina Faso to carry out kidnap attacks, including in Ouagadougou. On 11 May 2019, four hostages, including westerners, were rescued during a French military operation in northern Burkina Faso. Two of the rescued hostages were French tourists who had been kidnapped from Pendjari National Park in Benin on 1 May 2019. See Kidnap.
In June 2019, Burkina Faso passed a law criminalising the dissemination of information about terrorist attacks and security forces that could undermine public order or the conduct of security operations.
On 24 June 2021, the government extended the state of emergency in the following six regions for 18 months: Centre-Est, Est, Nord, Boucle du Mouhon, Sahel and Hauts-Bassins. The measure gives security forces extra powers to search homes and restrict freedom of movement.
You should exercise caution and avoid large political rallies and gatherings, areas of demonstrations and protests. Crowds can gather quickly and may become violent. In the event of unrest monitor local media and follow instructions and announcements from the local authorities.
UK health authorities have classified Burkina Faso as having a risk of Zika virus transmission. For information and advice about the risks associated with Zika virus, visit the National Travel Health Network and Centre website.
If you're abroad and you need emergency help from the UK government, contact the nearest British embassy, consulate or high commission.