Foreign travel advice
Mozambique
Summary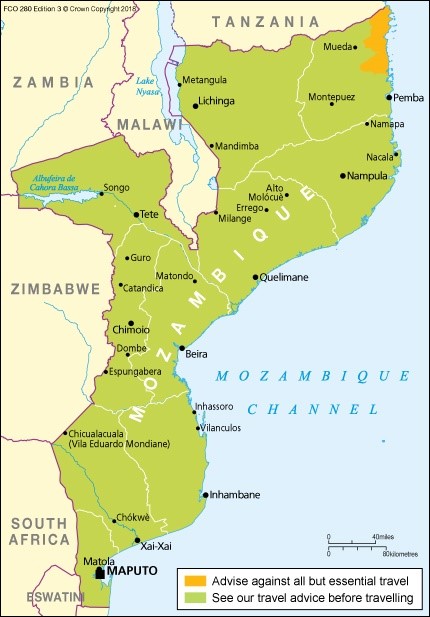 The Foreign and Commonwealth Office (FCO) advise against all but essential travel to the districts of Palma, Mocimboa de Praia and Macomia in Cabo Delgado province due to an increase in attacks by groups with links to Islamic extremism. This advice does not apply to islands off the coast of Mozambique.
On 5 to 6 October 2017, there were prolonged armed clashes with police in the town of Mocímboa da Praia (between Palma and Pemba) in Cabo Delgado province. Since the first clash, there have been smaller clashes and attacks in the neighbouring districts. The intensity of attacks increased in late May and early June 2018. There are reports of an increased security presence in the region, including road blocks. If you're planning to travel to the area, you should check local and social media for updates before you travel to the area and follow the advice of the local authorities.
Some tensions remain in Zambezia, Sofala, Manica and Tete provinces, mainly between the opposition party's militia and state security forces. There were sporadic attacks in these provinces for much of 2016. A truce was declared on 27 December 2016.
Traffic accidents are common due to the condition of the roads, poor driving and vehicle standards. Always drive carefully and be aware of pedestrians using the roads.
If you're travelling by road make sure you have relevant documents with you at all times and monitor local media.
Terrorists are likely to try to carry out attacks in Mozambique. See Terrorism
Piracy remains a significant threat in the Gulf of Aden and Indian Ocean. See Sea travel
Most visits to Mozambique are trouble-free, but violent crime does occur, and there have been cases of criminal kidnappings. You should take extra care. See Safety and security
Coastal areas have a risk of tropical cyclones during the rainy season (November to April). Monitor local and international weather updates from the World Meteorological Organisation. See Natural disasters
If you're abroad and you need emergency help from the UK government, contact the nearest British embassy, consulate or high commission.
The Overseas Business Risk service offers information and advice for British companies operating overseas on how to manage political, economic, and business security-related risks.
Take out comprehensive travel and medical insurance before you travel.