Foreign travel advice
Mozambique
Summary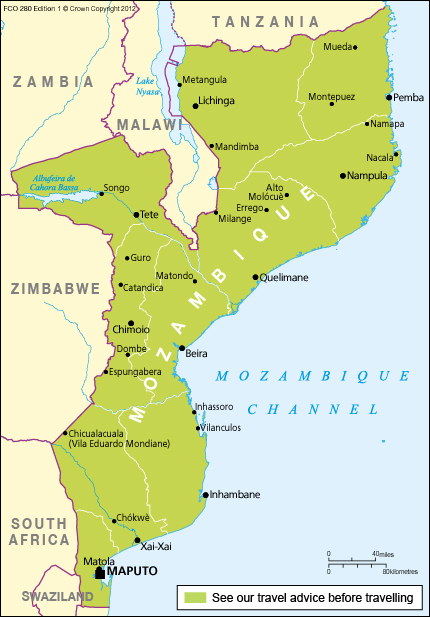 There are high tensions in Zambezia, Sofala, Manica and Tete provinces, mainly between the opposition party's militia and state security forces.
There have been armed attacks on vehicles on main roads in Manica, Sofala, Tete and Zambezia provinces in recent weeks. If you're travelling by road make sure you have relevant documents with you at all times and monitor local media.
The police are escorting traffic in timed convoys on the EN1 road Save-Muxungue, Gorongosa-Caia sections and on the EN7 road Vanduzi-Luenha section. Convoys have themselves been targets of fatal attacks. There are media reports that commercial bus operators are not serving these stretches of road. UK government staff in Mozambique and their families have been advised not to use these sections of road. You should also avoid doing so if possible and be aware of increasing tensions.
There is an underlying threat from terrorism. See Terrorism
Piracy remains a significant threat in the Gulf of Aden and Indian Ocean. See Sea travel
All Mozambican airlines are banned from flying into the EU. See Air travel
Most visits to Mozambique are trouble-free, but violent crime does occur, and there has been a recent significant increase in cases of criminal kidnappings. You should take extra care. See Safety and security
Coastal areas have a risk of tropical cyclones during the rainy season (November to April). Monitor local and international weather updates from the World Meteorological Organisation. See Natural disasters
The Overseas Business Risk service offers information and advice for British companies operating overseas on how to manage political, economic, and business security-related risks.
Take out comprehensive travel and medical insurance before you travel.