Foreign travel advice
Burundi
Summary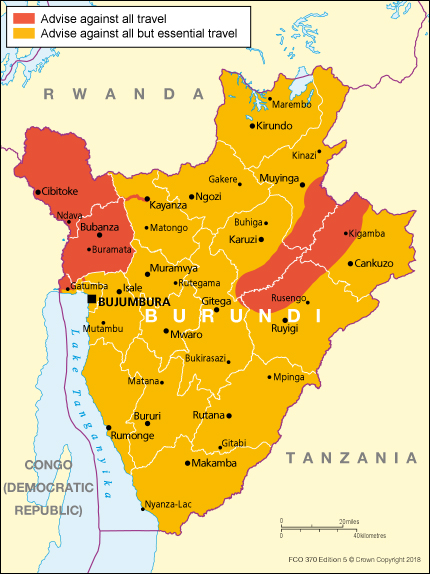 The Foreign and Commonwealth Office (FCO) advise against all travel to:
Cibitoke and Bubanza provinces
areas of Bujumbura Rural province west of the Rusizi river towards the Democratic Republic of Congo border, with the exception of the Rusizi Delta Nature Reserve
the road north of Bujumbura airport towards Cibitoke
the main road running west from Kayanza through the Kibira National Park
Ruvubu National Park
The FCO advise against all but essential travel to the rest of Burundi.
The FCO's advice against all but essential travel to Bujumbura does not include airside transit through Bujumbura International Airport.
If you don't have an essential reason to stay in Burundi, you should consider leaving.
Burundi has experienced political instability since President Nkrunziza was inaugurated for a controversial third term in August 2015. There have been violent incidents reported across the country, including a number of targeted political and military assassinations. You should limit your movements, avoid large gatherings and remain vigilant at all times.
In Bujumbura you should avoid areas which have experienced violence. In particular. Kanyosha, Musaga, Mutakura, Kamenge, Cibitoke, Bwiza, Ngagara, Nyakabiga, Gatumba and Bujumbura-rural.
On 28 September 2018, the Burundian government announced it was suspending the work of NGOs in the country. If you're visiting or working for an NGO, you should keep a low profile and be aware that there's a risk that IT-plated vehicles may be stopped by the security forces.
Avoid travelling by road outside Bujumbura after dark. This is due to the security situation and road safety concerns. See Local travel
If you travel outside Bujumbura, you should get up-to-date local advice before setting off. There are limited facilities up country with little French spoken, and limited infrastructure. Make sure you're as well prepared and self-sufficient as possible. See Road travel
If you're abroad and you need emergency help from the UK government, contact the nearest British embassy, consulate or high commission.
The Belgian Embassy is able to provide consular assistance to British nationals. All visitors or long term residents should register with the Belgian Embassy: Boulevard de la Liberté, 9, Bujumbura; telephone: + 257 22 22 32 66 or + 257 22 22 61 76; email: Bujumbura@diplobel.fed.be. See Consular assistance
There's a high risk of street crime. There have been incidents of armed burglary, sometimes targeting foreign exchange offices and banks. See Crime
Terrorist attacks in Burundi can't be ruled out. Al Shabaab has made public threats against Burundi because of its support to the African Union peacekeeping mission in Somalia. See Terrorism.
Since 2015, there have been sporadic grenade and arson attacks on local government infrastructure. The most recent was on Gatumba border post, on the border with the Democratic Republic of the Congo, which suffered an arson attack. There were a number of deadly grenade attacks in Bujumbura's Buyenzi and Bwiza districts targeting bars in July 2017. None of these attacks target foreigners.
You should remain vigilant and avoid crowded areas (eg markets). See Safety and security.
UK health authorities have classified Burundi as having a risk of Zika virus transmission. For information and advice about the risks associated with Zika virus, visit the National Travel Health Network and Centre website.
A long running cholera epidemic in Burundi (including Bujumbura) has caused several fatalities since 2013. You should take necessary precautions and seek urgent medical attention if you become unwell. See Health
Take out comprehensive travel and medical insurance before you travel.