Foreign travel advice
Saudi Arabia
Summary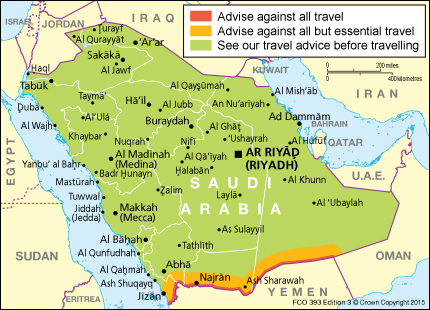 The Foreign and Commonwealth Office advise against all travel to within 10km of the border with Yemen and against all but essential travel between 10km and 80km of this border. If you're currently in an area to which the FCO advise against all but essential travel, you should consider whether you have an essential reason to remain. If you do not, you should leave the area.
Since 25 March, Saudi Arabia has been leading coalition air strikes in Yemen following the request for support from President Hadi to deter continued Houthi aggression. Clashes along the Saudi-Yemeni border continue, resulting in both military and civilian casualties.
A number of SCUD missiles have been fired from Yemen into Saudi Arabia since the conflict began. Military facilities in Najran Province, Asir Province, Jazan Province and the most south-westerly part of Riyadh Province may be targeted by missiles but it's also possible that attacks could be made on other locations.
The Saudi authorities have declared 'out of bounds' a zone of 20km from the entire northern border of the country, and from the border in the Hafr Al-Batin and Khafji areas in the Eastern Province. Violations are punishable by up to 30 months' imprisonment and a SR 25,000 fine. Land border crossings remain open and the authorities have announced that signs are being placed in areas where vehicles are allowed to cross.
Tourist trips to military zones or border posts are banned by the Saudi Tourism Authority.
There is a high threat from terrorism. See Terrorism
On 21 July 2016, the US government warned that it had received reports of a potential imminent threat against its citizens in areas of Jeddah visited by westerners, like markets, restaurants and shopping malls.
Cases of Middle East respiratory syndrome coronavirus (MERS-CoV) in patients from Saudi Arabia continue to be reported to the World Health Organization. For the latest information and advice, see the website of the National Travel Health Network and Centre.
The British Embassy receives regular requests for help from pilgrims performing Hajj or Umrah, particularly in relation to disputes and dissatisfaction with tour operators. The Saudi Ministry of Health has advised certain groups of people to postpone undertaking the Hajj and Umrah pilgrimages in 2015 in light of the MERS virus cases. It has also provided advice for those that are undertaking the pilgrimage to minimise the risk of contracting and spreading the virus. See Pilgrimage and the National Travel Health Network and Centre's Advice for pilgrims: Hajj and Umrah.
Take out comprehensive travel and medical insurance before you travel.