Foreign travel advice
Albania
Summary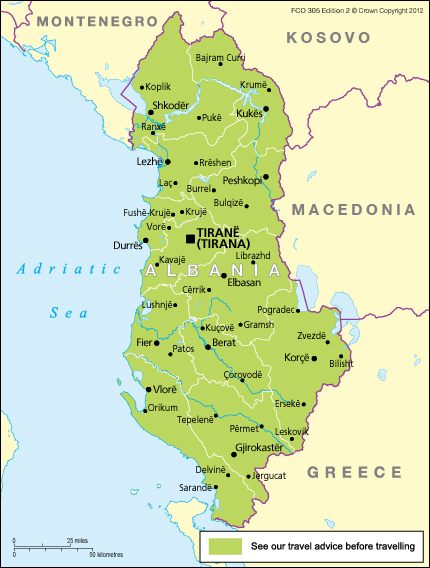 The political atmosphere is likely to remain changeable as the country approaches national elections on 25 June 2017. Monitor local and international media, take extra care and avoid all political rallies and demonstrations. Don't attempt to cross any roadblocks set up by protesters as this might provoke a violent reaction.
Over 80,000 British nationals visit Albania every year. Most visits are trouble-free.
From December to February severe weather may cause flooding, particularly in northern Albania. Heavy snowfall in mountainous areas can lead to disruption to transport and services.
Public security is generally good, particularly in Tirana. Crime and violence does occur in some areas, but is not typically targeted at foreigners. Gun ownership is widespread. See Crime.
When visiting hill towns on the northern border with Kosovo, you should exercise caution and heed warning signs about unexploded landmines and other unexploded ordnance. See Landmines.
Terrorist attacks in Albania can't be ruled out. See Terrorism.
If you're abroad and you need emergency help from the UK government, contact the nearest British embassy, consulate or high commission.
Take out comprehensive travel and medical insurance before you travel.