Foreign travel advice
Ukraine
Summary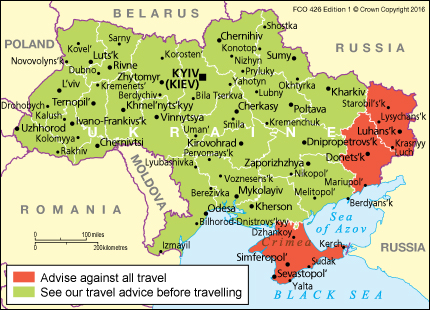 The Foreign and Commonwealth Office (FCO) advise against all travel to Donetsk oblast, Luhansk oblast and Crimea.
Events in Ukraine are fast moving. You should remain vigilant throughout Ukraine, monitor the media and this travel advice regularly, subscribe to email alerts and read our advice on how to deal with a crisis overseas.
The security situation in the south-eastern parts of the Donetsk and Luhansk oblasts of Ukraine remains highly unstable with ongoing clashes between Ukrainian armed forces and Russian-backed armed separatists.
Consular support is not available in parts of Ukraine not currently under control of the Ukrainian authorities: Crimea and parts of Donetsk and Luhansk oblasts. See Crimea and Eastern Ukraine.
Chelsea FC take on Dynamo Kyiv in a UEFA Europa League Round of 16 second leg match in Kyiv on Thursday 14 March. If you're travelling to Ukraine for the match, check our dedicated information and advice page for travelling supporters in addition to this travel advice.
It's illegal under Ukrainian law to enter internationally recognised Ukrainian territory through a border point that isn't currently controlled by the Ukrainian authorities. If you do so, you risk arrest or a fine, and you may be subject to a travel ban. International border crossings that aren't currently under the control of the Ukrainian authorities include all land border crossings into Donetsk oblast, many of the land border crossings into Luhansk oblast, all air and sea ports in Crimea and the Kerch Bridge road and rail crossing into Crimea. Information on border crossing procedure, entry/exit regulations and checkpoints are provided at the State Border Guard Service of Ukraine website.
The situation in Kyiv and other areas outside Donetsk and Luhansk is generally calm. However, public demonstrations do regularly take place. Policing of these events may include road closures. You should avoid all demonstrations and take extra care at public gatherings. In Kyiv, the areas around Maydan Nezalezhnosti (Independence Square) and government buildings such as the Verkhovna Rada (parliament building) and the National Bank of Ukraine are most frequently affected. See Political situation
The British Embassy in Kyiv is open to the public by appointment only. If you need to contact the British Embassy, please call +380 44 490 3660, or send an email to britconsular.kyiv@fco.gov.uk.
Around 78,600 British nationals visited Ukraine in 2017. Most visits are trouble-free.
Take care on the roads. There are a high number of traffic accidents, including fatalities. See Road travel
Beware of petty crime, especially in crowded areas and tourist spots or when using public transport. See Crime
Attacks in Ukraine can't be ruled out. See Terrorism
If you're abroad and you need emergency help from the UK government, contact the nearest British embassy, consulate or high commission.
The Overseas Business Risk service offers information and advice for British companies operating overseas on how to manage political, economic, and business security-related risks.
Take out comprehensive travel and medical insurance before you travel.