Summary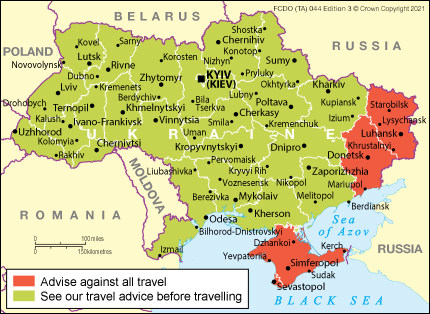 The Foreign, Commonwealth & Development Office (FCDO) advise against all travel to:
Donetsk oblast
Luhansk oblast
Crimea
If you're planning travel to Ukraine, find out what you need to know about coronavirus there in the Coronavirus section.
During the COVID-19 pandemic, it is more important than ever to get travel insurance and check it provides sufficient cover. See the FCDO's guidance on foreign travel insurance.
For information about COVID-19 vaccines, see the Coronavirus page.
Since late March 2021, there has been a pattern of Russian military build-ups near Ukraine's eastern border and in illegally annexed Crimea. Since the beginning of November 2021 there has been significant media coverage of heightened tensions between Russia and Ukraine.
The situation in Kyiv and other areas outside Donetsk and Luhansk is generally calm. However, events in Ukraine are fast moving. Make sure you are ready to change your plans quickly if you need to. You should remain vigilant throughout Ukraine, monitor the media and this travel advice regularly, subscribe to email alerts and read our advice on how to deal with a crisis overseas. You should keep your departure plans under close review. Renewed military action anywhere in Ukraine would greatly reduce British Embassy Kyiv's ability to provide consular support.
The security situation in the south-eastern parts of the Donetsk and Luhansk oblasts of Ukraine is highly unstable with ongoing clashes between Ukrainian armed forces and Russian-backed armed separatists. Consular support is not available in parts of Ukraine not currently under control of the Ukrainian authorities: Crimea and parts of Donetsk and Luhansk oblasts. See Crimea and Eastern Ukraine
Public demonstrations regularly take place. Policing of these events may include road closures. You should avoid all demonstrations and take extra care at public gatherings. In Kyiv, the areas around Maydan Nezalezhnosti (Independence Square) and government buildings such as the Verkhovna Rada (parliament building) and the Cabinet of Ministers are most frequently affected. See Political situation
It's illegal under Ukrainian law to enter internationally recognised Ukrainian territory through a border point that isn't currently controlled by the Ukrainian authorities. See Borders
British Citizen passport holders can enter Ukraine without a visa for visits of up to 90 days within a 180-day period. Ukraine has confirmed that this policy will continue to apply to British citizens until 30 January 2022. See Visas
The British Embassy in Kyiv is open to the public by appointment only. If you need to contact the Consular Section, please call +380 44 490 3660, or send an enquiry via the web contact form.
British nationals made 34,500 visits to Ukraine in 2020. Most visits are trouble-free.
Take care on the roads. There are a high number of traffic accidents, including fatalities. See Road travel
Beware of petty crime, especially in crowded areas and tourist spots or when using public transport. See Crime
Terrorist attacks in Ukraine can't be ruled out. See Terrorism
If you're abroad and you need emergency help from the UK government, contact the nearest British embassy, consulate or high commission.
The Overseas Business Risk service offers information and advice for British companies operating overseas on how to manage political, economic, and business security-related risks.