Foreign travel advice
Sudan
Summary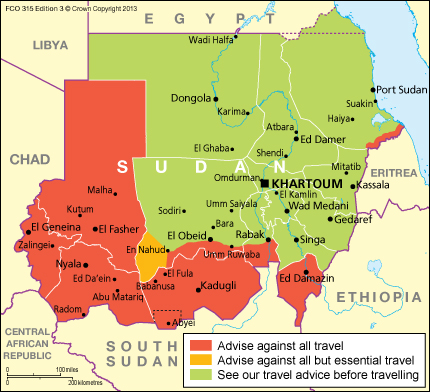 The Foreign and Commonwealth Office (FCO) advise against all travel to the following parts of Sudan: Darfur, the Red Sea State border with Eritrea; the Abyei region; Southern Kordofan and Blue Nile states; areas of Northern Kordofan and White Nile states south of the Kosti-El Obeid-En Nahud road. See Local travel
The FCO advise against all but essential travel to the following parts of Sudan: areas west of the towns of En-Nahud in North Kordofan up to the Darfur border. See Local travel
Since 11 April 2016 there have been several demonstrations originating in universities throughout Sudan, some of which have sparked violent clashes resulting in fatalities and injuries. Demonstrations are no longer isolated to universities and have been taking place in other parts of Khartoum, often at short notice. Be vigilant, avoid any demonstrations or large gatherings that may occur. You should monitor local media and and follow the advice of the local authorities on where demonstrations may take place.
There is a general threat from terrorism. Attacks could be indiscriminate, including in places frequented by expatriates and foreign travellers. See Terrorism
You should avoid any demonstrations or large gatherings of people. See Political situation
The British Embassy no longer registers British nationals in Sudan and the capacity of the British Embassy to help in times of crisis may be limited. You should consider your own travel arrangements carefully and make sure you have up-to-date travel documents and visas in case you need to leave at short notice. In case of a crisis this page outlines the precautions you should take and the help and support the British Embassy can provide.
The Overseas Business Risk service offers information and advice for British companies operating overseas on how to manage political, economic, and business security-related risks.
Take out comprehensive travel and medical insurance before you travel.