Foreign travel advice
Sudan
Summary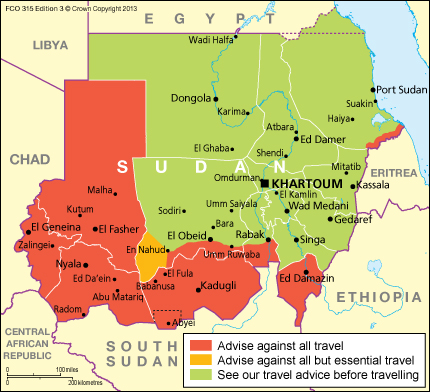 The Foreign and Commonwealth Office (FCO) advise against all travel to the following parts of Sudan: Darfur, the Red Sea State border with Eritrea; the Abyei region; Southern Kordofan and Blue Nile states; areas of Northern Kordofan and White Nile states south of the Kosti-El Obeid-En Nahud road. See Local travel
The FCO advise against all but essential travel to the following parts of Sudan: areas west of the towns of En-Nahud in North Kordofan up to the Darfur border. See Local travel
The government of Sudan has declared an outbreak in the east of Sudan (especially Kassala) of Chikungunya. There have also been reports of cases in other parts of Sudan. Further information can be found on the National Travel Health Network and Centre website. There are also many cases of malaria in Darfur. Following a heavy rainy season, many parts of the country are experiencing an increased population of mosquitoes and other disease vectors, including insects and contaminated drinking water. For further information see the National Travel Health Network and Centre advice.
There is an on-going acute shortage of fuel throughout Sudan including Khartoum, with very long queues (several hours or even overnight) at petrol stations (which regularly run dry); many people are in effect finding it impossible to buy fuel, which is having knock on effects, including availability of services and some basic food items. There have been some violent incidents at petrol stations. If you need to travel ensure you have sufficient fuel for your return trip. The British Embassy is limiting staff travel both outside Khartoum and within the city itself.
On 6 November 2017, following the dissolution of the legislative council by presidential decree, a state of emergency was announced in Gezira. There's an increased risk of demonstrations and protests. You should exercise vigilance and avoid large crowds and demonstrations wherever possible.
Since early January 2018 there have been sporadic protests against increases in the price of bread in a number of locations across Sudan, particularly in West Darfur, Wad Madani, the Omdurman and Bahri areas of Khartoum, and around the University of Khartoum. While these are not targeting the international community, tear gas and force have been used to subdue some protests. You should exercise vigilance and avoid large crowds or demonstrations.
There have been reports of renewed clashes between government forces and rebel groups in the areas around the Libyan border and in southern Darfur. If you're in Darfur against FCO advice, or in the Libyan desert area of Northern state, you should consider carefully whether to remain in the area, monitor local media and security channels for the latest updates, and follow instructions from security forces. The British Embassy continues to monitor the situation.
Following an announcement by the government of Sudan regarding the removal of subsidies on fuel prices, there is an increased risk of demonstrations and protests across the country. You should exercise vigilance and take care to avoid large crowds and demonstrations wherever possible. See Political situation
Terrorists are likely to try to carry out attacks in Sudan. Attacks could be indiscriminate, including in places frequented by expatriates and foreign travellers. See Terrorism
The British Embassy no longer registers British nationals in Sudan and the capacity of the British Embassy to help in times of crisis may be limited. You should consider your own travel arrangements carefully and make sure you have up-to-date travel documents and visas in case you need to leave at short notice. In case of a crisis this page outlines the precautions you should take and the help and support the British Embassy can provide.
If you're abroad and you need emergency help from the UK government, contact the nearest British embassy, consulate or high commission.
The Overseas Business Risk service offers information and advice for British companies operating overseas on how to manage political, economic, and business security-related risks.
Take out comprehensive travel and medical insurance before you travel.