Foreign travel advice
Tajikistan
Summary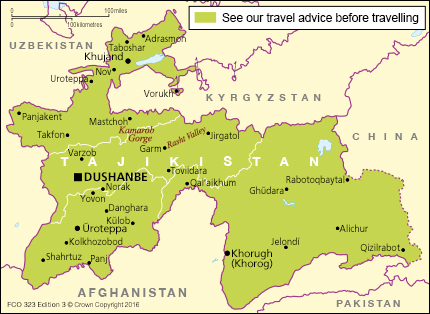 During April/May 2017 there were clashes between the Taliban and Afghan government forces in north-east Afghanistan close to the border with Tajikistan. Check local advice before travelling to the Gorno-Badakhshan Autonomous Oblast (GBAO) as the area may be closed to visitors at short notice.
Several areas of the Gorno-Badakhshan Autonomous Oblast (GBAO) and other parts of the country were damaged by flooding in the spring of 2017. Most of the infrastructure has been repaired. Many roads, including the Pamir Highway, are open but not fully repaired.
The government of Tajikistan sometimes suspends issuing permits for travel to the GBAO by foreign nationals who enter Tajikistan on a tourist visa. This can happen at short notice, depending on the security situation in neighbouring provinces in Afghanistan. If you're considering travel to the GBAO you should contact the Embassy of Tajikistan for up to date information on whether permits are being issued.
There are occasional clashes along the disputed Tajik/Kyrgyz border. A Tajik civilian was killed in an exchange of gunfire near the Vorukh enclave in July 2014. There was a separate incident near the villages of Kok-Tash and Chorkuh in August 2015. There's a risk of further localised violence and border closures at any time.
Tajikistan's borders with neighbouring countries are subject to closure without notice. Check in advance which border posts are currently open. You may also wish to check with the British Embassy in Dushanbe for up to date information on border restrictions.
The crossing points on the Tajik/Kyrgyz border at Guliston (Isfara region), Avchikalacha (Sughd region) and Kizil Art (Gorno-Badakhshan region) are open to British nationals. The border at Karamik (Jirgatol region) is currently only open to Tajik and Kyrgyz nationals.
The crossing points on the Tajik/Uzbek border at Bratstvo (Tursunzade region), and at Fotehobod and Patar/Rabot (Sughd region) are open to British nationals holding visas. The Tajik authorities have announced that the border crossing between Panjakent and Samarkand (Uzbekistan) is going to open in March 2018. There is no further information at this time.
Terrorist attacks in Tajikistan can't be ruled out. See Terrorism
Tourism, health and transport infrastructure is poor and travel requires careful planning. Avoid off-road areas immediately adjoining the Afghan, Uzbek and Kyrgyz borders, which may be mined. See Local travel
If you're abroad and you need emergency help from the UK government, contact the nearest British embassy, consulate or high commission.
Take out comprehensive travel and medical insurance including evacuation by air ambulance before you travel. See Health