Foreign travel advice
Sri Lanka
Summary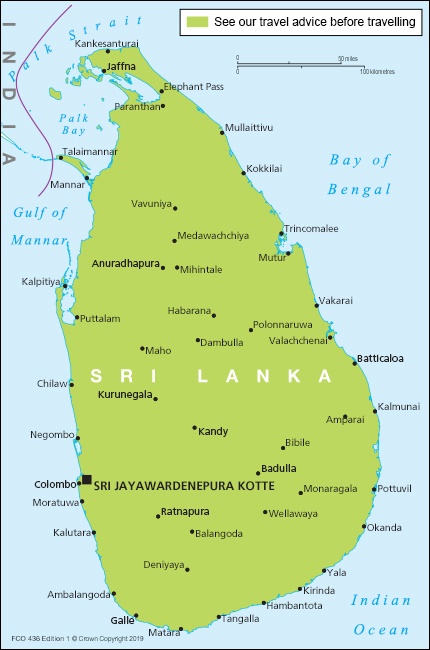 There is an ongoing outbreak of coronavirus in China. The virus originated in Wuhan City, Hubei Province but cases have been confirmed in other parts of China and in other countries. The Sri Lankan Ministry of Health has confirmed that one patient has tested positive for coronavirus. The Sri Lankan Government is taking various precautions to prevent the spread of the virus. The Ministry of Health has issued a press release and introduced a 24 hour hotline for anyone requiring information on coronavirus - +94 710170717.
Sri Lanka's Airport & Aviation Service has announced that with immediate effect only passengers will be allowed onto the airport premises. Precautionary measures have also been introduced for some flight arrivals. You should follow the instructions of airport authorities when travelling to and from Sri Lanka.
You will need a visa to enter Sri Lanka. See Visas
Most visits to Sri Lanka are trouble-free. However, you should be aware of the risk of sexual assault, spiked drinks, road accidents, drowning due to dangerous tides and credit card fraud. See Safety and security
Terrorists are very likely to try to carry out attacks in Sri Lanka. Attacks could be indiscriminate, including in places visited by foreigners. More than 250 people including tourists were killed in April 2019 in terrorist attacks that targeted churches and hotels. See Terrorism
Security has been stepped up across the island following the April 2019 attacks, but the State of Emergency has since been lifted. Increased security measures including checkpoints are likely to be in place for events attracting large crowds, such as festivals and other cultural events.
Dengue fever occurs throughout the country. See Health
Sri Lanka can be affected by severe weather such as like tropical cyclones and monsoon rains. A general alert has been issued by the Centre for Disaster Management over the onset of the South Western Monsoon (check local advice before setting out. See Natural disasters
If you're abroad and you need emergency help from the UK government, contact the nearest British embassy, consulate or high commission.
The Overseas Business Risk service offers information and advice for British companies operating overseas on how to manage political, economic, and business security-related risks.
Take out comprehensive travel and medical insurance before you travel.