Djibouti
Important

Coronavirus (COVID-19) travel
Summary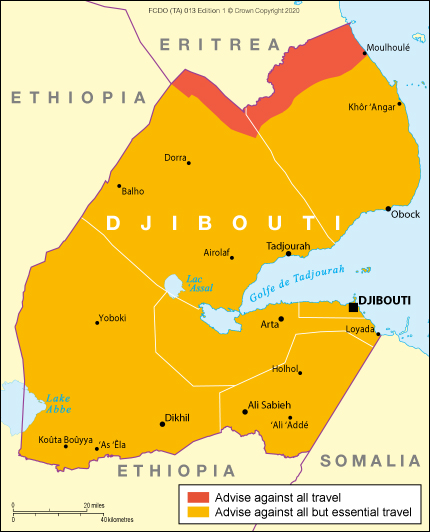 The Foreign, Commonwealth & Development Office (FCDO) advise against all travel to the border with Eritrea. See Local travel
The FCDO also advises against all but essential travel to the remainder of Djibouti based on the current assessment of COVID-19 risks
Travel to Djibouti is subject to entry restrictions
If your journey began in, or you transited South Africa, India or Brazil, you will not be permitted to enter Djibouti due to concerns about COVID-19 variants. Djiboutian Nationals are not allowed to travel to those countries
Whether arriving by air, land or sea, you will be required to provide a PCR test certificate from the country where you started your journey. The test must be taken within 72 hours before you leave your point of departure and within 120 hours of your arrival in Djibouti
Also, on arrival at all entry points, you will be tested for COVID-19 at your expense. If your result is negative, you will be free to go to your accommodation. If the result is positive you will be taken to a government designated quarantine hotel or hospital until you test negative – you will cover accommodation costs
See Entry requirements for more information before you plan to travel.
Djibouti is on the amber list for entering England. Check what you must do to enter England, Scotland, Wales or Northern Ireland.
Check our advice on foreign travel during the coronavirus (COVID-19) pandemic and sign up for email alerts for this travel advice.
If you're planning travel to Djibouti, find out what you need to know about coronavirus there in the Coronavirus section.
During the COVID-19 pandemic, it is more important than ever to get travel insurance and check it provides sufficient cover. See the FCDO's guidance on foreign travel insurance.
For information about COVID-19 vaccines, see the Coronavirus page.
Terrorists are likely to try to carry out attacks in Djibouti. Attacks can't be ruled out and could be indiscriminate, including in places frequented by expatriates and foreign travellers. See Terrorism.
Round the clock consular support in Djibouti continues to be provided by the British Embassy in Addis Ababa. If you need consular assistance you should contact the British Embassy in Addis Ababa on +251 (0)11 617 0100, or call the Foreign Commonwealth and Development Office in the UK on 0207 008 5000. You can also contact us via our online form.
Be aware of poor road safety if you travel outside the capital city. See Local travel
Piracy remains a significant threat in the Gulf of Aden and Indian Ocean. See Sea travel