Foreign travel advice
Djibouti
Summary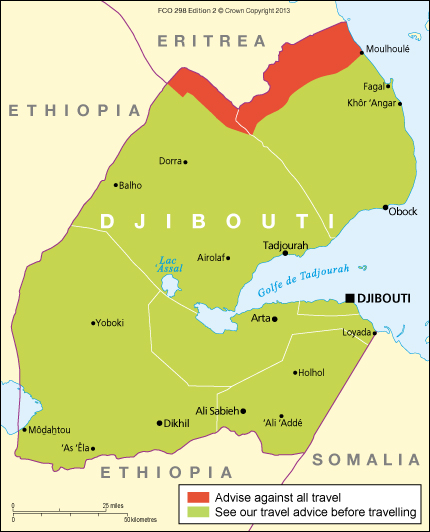 The Foreign and Commonwealth Office (FCO) advise against all travel to the border with Eritrea. See Local travel
Terrorists are likely to try to carry out attacks in Djibouti. Attacks can't be ruled out and could be indiscriminate, including in places frequented by expatriates and foreign travellers. See Terrorism
Djibouti remains one of the main routes for those fleeing the conflict in Yemen. Limited arrangements are in place to facilitate onward travel for British nationals arriving in Djibouti. However, the UK government's ability to help is limited and you'll be expected to cover the cost of visas, accommodation, insurance and onward travel yourself. Any travel options you pursue are taken at your own risk.
There is no British Embassy in Djibouti. The British Honorary Consul in Djibouti can offer limited help. If you need consular assistance outside office hours you should contact the British Embassy in Addis Ababa by calling +251 912 503132 or +251 911 25 54 81. You can also contact the FCO in London at any time by calling +44 (0) 20 7008 1500.
Be aware of the risk of banditry if you travel outside the capital city. See Local travel
Piracy remains a significant threat in the Gulf of Aden and Indian Ocean. See Sea travel
If you're abroad and you need emergency help from the UK government, contact the nearest British embassy, consulate or high commission.
Take out comprehensive travel and medical insurance before you travel.