Foreign travel advice
Guatemala
Summary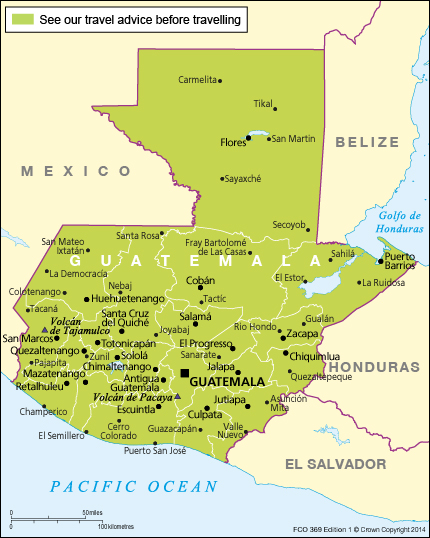 Guatemala has been in a state of political crisis since late August 2017. Demonstrations in Guatemala City and other major towns are possible. You should remain cautious and avoid any demonstrations.
When travelling in the country, you should follow the advice of the local authorities (PROATUR) and monitor local media. See Local travel
UK health authorities have classified Guatemala as having a risk of Zika virus transmission. For more information and advice, visit the National Travel Health Network and Centre website
The rainy season in Guatemala normally runs from June to November, coinciding with the hurricane season in the Caribbean. See Local travel and rainy season
Guatemala has one of the highest violent crime rates in Latin America. Take care in all parts of the country, including Guatemala City. You should carry personal ID when travelling (certified copies are fine). See Crime
Guatemala has active volcanoes, some prone to heightened activity. Some are at high altitude with sub-zero temperatures at night. Six tourists died of exposure on Acetanango in January 2017. Warm clothing and waterproofs are essential. Local tour organisers tend to underestimate the risks.
Before climbing volcanoes, you should check and follow the advice of local authorities and monitor the situation. See Volcanoes
Avoid travelling on public buses (repainted US school buses). Private inter-city coach services are safer, but not immune from attack. See Local travel
Large demonstrations occur throughout Guatemala, often with little or no notice. There may be disruptions to traffic and public transport. You should avoid all demonstrations. See Political situation
Although there's no recent history of terrorism in Guatemala, attacks can't be ruled out. See Terrorism
16,691 British nationals visited Guatemala in 2016. Most visits are trouble free.
You can contact the emergency services by calling 120 (police) or 122/123 (ambulance and fire).
If you're abroad and you need emergency help from the UK government, contact the nearest British embassy, consulate or high commission.
Take out comprehensive travel and medical insurance before you travel.