Central African Republic
Important

COVID-19 Exceptional Travel Advisory Notice
As countries respond to the COVID-19 pandemic, including travel and border restrictions, the FCO advises British nationals against all but essential international travel. Any country or area may restrict travel without notice. If you live in the UK and are currently travelling abroad, you are strongly advised to return now, where and while there are still commercial routes available. Many airlines are suspending flights and many airports are closing, preventing flights from leaving.
Summary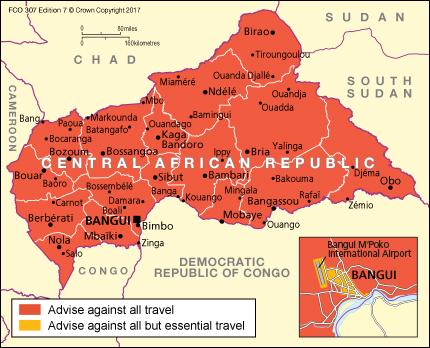 Coronavirus (COVID-19): stay up to date
The Foreign and Commonwealth Office (FCO) is advising British nationals against all non-essential international travel at this time. Existing advice for Central African Republic remains in place:
The FCO advise against all but essential travel to:
central Bangui between the Airport and the Oubangui river, as shown on the map

this area is bordered to the north by Avenue des Martyrs and Avenue de l'Indépendance linked by Avenue Koudoukou and bordered to the south by Avenue de France and Avenue Barthélemy Boganda linked by Avenue Ruth Roland. It includes the riverside area of the city centre (around Boulevard du Géneral de Gaulle) including the UNESCO building, the French Embassy and the Hotel Oubangi
The FCO advise against all travel to:
the rest of Bangui and the Central African Republic (CAR)
Consular support is severely limited in CAR as there is no British Embassy. However, the British Embassy Kinshasa, in the Democratic Republic of Congo can provide limited remote consular support to British nationals.
Given the rapidly changing situation in Democratic Republic of the Congo we have temporarily withdrawn a limited number of UK staff and their dependents from our Embassy in Kinshasa. The Embassy will continue to carry out essential work including providing 24/7 remote consular assistance and support to British people in the Central African Republic.
Tensions are high in Bangui and across the country. There are armed patrols that have set up several roadblocks across the country. Reports of violence, reprisal killings, looting and human rights abuses continue across the country.
Since January 2015, there have been a number of kidnappings of government ministers and humanitarian and UN workers.
Over the last year there have been periodic outbreaks of inter-ethnic violence, particularly in Bangui, Bangassou Bambari and Alindao.
Terrorist attacks in the CAR can't be ruled out. See Terrorism
UK health authorities have classified the Central African Republic as having a risk of Zika virus transmission. For information and advice about the risks associated with Zika virus, visit the National Travel Health Network and Centre website.
Take out comprehensive travel and medical insurance before you travel.