Summary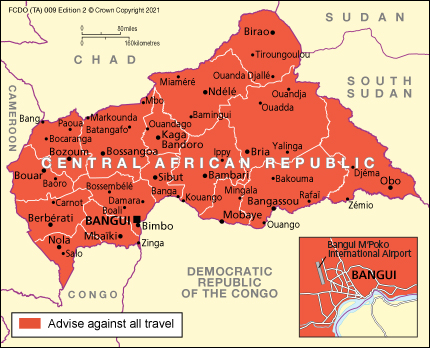 The FCDO advises against all travel to:
the whole of the Central African Republic (CAR)
COVID-19 entry restrictions for the Central African Republic
Before you travel, check the 'Entry requirements' section for the Central African Republic's current entry restrictions and requirements. These may change with little warning. Monitor this advice for the latest updates and stay in contact with your travel provider.
Travelling from and returning to the UK
Check what you must do to travel abroad and return to England, Scotland, Wales or Northern Ireland.
If you plan to pass through another country to return to the UK, check the travel advice for the country you're transiting.
If you're planning travel to CAR, find out what you need to know about coronavirus there in the Coronavirus section.
During the COVID-19 pandemic, it is more important than ever to get travel insurance and check it provides sufficient cover. See the FCDO's guidance on foreign travel insurance.
For information about COVID-19 vaccines, see the Coronavirus page.
Consular support is severely limited in CAR as there is no British Embassy. However, the British Embassy Kinshasa, in the Democratic Republic of Congo can provide limited remote consular support to British nationals.
Elections in late 2020 and early 2021 were mired in violence and led to a 6-month state of emergency, which has now expired. President Faustin Archange Touadéra was re-elected and formed a new government in June. A national curfew is in place which comes into effect at 10pm and ends at 5am. You should follow the government's instructions and avoid travel around Bangui during these hours.
Tensions remain high and there is potential for further violence across the country. Attacks on individuals and groups, including car-jackings, are likely and unpredictable. There are armed patrols that have set up several roadblocks across the country. Detention by police forces and armed groups is a common occurrence, primarily for CAR nationals, but also for expatriates. You should take extreme care, and take personal security precautions, if possible.
Although there's no recent history of terrorism in the CAR, attacks cannot be ruled out. See Terrorism
UK health authorities have classified CAR as having a risk of Zika virus transmission. For information and advice about the risks associated with Zika virus, visit the National Travel Health Network and Centre website.
There are confirmed reports of a haemorrhagic fever outbreak in Central African Republic resulting in four deaths. The cases were reported in the city of Kabo in the Ouham-Fafa Prefecture, 60km south of the border with Chad. Further information and updates on haemorrhagic fevers can be found on the WHO website.
Areas bordering Democratic Republic of Congo (DRC) are at risk from outbreaks of Ebola. Further information and updates on Ebola can be found on the WHO website and the Public Health England (PHE) website. See Health