Foreign travel advice
Jordan
Summary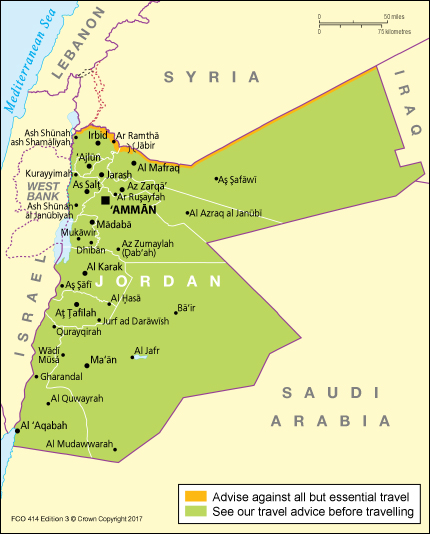 The Foreign and Commonwealth Office (FCO) advise against all but essential travel to within 3km of the entire Syrian border, and to within 6km of the Syrian border between routes 15 and 35. This is due to the risk of small arms fire, stray mortars, or other attacks in the area. See Border areas
There is a heightened risk of terrorism against aviation. The threat is constantly evolving and we must respond accordingly. The UK government has decided to implement additional security measures on several countries which will be put in place in the coming days and by Saturday 25th March at the latest. These measures will affect direct flights which continue to depart to the UK from Jordan. Further information on transit flights through Jordan is available here. You should co-operate fully with security officials. If you need more information about how this may affect your flight, contact your airline or travel company.
The Arab Summit will be held in Jordan from 29 to 30 March. The Dead Sea resort area (northern part of the Dead Sea) and the main highway next to the Dead Sea hotels, will be closed to the public from 21 to 30 March. You should plan your journeys accordingly.
Terrorist attacks in Jordan are highly likely. A number of incidents have occurred in 2016, some serious. Attacks could be indiscriminate including in places visited by foreigners, particularly hotels, shopping malls and tourist sites. You should take extra care, and in the event of an incident, follow the advice of the Jordanian authorities. See Terrorism
Around 60,820 British nationals visited Jordan in 2015. Most visits are trouble free.
You should remain vigilant at all times. Avoid political gatherings and demonstrations. Stay away from downtown Amman and the centres of other towns and cities after Friday midday prayers as violent incidents have been known to occur at these times. From time to time, violent incidents have also occurred on several university campuses. See Political situation
There has been occasional widespread strike action in Petra and Wadi Musa, but access to the main Petra site has largely been unaffected. Check with your travel company and local media for updates. If you're caught up in any strike action, always follow police instructions.
If you're abroad and you need emergency help from the UK government, contact the nearest British embassy, consulate or high commission.
Take out comprehensive travel and medical insurance before travelling.