Foreign travel advice
Jordan
Summary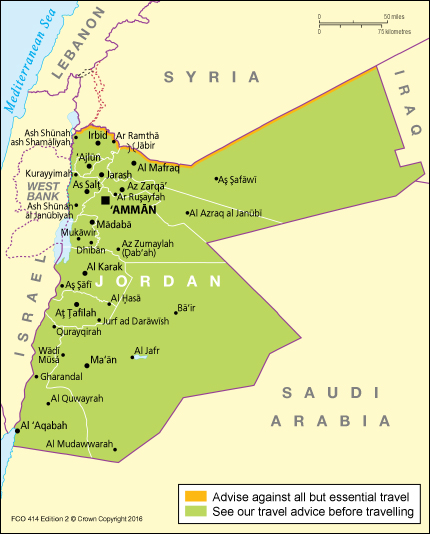 The Foreign and Commonwealth Office (FCO) advise against all but essential travel to within 3km of the entire Syrian border. This is due to the risk of small arms fire, stray mortars, or other attacks in the area. See Border areas
On 24 November 2016 a tribal dispute led to shooting and fighting on the University of Jordan campus, injuring 2 people. If you're in the area you should follow the instructions of the local security forces.
On 6 June 2016, 5 people were killed after a gunman gained access to the General Intelligence Directorate's base in Baqa'a, 10km north of Amman city centre. On 21 June an explosion near Rukban on the north-eastern border resulted in some 20 casualties.
There is a high threat from terrorism. See Terrorism
Around 60,820 British nationals visited Jordan in 2015. Most visits are trouble free.
On 1/2 March Jordanian security forces conducted an operation against a terrorist cell in Irbid, northern Jordan. The operation resulted in a number of deaths. You should keep up to date with local media and travel reports, and follow the advice and instructions of local security forces.
You should avoid large crowds, political gatherings and demonstrations. Violent incidents have taken place at the Zaatari refugee camp and on several university campuses. Stay away from downtown Amman and the centres of other towns and cities after Friday midday prayers. See Political situation
There has been occasional widespread strike action in Petra and Wadi Musa, but access to the main Petra site has largely been unaffected. Check with your travel company and local media for updates. If you're caught up in any strike action, always follow police instructions.
Take out comprehensive travel and medical insurance before travelling.