Foreign travel advice
Jordan
Summary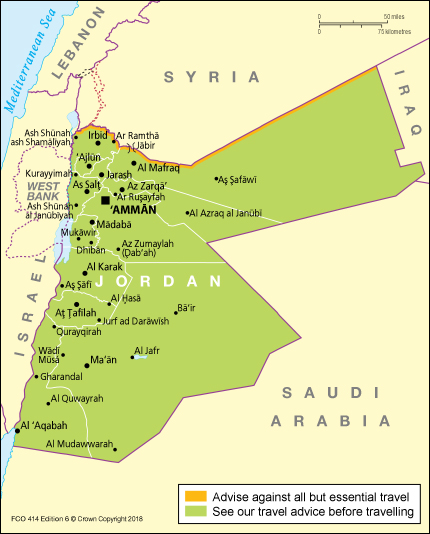 The Foreign and Commonwealth Office (FCO) advise against all but essential travel to within 3km of Jordan's border with Syria.
Demonstrations regularly occur over the local weekends in Amman, particularly on Thursday evenings, near the Prime Ministry at 4th Circle. They may also occur in other towns and cities. You should avoid political gatherings and demonstrations which can arise at short notice, often in downtown Amman and the centres of other towns and cities after Friday midday prayers. Follow the advice of local authorities and stay informed of the security situation through the media and this travel advice.
From time to time, incidents have also occurred on several university campuses. You should remain vigilant at all times.
Terrorists are very likely to try to carry out attacks in Jordan. There have been a number of incidents since 2016, some serious. Attacks could be indiscriminate including in places visited by foreigners, particularly hotels, shopping malls and tourist sites. You should take extra care, and in the event of an incident, follow the advice of the Jordanian authorities. See Terrorism
There's a heightened risk of terrorism against aviation. Additional security measures have been in place on flights departing from Jordan to the UK since March 2017. You should co-operate fully with security officials. Restrictions on carrying large electronic devices in the aircraft cabin, introduced as part of these measures, have now been lifted for the vast majority of airlines operating from airports in Jordan. However, some airlines have decided to maintain the restrictions for operational reasons. For more information and advice about what items you can take into the cabin on your flight from Jordan to the UK, contact your airline or travel company.
The Desert Highway (highway 15) has occasionally been closed due to unrest in Ma'an, and parts of the highway between Karak and Aqaba may also be blocked at times. If you're using the highway in the area you should exercise caution and follow police instructions.
Around 70,000 British nationals visited Jordan in 2017. Most visits are trouble free.
You can contact the emergency services by calling 911.
If you're abroad and you need emergency help from the UK government, contact the nearest British embassy, consulate or high commission. Consular support is limited in parts of Jordan where we advise against all but essential travel.
Take out comprehensive travel and medical insurance before travelling.