Foreign travel advice
Mexico
Summary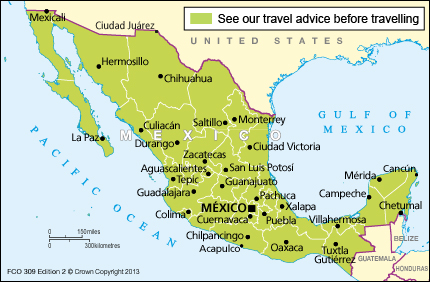 On 19 September 2017 there was an earthquake of magnitude 7.1 near Puebla, south east of Mexico City, which caused severe damage. There were also earthquakes of magnitude 6.1 in Oaxaca on 23 September and magnitude 8.2 off the coast of Chiapas on 7 September. If you're in an area affected by the earthquakes you should follow the advice of the local authorities. Further details are available from Proteccion Civil. See Natural Disasters
Following structural damage to the British Embassy caused by the earthquake on 19 September, the Embassy of Ireland in Mexico is providing space for the British Embassy's consular services operation. If you need consular assistance, please make an appointment on our website or call (0052) 55 1670 3200.
There were shooting incidents in Playa del Carmen, downtown Cancun and Los Cabos in 2017. On 21 February 2018, an explosive device detonated on a tourist ferry operating between Playa del Carmen and Cozumel, Quintana Roo. The explosion injured 20 people, including tourists. On 1 March, local authorities found an undetonated device on another ferry operating on the same route. The Mexican authorities are continuing to investigate the incident. If you're visiting any of these areas, you should monitor local advice, remain vigilant and follow the advice of the local authorities and your tour operator. See Safety and security
The hurricane season normally runs from June to November and affects both the Pacific and Atlantic coasts. You should monitor the progress of approaching storms on the website of the US National Hurricane Centre and follow the advice of the local authorities, including any evacuation orders. See our tropical cyclones page for information and advice about what to do if you're caught up in a storm.
UK health authorities have classified Mexico as having a risk of Zika virus transmission. For more information and advice, visit the National Travel Health Network and Centre website.
Protests have affected Mexico City and other parts of the country. You should avoid demonstrations and follow the advice of the local authorities if you're in an area where a protest is taking place.
Over 513,800 British nationals visited Mexico in 2016. Most visits are trouble-free.
The security situation can pose a risk for foreigners. Be alert to the existence of street crime as well as more serious violent crime like robbery, assault and vehicle hijacking. In certain parts of Mexico you should take particular care to avoid being caught up in drug related violence between criminal groups. See Crime and Violence
Although there's no recent history of terrorism in Mexico, attacks can't be ruled out. See Terrorism
If you're abroad and you need emergency help from the UK government, contact the nearest British embassy, consulate or high commission.
Take out comprehensive travel and medical insurance before you travel.