Foreign travel advice
Mexico
Summary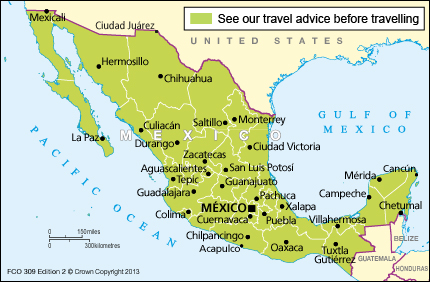 UK health authorities have classified Mexico as having a risk of Zika virus transmission. For more information and advice, visit the National Travel Health Network and Centre website.
The hurricane season normally runs from June to November and affects both the Pacific and Atlantic coasts. You should monitor the progress of approaching storms on the website of the US National Hurricane Centre and follow the advice of the local authorities, including any evacuation orders. See our tropical cyclones page for information and advice about what to do if you're caught up in a storm.
Protests have affected Mexico City and other parts of the country. There are ongoing demonstrations within the state of Oaxaca, which have become increasingly violent. Demonstrations have been reported in the city of Oaxaca as well as other cities, including Juchitán de Zaragoza, Tehuantepec, Salina Cruz and Asuncion Nochixtlan. These unrests are expected to continue and could spread to neighbouring states. You should avoid demonstrations and follow the advice of the local authorities if you're in an area where a protest is taking place.
Illegal roadblocks have been reported more frequently, particularly in the states of Guerrero and Chiapas. If you're driving in these states, travel during daylight hours and use toll roads, although you may still encounter disruptions. If possible, travel by air if you're visiting a major tourist destination in Guerrero. Due to an increase in violent crime in recent months, you should exercise a high degree of caution in Acapulco and surrounding areas.
424,860 British nationals visited Mexico in 2014. Most visits are trouble-free.
The security situation can pose a risk for foreigners. Be alert to the existence of street crime as well as more serious violent crime like robbery, assault and vehicle hijacking. In certain parts of Mexico you should take particular care to avoid being caught up in drug related violence between criminal groups. See Crime and Violence
There is a low threat from terrorism. See Terrorism
Take out comprehensive travel and medical insurance before you travel.